No-till farming works for family operation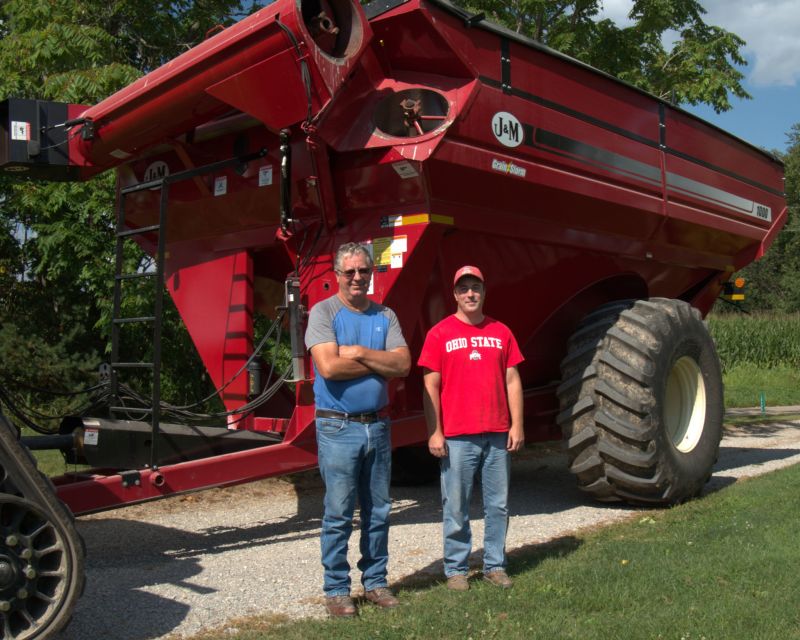 Grain farming is a major part of the Holmes County agricultural economy. Near Shreve you'll find Goodwill Farm, operated by Frank Goodwill, his brother Jim and son Dennis. Together the family farms 3,500 acres, of which they own about 750. The rest is rented, stretching in a broad swathe between Killbuck and Wooster.
Goodwill Farm produces corn and soybean primarily, and the interesting thing about this operation is the farming practices the Goodwills employ. Since 1972 they've farmed using the no-till method, a technique that eliminates the need for plowing, instead relying on a layer of organic matter to soften the soil for planting and to help nurture the plants as they grow. According to the Goodwills, there are numerous benefits to this method.
"First of all," Dennis Goodwill said, "erosion. It helps cut down erosion because you're not moving the top of the soil."
Instead the organic matter, the leftovers from crops that were grown in previous years, is left to lay on top of the soil. With that cover over the ground, soil compaction becomes less of an issue, and the organic matter provides nutrients to the new batch of crops.
Moreover, this is a type of farming that is not limited to specific types of soil. "We farm around the Shreve swamps that had been plowed for years, and it is a real clay-type soil," Dennis Goodwill said. "It was like concrete and near to the swamps, so it floods. The water just lays on top. Well, after a few years of not tilling it, practicing no-till, it drains easier. The soil is softer. You can crumble it with your hands. It has turned into more fertile soil."
To illustrate his point, Dennis Goodwill provided an interesting example: "If you go into the woods," he said, "you can dig that soil with your hands. That's all no-till. That is just from years and years of organic matter building up."
"We farm every type of soil that is known to man, I think sometimes," Frank Goodwill said. "We farm muck, sand, clay. We have this farm up on Prairie Lane. When we first started farming that soil, you couldn't hardly do anything with it. Now it is entirely different soil. After years of no-tilling, you've got years of organic matter on top of that clay. The only problem with that field now is we haven't solved how to keep it from flooding."
Soil improvement and fertility isn't the only advantage that the Goodwills enjoy. They're also spending less each year to put their crops in the ground. Though they still plant, spray and take many of the same steps each year that farmers employing conventional heavy tillage use, they are not plowing and disking year after year, which saves time, fuel and equipment costs.
"If I had to plow and disk our fields, I'd probably double our time in it," Frank Goodwill said. "And then there is the equipment and manpower for the fields in order to be able to do that. I think we can grow just as good a crop as someone that practices heavy tillage, and we're not spending as much to do it with no-till."
"When I'm on the tractor," Dennis Goodwill said, "I'm using around 10 gallons an hour. I don't know how many hours plowing and disking would take up, but if you figure that there is 100 hours in that, then you're skipping 1,000 gallons of fuel."
To the Goodwills these cost savings are essential, especially with crop prices currently low while the prices of equipment and other needs are on the rise.
"The farmer is the only one who buys retail, sells wholesale and pays the trucking both ways," Dennis Goodwill said.
Though the words are said with amusement, it highlights the fact that farming is a low-margin industry, which means efficiency is the key to turning a profit.
There are a couple of things the Goodwills do in order to keep their fields in good shape. In the spring the Goodwills will use a disk in some fields. "We do more some soil, but it is very minimal," Frank Goodwill said. "We mostly grind up stalks."
The other thing the Goodwills are starting to do is cover cropping. This is done later in the year through the Farm Service Agency. Cover crop seed is flown over fields via airplane to grow throughout the fall, providing more organic matter for the fields, helping to cut down on erosion even more.
"What happens is, like this year, there will be a lot of cover on our beans because the plants have grown so large. But last year when we basically had a drought around here, there wasn't enough cover," Frank Goodwill said. "When the ground freezes, part of it will thaw out, and then it will rain and you'll have an atrocious amount of erosion."
The cover crops, left to stand in the fields over the winter, help prevent this.
"It all goes back to that organic matter," Frank Goodwill said. "The more stuff you can plant in that field, the more organic matter you'll have."
With that organic matter the Goodwills are reaping major benefits including reduced planting costs, less soil erosion, more fertile fields and a better soil structure that not only makes the ground softer, but also better for the crops as they put down roots and grow.