Plenty of leaders among Holmes County 4-H members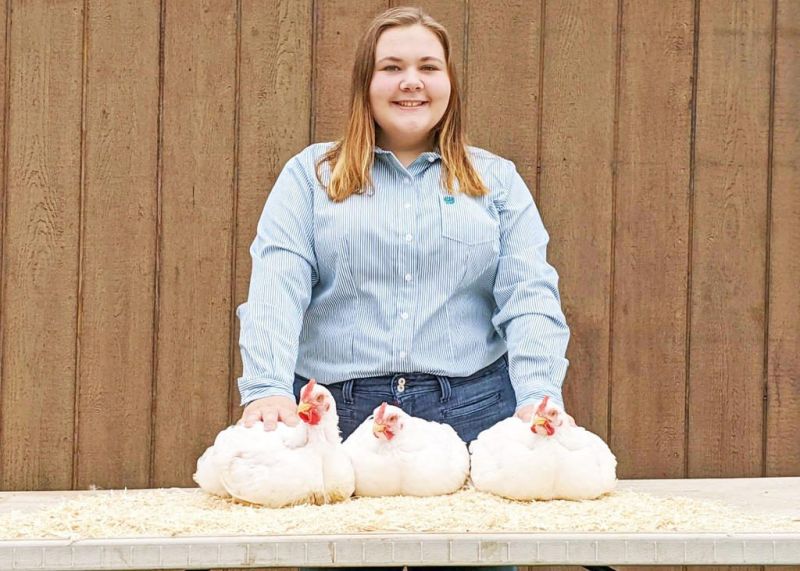 Beginning at age 7, Alysa Pringle of Big Prairie has made 4-H a big part of her life. When the West Holmes High School sophomore first became involved with the organization as a Cloverbud, she immediately took up an interest in animals, and her love for showing them at the Holmes County Fair has blossomed through the years.
"Throughout my 4-H career so far, I have tried to be as involved as I can," Pringle said. "I have taken animals from the start, and over the years so far, I have also taken veterinary science projects, public speaking, and this year I took a mental health and leadership project. I have been going to 4-H camp for five years and am now a counselor; 4-H led me onto joining the junior fair board."
Her 4-H experiences run wide, but they don't stop there. Not only is Pringle a part of the Prime Cuts 4-H club, where she serves as president, she also is in the West Holmes High School FFA. In addition, she was named 2021 Holmes County Teen Miss Agriculture USA as well.
But one of her biggest accomplishments thus far has been her selection into Teen Leadership Council, a statewide group of 4-H teens and young 4-H alumni that give a perspective on the planning, implementation and evaluation of Ohio 4-H.
"I got involved by learning about it at the Ohio 4-H conference in 2019 and then again at the Ohio State Fair when I went with the junior fair board," Pringle said. "I will be starting my second year on the council, and some of my responsibilities are being available to give talks and presentations about 4-H related topics, going to meetings, working different state events and any other opportunities we are given."
Waynedale High School student Jude Cerniglia of Holmesville, who is enrolled in the international baccalaureate program at Wooster High School, was 9 years old when he first took up a sewing project in 4-H. His love of that hobby has led him to become a member of the Ohio State Fashion Board, a group of state fair sewing participants who are interviewed during normal competitions and then chosen to run the next state fair competition and make a difference in the sewing committee, Cerniglia explained.
"I got involved because I was asked due to being the nephew of the lady running the competition and the fashion board," he said. "The state fashion board is a state organization, and I have been on it for one year. I will be able to be on the board next year due to COVID-19, but generally, you can only be on the fashion board for one year. My responsibilities are to put on the state fair competition and to help to make a difference in the 4-H sewing community by giving a presentation about sewing at the Ohio State Conference. This year, though, all events have been canceled for fashion board, and so I will get to do it next year."
During his tenure in 4-H, Cerniglia has been involved with many different sewing projects at the Holmes County Fair including Sew Fun, Tops for Tweens, Active Sportswear, Clothes for Middle School, Clothes for High School and Beyond, Outerwear for Anywhere, Loungewear, and Sew for Others.
As a member of the Holmesville Clover 4-H club, Cerniglia said his favorite part of the fair experience has been to compete in the state fair and enjoy his extra time walking around the fair. "I mostly enjoy sewing as a hobby and getting to meet people with my same passion," he said.
For Cerniglia the best part about being involved in a fair leadership position is being able to make a difference in the sewing community and helping to plan and carry out the competition he loves.
"It is important for me to be on the fashion board so that I can show other male sewers they are not alone," he said. "It is another way for me to become more involved in 4-H's sewing community."
Although he has his own opinions as to how county fairs should have been handled this year due to the coronavirus, Cerniglia said he is going to participate in the Holmes County Fair with his projects he has worked on this year and make the best out of an imperfect situation.
"I think the fair should have been canceled with the pandemic to make sure that everyone's safety was assured," he said. "Most of the 4-H activities that would have been in person went to being virtual, which is one of the ways 4-H has managed to make 2020's 4-H year more fulfilling. I am glad they have put a hold on the fashion board so that I can finish next year when the conditions are safer and everyone can go back to enjoying the Ohio State Fair."
Cerniglia said he's glad there's still going to be a fair. "I am just happy we are able to have a fair, even though it is not what we are used to. We just have to make the best of it, considering some fairs don't get to happen at all. I think that 4-H will try to keep things fun and as normal as they can while keeping everyone safe."
Even though this year's Holmes County Fair may not be what everyone is used to, 4-Hers are hopeful the community will still visit to see what these young people have to offer. After all, their projects are really what the fair is about.
"Even though this might not be the fair everyone is used to, at least we get to have something, and we have to make the best of it," Pringle said. "We have all still worked very hard for the fair, and many people have been working hard to make things safe for all of us and those who come to support us. It might be a lot of work, but as much as everyone in our community supports one another, I feel like in the end it will all be worth it."