SWCD sprinkles goodbyes with awards at banquet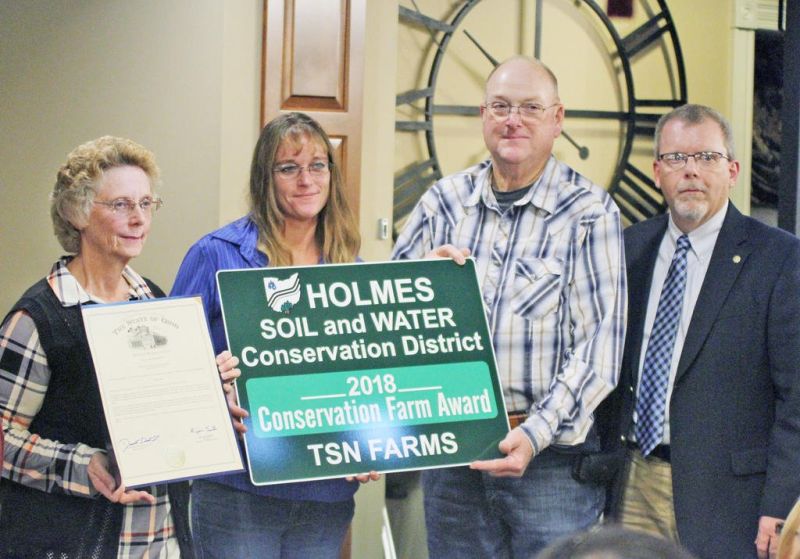 The 71st Holmes Soil & Water Conservation District annual meeting took place Tuesday, Nov. 20, and while there was plenty to celebrate, it also was an emotional evening at Carlisle Inn at Walnut Creek.
Among the accomplishments celebrated were the 10th anniversary of the aerial cover crop program, the Tom Graham Fifth-Grade Farm Tour winners, and honoring former longtime SWCD employee Dean Slates and TSN Farms as the Friend of Conservation and Conservation Farm Award winners.
There also were some emotional goodbyes including the retirement of Chuck Reynolds, who has worked alongside the members of the SWCD with the National Resources Conservation Service for more than three decades, and two longtime SWCD board members, Tim Brumme and Bobby Hershberger, chairman of the SWCD board.
Brumme said of the many people saying their goodbyes this year, "2018 is turning into the Year of Goodbyes. Most of you remember Jane Houin, who worked with us through March of this year, and she is now the program administrator at Ashland SWCD. Dean [Slates] retired at the end of July, and NRCS employee Gina Schworm, who covered our office and the Coshocton office as a soil conservationist, transferred to the Barnesville Service Center in August. Now Chuck Reynolds is retiring at the end of the year. We are sad to see him go, but we are excited for him to start this next phase of life."
SWCD board member Harold Neuenschwander said of the two outgoing board members, "Both of these guys are thoughtful, knowledgeable and kind, and both have hearts for service. They both have committed to providing meaningful employee evaluations and feedback."
Michelle Wood, SWCD district program administrator who has worked alongside Reynolds for many years, said his retirement will leave a huge hole in the organization.
"The decision to retire wasn't easy for Chuck because he truly does love working with landowners," Wood said. "When he walks out our door for the last time, he is going to take a lot of history and knowledge with him. He has been a constant source of information that we rely on and a guy we turn to for answers. He is part of us, and we make a pretty good team."
Retirements aside, the SWCD took time to celebrate their relationship with area farmers through the annual aerial cover crop program.
The theme for that was "Rye in the Sky" because the program instantly made it easier for farmers to create cover crop in the offseason courtesy of an airplane dropping rye and oat seeds on their acreage.
"It's been one of the most successful programs in our 71-year history," Hershberger said.
"We're out to save the water, and we're out to save the soil," Neuenschwander said.
The program has helped farmers conserve acreage by providing mostly rye crops in the field in the winter. These crops help to reduce soil run-off and can eventually be harvested for silage or used as a grazing area.
TSN Farms (Tim Sage) was then honored as the Conservation Farm Award winner for its conservation efforts and partnership with the SWCD.
Neuenschwander, president of the Ohio Soil & Water Conservation District, said Holmes County has done well to model conservation practices, and TSN Farms is a prime example of those efforts.
TSN Farms has celebrated 10 years of joining in the SWCD in its aerial cover crop program, joining that conservation practice from the inaugural year.
According to Reynolds, TSN Farms operates more than 600 acres of farmland near Nashville, planting 380 acres of corn, 180 acres of beans and 35 acres of wheat, and they grow hay. Reynolds went on to note that the family has used several other conservation practices and has been a terrific example for others to follow.
"Tim quietly continues to use conservation cropping systems. He continues to use no-till and has been involved with the aerial cover crop program and has done a great job of saving soil and serving his property," Reynolds said.
Slates received the Friend of Conservation Award for the second time. Brumme said there are many people and organizations who deserve this honor, but they felt Slates needed to be honored for his efforts in the county. It marks the first time someone has been awarded the honor twice, the first time coming in 2006.
Slates served as the Ohio State University educator for 33 years in Holmes County, partnering with SWCD, NRCS and local farmers.
"Dean believes in meeting people one on one and developing relationships," Brumme said of Slates. "Dean brought those relationships with him 12 years ago when he started working for the SWCD office part-time. He was instrumental in the success of the Alpine Cheese Water Quality Trading Project, and the aerial cover crop program was his idea."
In 2010 Slates was elected into the Ohio State Farm Science Review Hall of Fame, and in 2015 he completed 50 years of participation and presentation at the Farm Science Review.
"One of the really unique features of my opportunity to work with Soil and Water District is that I was working with a group of folks who were friends and I was working for folks I consider friends who I worked for and with in the farmers of Holmes County," Slates said. "I will never forget that."
The top essay winners from the Tom Graham Fifth-Grade Conservation Farm Tour also were honored, as were the West Holmes and Hiland FFA poster winners, which is geared toward farm safety.
The winner of the essay contest was Jacob Hershberger from Walnut Creek Elementary with Parker Garver of Killbuck Elementary taking second and third place going to Charlie Cooper of Lakeville Elementary.
The Hiland FFA poster winner was Jordan Miller of Winesburg Elementary with Brendan Yoder of Chestnut Ridge taking second and Paris Miller of Berlin Elementary earning third place.
The West Holmes FFA poster winner was Killbuck Elementary fifth-grader Devin Miller with Saige Krownapple of Clark Elementary taking second and Aiden Noe of Lakeville Elementary earning third.