'Almost, Maine' to open at The Little Theatre Aug. 18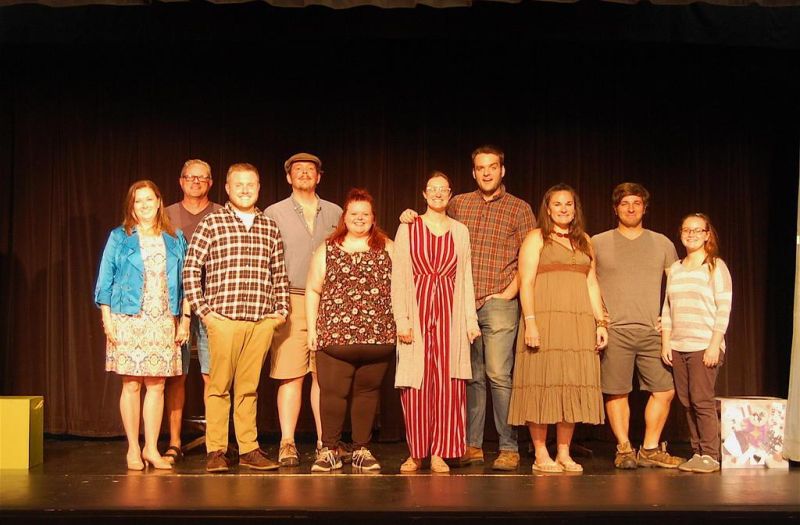 After practicing in Director Melanie Clay's garage for weeks, the 17-person cast of "Almost, Maine" began rehearsing at The Little Theatre this week, where the stage had been in use by the annual Children's Workshop.
The play, written by Tony-nominated actor John Cariani, is told in eight vignettes, each about 10 minutes in length. "Every vignette takes place at the same time in the fictional town of Almost, Maine," Clay said. "They all occur between around 8:50-9 p.m., just as the northern lights are visible, so that has a very magical feel to it."
Clay said each vignette reveals a pivotal moment in each of the characters' lives. "You get into these people's lives," she said. "The dialogue is so very realistic that you're going to feel like you are peeking into these very private moments in people's lives."
To make the play feel even more personal, Clay said she is staging the entire show in front of the grand curtain. "Everything is going to be played way down stage, close to the audience," she said.
Michael Antonelli, assistant director, said it doesn't feel like you're watching a theatrical performance. It feels like you are a fly on the wall, listening to a conversation, listening to happy moments and sad moments, and it really feels like a glimpse into somebody else's life.
Joe Compton, who plays Randy across from Jay Cochran as his best friend Chad, said, "You get to see different people falling in love and out of love."
Coincidentally, the two actors just happen to be friends in real life, which they said helps bring a natural feel to the play, although the script already does that.
Both actors said they appreciate the writing. "It just rolls off the tongue," Compton said. "You'll laugh and, in some cases, even cry a little."
Logan Harper plays Jimmy opposite his wife, both in the show and in real life, with Ellie Zumbach playing his former girlfriend, Sandrine. "The script actually includes marks to indicate where you are deliberately supposed to interrupt the other person so the lines happen on top of each other, just like they do in a normal conversation," he said.
Because of that and the fact the scenes are only about 10 minutes long, Zumbach feels it makes a good introduction to the theater. "It's all about one of the most complex things in the world, and that's relationships, and how they grow and ebb and flow, and how we deal with them. I think for someone who doesn't normally go to the theater, 'Almost, Maine' is a very good launching point."
Harper and Zumbach's scene is the only one to include three characters rather than two. Malarie Chineal will share the stage, playing a waitress at the bar where the couple runs into each other after several years apart.
"I really love my character," she said. "I get to be very happy and outgoing. Jimmy learns Sandrine is there for her bachelorette party, so he's really bummed out. I come in, and I try to cheer him up, constantly asking if he needs another beer or I just interrupt their conversation."
Critics have described "Almost, Maine" as romantic, funny, poignant and even a bit magical.
"It's really very brilliant," Clay said. "Those attending should be prepared to fall in love and to find little bits and pieces of themselves in every scene. It is just beautiful, and my actors are amazing."
Dates and tickets
Performance dates are Aug. 18-21 and Aug. 25-28. Thursday through Saturday curtain times will be at 7:30 p.m., and Sunday matinees will be at 2:30 p.m. Tickets can be purchased at www.thelittletheatreonline.org or at the performingartscenter@kent.edu. Adult tickets are $15; children and students are $10.