An umbrella partnership: Art on the Alley and TAP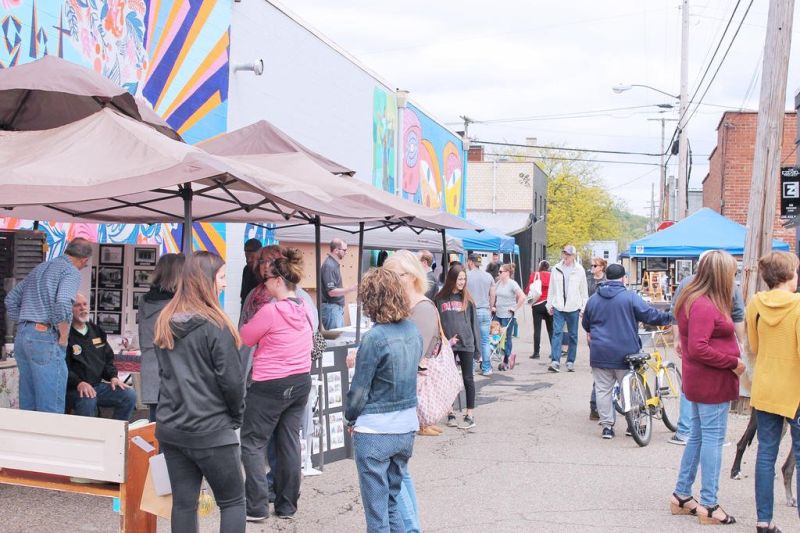 For three years the committee of local business owners, organizations and community members of Art on the Alley has served to support local artists, downtown businesses and the community to provide a family-friendly arts festival that welcomes creativity and culture for everyone to enjoy.
As Art on the Alley prepares to enter its fourth year in 2021, the Art on the Alley Committee announced its decision for Tuscarawas Arts Partnership to serve as the main organizer to coordinate the yearly arts festival, along with the committee.
"This is a great opportunity for the two organizations to take Art on the Alley to the next level. TAP is a great strategic partner that can help us achieve our vision of advancing the arts in our city and county," said Rick Arredondo, founder and owner of The Ezekiel Project and member of the AotA Committee.
"Art on the Alley is more than an event; it's an adventure that allows the public to interact with our area artists to discover authentic art, furniture, music and food," said Debbie Knisely, who owns Alley Cats Marketplace and serves on the committee.
"As a committee member for Art on the Alley, I am super excited about TAP's support," Teai Warner said. "As the event continues to grow larger and hosts more community artists, it's so important we have the support and collaboration of the Tuscarawas Arts Partnership to make Art on the Alley even more successful."
In past years TAP was one of the sponsors for Art on the Alley, and executive director Wilma K. Mullet has served on the committee since its fruition in 2018.
"Year after year we continue to see Art on the Alley grow in community support and expand its footprint to allow more artists to participate in the event," Mullet said. "As the arts festival continues to grow, it's important for us to maintain its stability and continue to see it grow in support and organization. This is a wonderful collaboration between the committee and TAP, who both want to see Art on the Alley continue to thrive and be an amazing experience in Tuscarawas County."
Along with the collaboration announcement, TAP created a website dedicated to event information for Art on the Alley. Between TAP and the AotA Committee, the organizations will share roles and responsibilities to fundraise, promote and coordinate Art on the Alley.
Art on the Alley is planned to happen Sunday, May 2 and Sunday, Oct. 17. All event information, updates and applications are available online at ​www.tuscarawasartspartnership.org/art-on-the-alley​.
Applications are open for artists, craftsmen and creatives, local nonprofits, and local food trucks. Sponsor information for Art on the Alley in 2021 also can be found on the website. Email communication and questions for Art on the Alley will be conducted through info.aotatusc@gmail.com.