Art Guild awards scholarship to Rylie Steele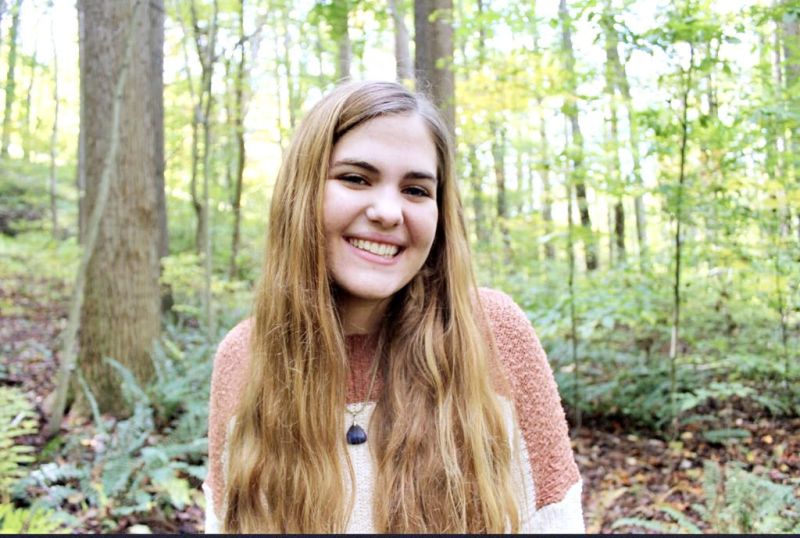 Rylie A. Steele, a 2020 graduate of New Philadelphia, was announced as the recipient of an art scholarship from the Tuscarawas County Art Guild. The daughter of Todd and Evy Steele, she is currently attending the main campus at Kent State University, where she is pursuing a degree in art education.
The award was presented at the Tuscarawas County Center for the Arts in New Philadelphia at the opening reception for the 2020 Tuscarawas County Art Guild Fall Juried Show. The show will run through Dec. 15 at the TCCA.
Steele has many awards and honors to her name for her work. She won the 2020 highest honor, Governor's Award of Excellence: Governor's Awards for the Arts, in her senior year of high school; first place at the 2018 7th Congressional Art Competition, which was displayed in Cannon Tunnel in Washington, D.C., as a sophomore; and second place at the 2019 7th Congressional Art Competition, which was displayed in the Congressman's D.C. office, as a junior. In 2018 she was the featured artist for the month of September at a show at the former Loves Gallery.
Her high school activities include National Honor Society, Delphian Chorale, Ladies Ensemble, Art Club, and many volunteer activities in school, with her church and in the community. Steele also has her own business that she started as a junior in high school, doing paintings on commission.
Steele has enjoyed art since she was a toddler.
"My parents were always really good about fostering those interests and providing resources to pursue them," Steele said. "They put me in art lessons around age 6, which was my first formal introduction to art concepts and techniques."
Steele enjoyed some of the more typical activities like drawing and painting but also did some other types of creative exploration.
"I really enjoyed finding random objects that would have gone into the trash and finding ways to incorporate them into crafts," Steele said. "I also used to set up a makeshift light table and use it to trace pictures. I think that helped me begin to understand realism."
There is no one particular style of art Steele likes more than others.
"I just really appreciate any kind of art that feels honest or conveys vulnerability," Steele said. "I once heard someone say, 'Honesty transcends genre.' They said that in relation to music, but I think it's incredibly applicable to anything in life. I think I admire honesty so much because of what a challenge it is to accomplish in my own work."
Steele has appreciated every art teacher; all have helped her grow as an artist. "I'm immensely grateful," she said. "I think something equally influential is outside inspiration. For me, that's music. I genuinely do not think that I would be able to accomplish any work without it. Technical skills are absolutely important, but inspiration is what gives artwork life itself."
Art has helped in her life so much that she wants to become an art teacher to help others.
"I would love to able to help students develop an outlet through which to express themselves," Steele said. "I also think that school can be a very challenging environment for students of any grade level. Perhaps more important than providing a creative outlet is just being a person who lets students know that their feelings are valid and that they are a human deserving of respect."
Steele realizes this isn't always the narrative that happens at school. "I cannot emphasize enough the admiration I have for my teachers who made it clear that they cared for us as people. Their kindness was what helped me through the most difficult school days, and I would love to be that person for students in the future," she said.
Steele is grateful to the Tuscarawas County Art Guild for selecting her as their scholarship winner this year. "They are an incredible organization, and they're doing our community a great service by continuing to promote artists and their work," she said. "I am so thankful for the work they do and for their generosity in awarding me the 2020 scholarship. It has been such a blessing as I have begun pursuing my degree."
At the reception, awards also were presented to some of the artists entered into the 2020 Tuscarawas County Art Guild Fall Juried Show. Winning the Best of Show was William Koch. The show was judged by area artist Jon Stucky and Jeannine Kennedy, executive director of the TCCA.
Award of Excellence winners were Todd Bergert, "Thorpe;" Peggy Sibila, "Dream Pilot;" Tim Sidel, "Looking Thru the Kaleidoscope;" Paula Siebieda, "Cathedral of Blessed Mother;" and Sharon Frank Mazgaj, "Blue and White Pottery with Sun Flowers."
Named Merit Award winners were William Koch, "A Midnight Stroll;" Stephanie Space, "Where the Spark Lies Waiting to Ignite;" Gina Judy, "The Hard Edge of Weirton Steel;" Kiyee Howard, "Early Riser;" and Debra Morrison, "Urban Cowboy."
Honorable mention awards went to Terry Barnhill, "Neglected;" Stephanie Space, "When Wings Erupt and Seeds Awaken;" Vivian Mosley, "Delft;" and Eric Dye, "Slippery Rock Creek."
Tuscarawas County Art Guild President Vivian Mosley thanked Bill Koch for his dedication in organizing the fall show. She said the guild has been unable to hold meetings this year due to the pandemic, and they are still on hold until it is safe to get together again.
Normally, the group meets the third Tuesday of each month at the TCCA.
"When someone joins the Tuscarawas County Art Guild, they become part of the decision-making process and a promoter of our mission statement," Mosley said.
Some of the group's goals include to promote active participation in the arts by area residents, to encourage the public to appreciate original art and to embrace all art forms. Among the group's 41 members are artists representing a variety of visual art forms including ceramics, drawing, fiber, jewelry, painting, printing, sculpture, collage, stained glass, photography, watercolor, textile art, wood and more. They exhibit their work in local shows, businesses and competitions.
For more information about the Tuscarawas County Art Guild, visit the website at www.tuscarawascountyartguild.com.