Arts community finds ways to adapt during pandemic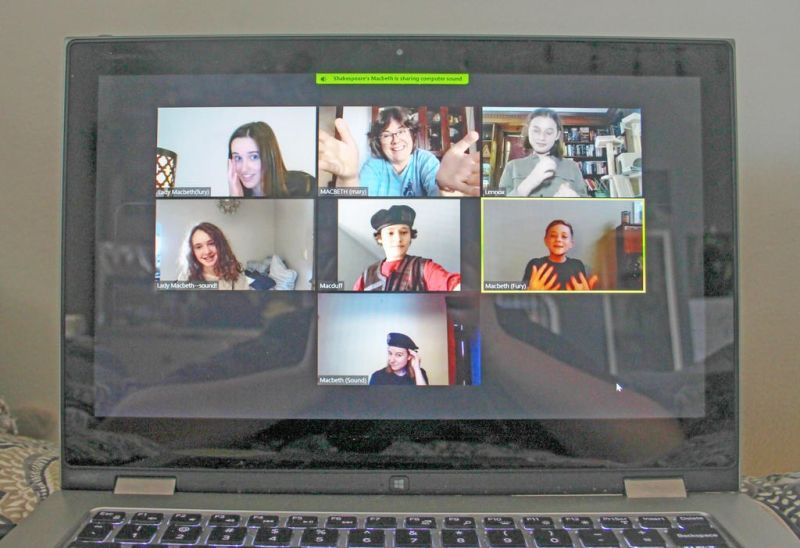 When the coronavirus lockdown began, it put a pause on nearly all community-based activities. The arts have suffered the same struggles as organized sports, Scouts and social clubs, and because of the collaborative nature of many of the fine and performing arts in-person meetings, lessons and performances may still be a distant dream.
People within the arts community, however, are finding creative ways to adapt during this difficult time.
James Fox, executive director of the Wayne Center for the Arts, which has been closed since mid-March, said WCA has been doing as much as it can, whether by hosting classes on the online conferencing platform Zoom or by creating take-home kits for kids to get them off their screens. For the summer, WCA is planning on having a few painting and drawing classes outdoors.
"Kind of a neat thing about this is we have a lot of flexibility," Fox said. "Our hope is, over time, that we can continue to just add those in-person experiences."
Mary Jackson-Smith, director of the Wooster Shakespeare Company, a program with actors between the age of 9-19, had hosted only a few in-person rehearsals when the lockdown began. She knew it was important to keep the rehearsals going, so they moved the meetings to Zoom.
"When we need comfort, or we need distraction, or we need information, or we need to feel like we're part of something bigger than what is happening in our house, we turn to the arts," Jackson-Smith said.
Though there was uncertainty, the rehearsals every week gave the kids something to look forward to during the height of the social distancing period.
"It was difficult at first switching to Zoom," Jackson-Smith said. "(At that time) the kids were still in school and nobody knew how long we would be doing this or what would happen. No one ever missed a rehearsal, and I heard from several families that it was the one thing their kid was really looking forward to each week."
Reading lines and "stage fighting" from their own homes, the group continues to practice almost every day for hours while all the while thinking outside the box to find things around their own homes that can be used as props or sets for certain scenes.
The group's live performance of "Macbeth" will air June 20-21 on YouTube Live at 7 p.m.
Other performing artists such as dancers have found this time especially challenging and frustrating. Brian Murphy, artistic director at Wayne Arts Center and owner of Pilates by Murphy, said not being able to perform could affect some dancers' mental state.
"This could have a two-pronged kind of psychological (affect) on an artist," Murphy said. "One, that we may start to question who we are as an artist. Even though we've been in (this industry) all this time, when we're not performing, who are we? Then, No. 2, how are we going to keep our body in the shape it was before?"
The Dalton branch of the Wayne County Public Library typically spotlights a local visual artist each quarter, but with the building closed, that program is on hold. The library continues to function as a conduit for literature, however, allowing pickups and drop-offs. With many people at home with nothing to do, this source of information and quiet entertainment has been something they need.
"I've had a number of calls and emails from people in our community that love and rely on the library saying, 'In a time like this, when there's a pandemic, that's all the more reason to keep the library open,'" said Melody Snure, president of the Dalton Friends of the Library.
Mike Jackson, a local painter, said the down period has been good for artists in the respect that they have been given the opportunity to get around to ideas they may not have had the time for otherwise. However, the situation does create difficulties in gaining the exposure they need to sell their work.
"The biggest thing is that I'm seeing that artists can't get their normal exposure that they're used to," Jackson said. "So they're trying to find other avenues to do that, whether it's through developing their own personal website or exploring sites that you can post your work on."
The arts, in whatever form, are something people go to for entertainment, knowledge and relaxation. The world has been facing so many scary things, yet the arts remain a crucial way to escape from the chaos.
"Art is a way of expressing yourself," said Brooke Winkler, a local artist from Wooster. "I think all this time at home, really tapping into that artistic energy, is very healing and very calming. It's great for mental health."