Bellanco goes from educator to entertainer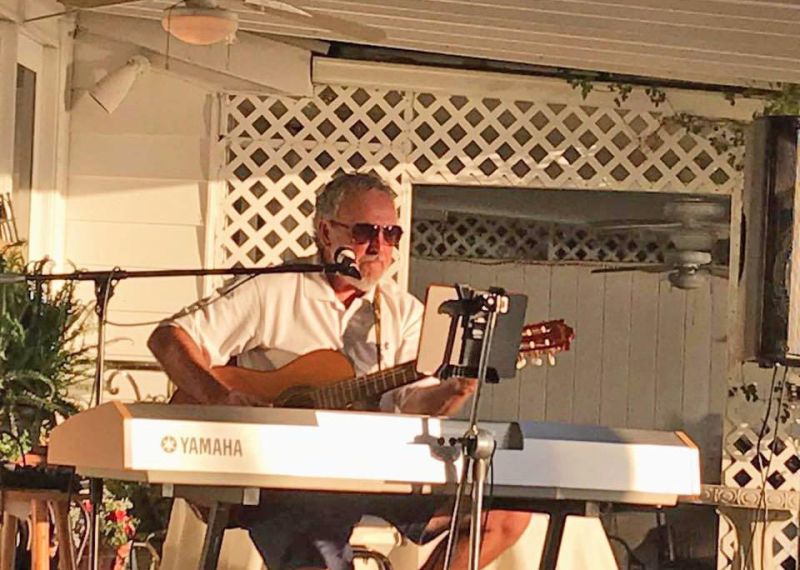 Rich Bellanco could never seem to get away from education or music, not that he wanted to. Both are passions.
Following a career in teaching, coaching and administration, Wooster resident Bellanco has returned to his musical roots. Accompanying himself on guitar and piano, he lends his vocals to soft rock and ballads from the '60s onward at Blue Barn Winery, Lincoln Way Vineyards, the Oaks Lakeside in Chippewa Lake and other regional venues.
Music first struck a chord with Bellanco, a Steubenville native, as a student at Dover High School. After a football injury sidelined him, his Friday night lights changed to stage lights when some friends asked if he would play drums in the rock cover band they had formed. Without missing a beat, he agreed and set out to learn the art.
The Royal Chessmen became very popular, playing at fairs, teen centers and college campuses in multiple states. As their fame grew, so did the size of the venues, and they found themselves opening for major artists such as Eric Clapton, Neil Diamond, the Association and the Young Rascals. In addition to keeping the beat, Bellanco sang backup and soloed on a couple of songs.
As a student at Kent State University, Bellanco took his studies seriously but continued touring with the band when possible to pay for college. One such tour took him out of town on May 4, 1970, the day of the tragic student shootings.
Bellanco became acquainted with a fellow Kent student who often caught their local shows. As a guitarist and singer who was between bands, he often hung out with the Royal Chessmen, and they soon hired him as their roadie. For one summer he drove their VW van and carried and set up their equipment at each of their performances. His name was Joe Walsh, who has gone, of course, to a long and successful career as a solo artist and as a member of first the James Gang and currently the Eagles.
Following graduation from Kent, then the University of Dayton, Bellanco began teaching and coaching in Saginaw, Michigan. He then moved into an administrative role at New Philadelphia High School before serving as associate principal at Wooster High School. Although his years in education had been fulfilling, he greatly enjoyed his retirement in 2004 — for one day.
When Smithville High School came calling, he answered and subsequently served as principal for six years. Even after that, he couldn't seem to give up his profession and accepted an administrative position at Tri-County Educational Service Center's International Baccalaureate Academy. A second retirement lasted all of a few months. Hillsdale High School needed an interim principal for one year, and Bellanco didn't complain when that turned into two years.
"I thoroughly enjoyed every minute of my career in education," he said. "I loved the opportunity to watch kids grow and to lead schools through the many transitions that occurred during my tenure."
While contemplating how to fill his time when true retirement finally rolled around, he and wife Ellen Bellanco often patronized restaurants and wineries that supported live music, and he thought, "I think I can do that." Having often encouraged his students and teachers to never stop learning and growing, he took his own advice and set out to teach himself to play guitar and piano. He observed some performers sing and play along with recorded tracks while pure artists perform with no enhancement recordings.
"I really appreciate the work put in by those who utilize only their instruments and their voice," he said.
Bellanco is one of them. After a year of practicing and building a repertoire, he recorded a demo with the help of friend Craig Walton, owner of Audio Thrills Recording Services in Wooster. Next came the pursuit of gigs. Bellanco contacted proprietors of area establishments, who eagerly signed him on.
Ellen Bellanco is the number-one groupie and rarely misses a performance. "I enjoy his shows, and Rich is a super active guy, so I'm glad he has this to do," she said.
Still learning and growing, Bellanco's next challenge was to write his own songs. He hopes the two he has now completed and recorded, also at Audio Thrills, will one day be played on the air, perhaps having been picked up by an established artist. Walton believes Bellanco has a good chance at that.
"The guy's got talent," Walton said. "There's emotion in his voice, and his writing abilities are tremendous."
In the midst of all this music, Bellanco's real forte is family. He and Ellen have been married for 44 years. Their son Nicholas serves as a family physician in Dayton, where he lives with wife Molly and their two daughters.
Bellanco feels fortunate to have resumed an early passion and to experience continued success with it.
"To be asked to perform, at this point in my life, is very satisfactory, and I'm having fun," he said.
Bellanco's schedule is listed on his Facebook page, Sebastian Music, reflecting the middle name he inherited from his grandfather, and his personal page is titled Rich Bellanco. Those interested in booking him may call 330-465-9988.