Carving artwork on display at The Wilderness Center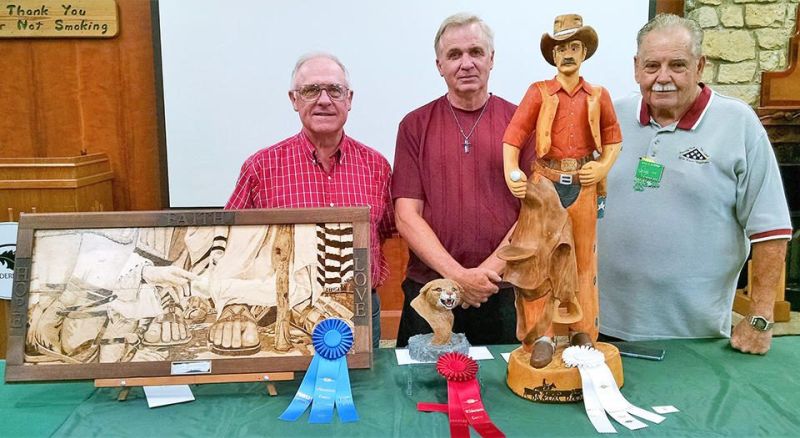 The annual two-day Woodcarving Show at The Wilderness Center in Wilmot is set to kick off Sept. 21-22.
The Woodcarvers Club at The Wilderness Center has been a staple since 1984 with 27 current members from Holmes, Tuscarawas, Medina and Stark counties.
"I've been involved in the club for six years," said David Chapman, a member of the club. "In talking with the older members, apparently Orrin Miller of the Mt. Eaton area and Bill Patton from Strasburg were members of The Wilderness Center, saw they had something
in common and started hanging out together. The club evolved from there."
Chapman said the members range in age from 34-86, both male and female, but they all have one thing in common: the love of woodcarving.
"We have a lady who is a former wood-carving champion. What a peach she is," he said.
In order to become a member of the club, one must become a member of The Wilderness Center first. Then they must pay the club's membership dues of $1 a year. Meetings are held twice a month, the second and fourth Saturday, from 9:30-11:30 a.m. at The Wilderness Center.
"We usually have 10- to 15-minute meetings. Right now we are coming up on a show and might have more logistics to discuss, but we mostly keep the meeting times very short and spend the rest of the time just hanging out, enjoying each other's company and carving," Chapman
said. "We pick each other's brains on the best way to do different projects and techniques."
The club is strictly a carving club, but there are many different genres of carving. Chapman said, "There's relief carving, which is basically wood sculpting. There's chip carving, which is a very precise way of cutting wood and creating designs. Once people get involved and get exposed to different techniques, they will gravitate to a particular type that interests them or what their abilities draw them toward."
Chapman said among the members are several superb bird carvers including one woman who is in a carving hall of fame for her duck carvings. A member from New Philadelphia is a dedicated chip carver.
A technique many of the members are using to decorate their carvings is pyrography. "A lot have gotten into it, especially the ones carving birds. It helps them get details of the feathers before they paint them," Chapman said, noting he also has used the technique. "Two years ago I had back surgery and couldn't carve. Pyrography intrigued me, so I started watching YouTube, reading books, teaching myself how to draw and have been dabbling in it for 2 ½ years now."
Chapman said his interest in learning is what led him to the club. "I bumped into a member and told him carving was something that always intrigued me. He wooed me out to one of the meetings," he said.
Chapman said all of the members were very welcoming. "They took me under their
wing and were willing to put up with me and answer my questions. They squeezed the learning curve down tremendously," he said.
The annual show will be held from 10 a.m. to 5 p.m. on Sept. 21 and from 1-4 p.m. on Sept. 22. Both days are free.
"We will have members with tables displaying their work," Chapman said. "And everybody who has a table has to put a piece on the People's Choice award table in the main room. We encourage visitors to look and review the pieces and vote on their favorite."
The winner will be chosen at the end of the event. Chapman said there will be people from seven different counties in the state displaying their work.
The club also will have tables of pieces of work from members who have passed away. "Some of the families have been willing to submit pieces of work, and we set up a table with pictures and a biography about them so people can appreciate and understand what they contributed," Chapman said.
There will be several demonstrations going on during the event including a chainsaw carver outside by the pavilion. "Doug Ash is a superb chainsaw carver. If you've ever seen a chainsaw carver in action, it will make your jaw drop, what they can do with a chainsaw," Chapman said.
Bowl turning on a lathe also will be on display with Rich Barclay of Columbus. "We're excited about that," Chapman said.
There also will be a vendor table with knives, wood-burning tools, books and anything people could need who are interested in the hobby. Raffles will be held every 30 minutes, and door prizes will be held as well.
Chapman said people from all over the state, as well as out of state, have come to past shows to see the carvings.
For those who may be interested in learning the techniques, the club will hold a beginners wood-carving class on Oct. 26. "It's a one-day class to encourage those who want to learn," Chapman said.
Basic safety rules, dos and don'ts, and different types of cuts are topics of discussion, and the group will work on a few projects as well. "It's to whet their appetite as to what is involved," Chapman said.
The class is open to anyone age 13 and up.
The Wilderness Center is located at 9877 Alabama Ave. SW in Wilmot.