Center for the arts offers variety of spring classes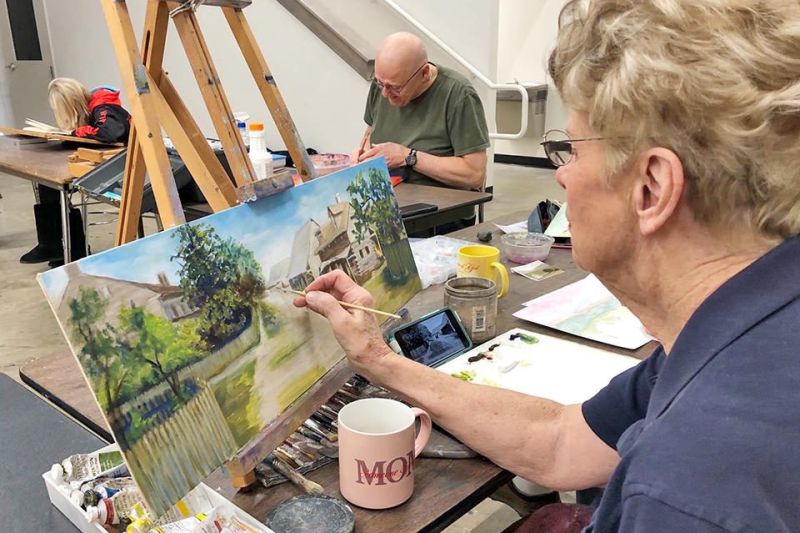 With spring right around the corner, the Tuscarawas County Center for the Arts will offer a variety of arts classes for adults and children. Adult classes include Beginning Pottery by Dee Grossman starting Feb. 11.
Ongoing classes adults can join anytime are Drawing & Painting by local artist William Koch on Saturdays from 9-11 a.m. and Oil Painting by Twila Christiner on Tuesdays from 10 a.m. to 2 p.m. While these classes are geared toward adults, teens are welcome.
Children's classes coming to the center starting Feb. 24 include Beginning Ballet (age 5-7) with Shellyn Leeper on Mondays at 4:30 p.m., Intermediate Ballet (age 6-11) with Leeper on Mondays at 5 p.m. and Cartooning Boot Camp (age 8 and up) with Douglass Laubacher on Mondays at 4:30 p.m. Beginning Feb. 26, children can take Drama for Kids with Elizabeth Holmes on Wednesdays at 4:30 p.m. or Drawing & Painting with William Koch on Wednesdays at 4:30 p.m.
Adults taking Koch's current class shared their reasons for coming to classes. "Ten years ago I took art classes," Deb Walker said. "Then I got busy raising three kids. Now that one of them is heading off to college, I have more free time, so I'm getting back into it again."
Betty Liptak and her husband Andy also are taking Koch's class. "I came to my first class with craft acrylic paints because I didn't know better," Betty Liptak said. "Bill Koch patiently helped me to start using oil paint."
"I retired so I could paint," said Patsy McGrath, a former income-tax administrator and payroll clerk for Beach City. "I just love it."
McGrath paints and sells watercolor Victorian flowers on glass Christmas ornaments.
Jeannine Kennedy, executive director for the Tuscarawas County Center for the Arts, said offering arts classes at reasonable prices fits right in with the center's mission of providing opportunities for community excellence through the arts.
"Education is a key component to accomplishing that mission," Kennedy said.
Kennedy said visitors can always take in the exhibits at the center free of charge. "We don't want finances to be a barrier to people enjoying the artwork here and being surrounded by all this creative energy," she said.
In keeping with that philosophy, the center offers funding for children's classes through the Jennifer Hunt Memorial Scholarship. Kids up to 18 years of age who demonstrate a financial need can receive money toward a class. Parents who wish to apply for scholarship dollars can call the center and speak directly with Kennedy.
In the past year the center has completed a mezzanine floor that holds a library and the Lauren Art Gallery, home to a permanent collection of significant pieces.
"Parents can escape to the library while their children take classes or get a peek at what they're doing by standing here on the mezzanine level and looking down into the classroom area," Kennedy said.
Kennedy also said the quality of instruction people can expect at the center is excellent. "The people who teach our children's classes all have art degrees," she said.
Grossman was a student at the center before she began teaching, and Ashley McCahill, whose hand-building workshops will return sometime in March, is a professional artist who set up shop on her own after teaching at the center.
The center has become a hub for the arts in the community since it opened. "Five art guilds meet at the center regularly including a Weavers' Guild," Kennedy said, also pointing out that the Southeast Ohio Water Media Society recently held a show in one of the upstairs galleries and that local artists can have a one-month exhibition of their work upstairs for $35.
In addition to the spring classes, other workshops crop up from time to time, like Summer Art Camp for age 8-18.
For class schedules, descriptions and costs or for information on scholarships and the center in general, call 330-339-2787 or visit www.tuscartcenter.org.
The Tuscarawas County Center for the Arts is located at 461 Robinson Drive SE in New Philadelphia.