Dancers highlight adoptable pets in 'The Muttcracker'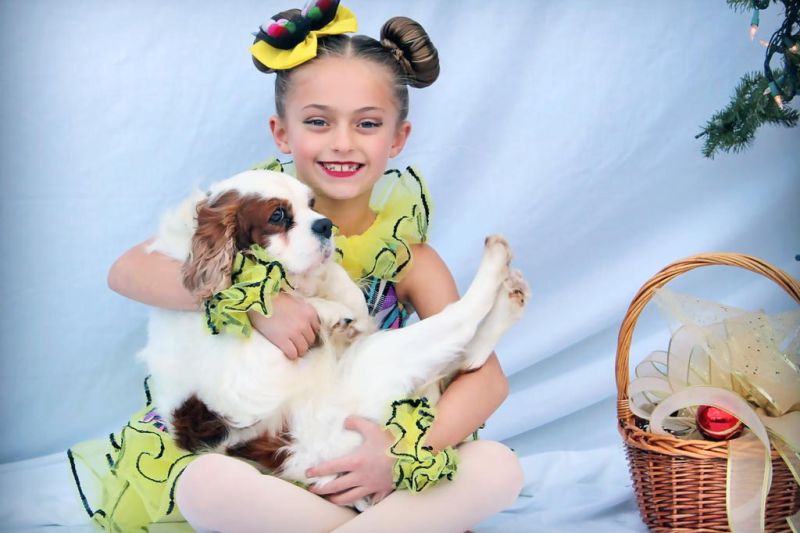 A themed photo shoot with adoptable animals from the Tuscarawas County Humane Society and dancers from Melody & Motion shared the Christmas spirit while bringing attention to a worthy cause.
Jessica Callender, owner of Melody & Motion School of Performing Arts in Newcomerstown, was inspired to stage "The Muttcracker" on the school's social media by a social media post from a professional dance company out west that regularly does "Dances and Dogs" photography.
"Our students loved the idea," Callender said. "Since we are just on the heels of doing our yearly Melody & Motion Christmas show, which includes excerpts from 'The Nutcracker' ballet, we were primed and ready with colorful costumes and holiday spirit."
The response from the public has been very positive. "Since the day of the photo shoot, the social media response has been overwhelming. We have had many likes and shares, which was the first step of our goal," Callender said. "These animals deserve a home for the holiday, so we set out to raise awareness within our community. Our hope is for the Tuscarawas County Humane Society to benefit from the unique exposure our dancers and their families can provide."
Callender said the dancers chosen to participate loved their time with the Tuscarawas County Humane Society. "Even in the cold and wind of the outdoor photo shoot, they loved interacting with the animals and are already asking when they can go back," she said.
More "Muttcracker" photos can be seen on the Melody & Motion School of Performing Arts Facebook page.
The Tuscarawas County Humane Society will hold its fourth annual Holiday Food Drive and Open House from 1-4 p.m. on Sunday, Dec. 15 at its location, 1432 Tall Timber Road NE, New Philadelphia.
The organization's wish list for the event includes Purina Dry dog food, Purina Dry puppy food, Pedigree canned dog food, dog treats, Purina Dry cat food, Purina Dry kitten food, Pate canned cat food, cat treats, scoopable cat litter, laundry soap and Amazon/Wal-Mart gift cards.
The Tuscarawas County Humane Society is always looking for people to adopt the animals and to make donations to help.
Other items they could use include paper towels, dish soap, antibacterial hand soap, 40- to 60-gallon garbage bags, dog and cat dishes, toys, leashes, collars, floor scrub brushes, floor squeegees, dog and cat crates, buckets, towels, and blankets.
Item donations can be dropped off at the shelter's location during business hours: Monday from 1-4 p.m., Tuesday from 1-7 p.m., Wednesday from 1-4 p.m., Friday from 1-4 p.m., Saturday from 1-4 p.m. and Sunday from 1-4 p.m.
Monetary donations also are appreciated and can be mailed to the location or given at the organization's website donate button at www.tuschumanesociety.com.
On the website one also can see photos of adoptable animals, fill out application forms and learn about fees for adoption.
Callender said the participating "Muttcracker" student dancers are a small percentage of their student population of more than 150 students from all over the county, ranging in age from 2-18, and participate in music and dance programs. "The studio has previously donated time and supplies to several other local charities," she said.
Those interested in joining the school can find more information on the website at www.melodyandmotion.com.
Melody & Motion is located at 11072 Wolf Station Road in Newcomerstown.