'Dracula' returns to the Trumpet amphitheater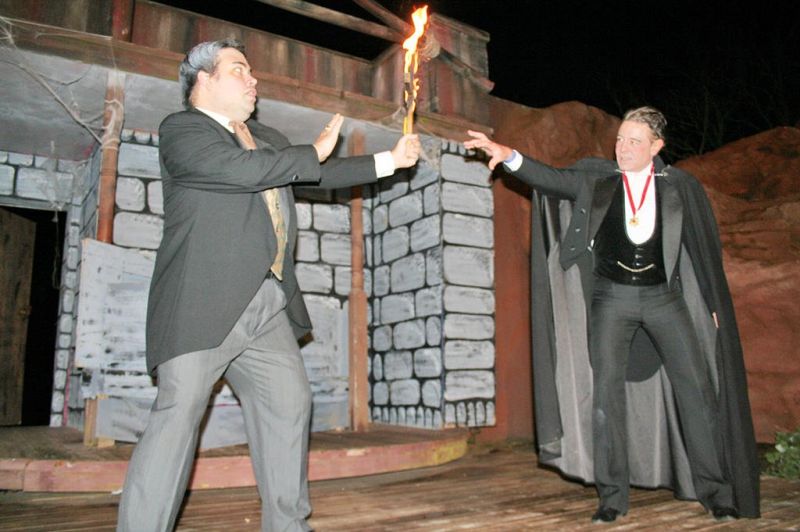 Trumpet in the Land will present the seasonal tale of "Dracula" on Oct. 4, 5, 11 and 12.
The count is portrayed by Joseph Bonamico, Corey Zickel is the insect-eating Renfield and the relentless Professor Van Helsing is played by Bart Herman.
Remaining cast members include Missy Zickel, Kami Stanley, Mark Durbin, Laura Milarcik, Ken Holmes, Elizabeth Lawson, Lora Cotton, Larry Sams, Megan Sams, Taylor Rummes, Mikey Rogers, Gregg Ashbrook and Emily Wick.
On Thursday, Oct. 3 from 6-8:30 p.m., join the cast of "Dracula" at Maggoo's Restaurant on East High Avenue in New Philadelphia for a quick bite. All diners will receive a special discount coupon for any of the 2019 "Dracula" performances.
Tickets for this 8 p.m. production are $20 for adults, $18 for seniors age 60 and over or students age 13-17, and $10 for children 12 and under and can be purchased at the Trumpet in the Land office, 124 E. High Ave., New Philadelphia, as well as by calling 330-339-1132 or 330-364-5111 or at the box office on the night of the performance.