Ed Steffek uses talent to enhance Union Hall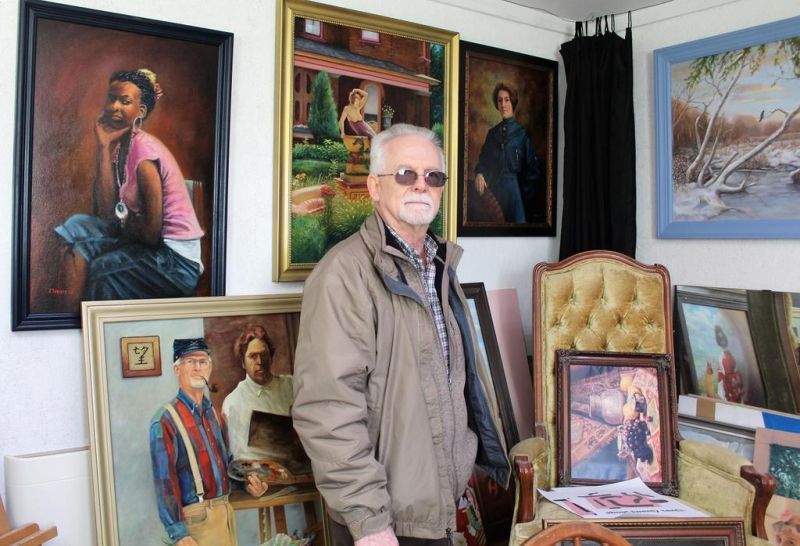 Much thought was put into the paintings artist Ed Steffek of Port Washington donated to the village's Union Hall third floor renovation project. When the renovation was revealed in an open house late last year, Steffek's work was a highlight.
A Vietnam veteran, Steffek focused some of his pieces on themes that would be familiar to veterans of every era. The "Endless Parade" shows the draped figure of a deceased World War I soldier being carried off the battlefield while a line of incoming soldiers stretches out behind the scene. Steffek pointed to the face of one of the incoming soldiers who is watching the soldier being carried off. It's not what an onlooker might notice first.
"Actually, the focus of the picture basically is this guy's face because he's going in a direction that most likely he might end up going in the other direction," Steffek said. "That's why it's a parade, and it's endless because if you've ever been in the service and you had to go in harm's way, some people think about it, some people don't. That's the eventuality of being in the situation."
Steffek was in the Marine Corps during Vietnam, became a nurse and later served in the Naval Reserves during the Gulf War.
In the other World War I themed paintings that include "Danger Close," "I Wonder Whose Side God Is on Today" and "Dear John," it's the small details that make the paintings so meaningful.
In "Danger Close" a soldier is in hiding while the enemy can be seen closing in, and a count of the gun shells that have been expended are an indication of how dire the situations are that soldiers may find themselves in.
A soldier with his head down, holding a crumpled paper, is the focus of the "Dear John" painting.
"If you got one, not only did it affect you, but it affected everyone around you," Steffek said. "You were thinking about nothing but this thing that happened to you. It could affect you from doing your work, your job, and could get somebody else hurt because you're focused on your own misery. Being far away and getting something like, 'Hey, I'm going to leave you, and I can't take this,' it has a devastating effect."
Steffek decided to use a World War I theme not only because it fit with the time period of Port Washington's Union Hall, but also because it distanced him from his recollections and memories of Vietnam.
Other period pieces include "The Lady at Lock 18." As a member of the Tuscarawas Arts Cooperative, which operates a gallery inside Around the Corner Frames in New Philadelphia, Steffek has the opportunity to see some old tintype sepia photographs. He put together elements of three of these photographs to create "The Lady at Lock 18."
An art magazine article and elements of two different photographs became the inspiration behind "The Librarian," a piece so familiar and realistic you expect her to walk into the room.
Though the sepia photos are interesting, Steffek said a black and white photo would have given him more of the original color values of the subject.
"I used a little artistic license but try to keep it in the period," Steffek said. "It's the most important thing."
Port Washington's Union Hall was completed in 1879. In addition to the many paintings Steffek donated, he also painted a faux marble design on the columns in the front of the room.
Steffek began to create art around 1994.
"I started working seriously with pastels because they're an easier way to find the right color. The medium is so versatile. It is amazing what you can do with it," Steffek said, noting Leonardo da Vinci used pastels in some of his works and that one of Steffek's own pastels was mistaken for an oil painting by an expert.
He worked with pastels for about 12 years, and then a friend encouraged him to try oils, which is what Steffek uses primarily now. He doesn't track his time when he's painting because it's hard to say when a painting is done.
"I can finish it and then go back two days later," Steffek said.
If he's in his studio, he also might see a piece he did three or four years ago and start working on it again. "Sometimes finishing a picture is almost as difficult as starting it," he said.
Steffek's early inspiration was a widely known artist.
"I think the very beginning, the itch was Walt Disney. He really inspired me. It wasn't so much the cartoons, like Mickey. It was the color that he used in the movies like 'Cinderella' or 'Snow White.' I was so taken with 'how can you do that,' and that was the itch that started it," Steffek said.
As the years went by, Steffek moved from Disney to Norman Rockwell, and then Rembrandt became a favorite. Their work inspired him to create to get the same richness and dramatic lighting and learn the processes they used. He also likes to do a lot of portraiture and is a member of the Portrait Society of America.
Color is one of the most important aspects of painting, and it's something Steffek still works to understand.
"I'm still learning about color. Color is the most important thing. It is the difference between a good picture and a great picture, talking in the classical sense," Steffek said. "I'm just scratching the surface, I think, about how to use color the way you're supposed to because it is so unbelievable that you can take five colors and you can make every color that you see out of five colors."
Steffek likes to peruse the internet for new topics relating to art. That is how he found out about the Fibonacci Sequence, a method based on mathematics of sizing and spacing designs to make them more aesthetically pleasing. It is used in paintings and photographs to balance the features of the images to make a more satisfying flow. Steffek said it is something he has always done but without being aware.
"Fibonacci is so incredible. When you start knowing this, you'll start looking at pictures differently," Steffek said.
In addition to portraiture, Steffek works on a variety of pieces including one of his most recent pieces titled "Marge put down your beer, grab the Kodak, we're going to be rich," which features a flying saucer dropping a fishing line into the Tuscarawas River.
Steffek is fully involved in the Port Washington community, although he is not a native of the area. He discovered the community by accident in 2013 after circumstances led to a move from his previous home. He was driving around looking for a new community when he got lost and ended up in the village.
He turned onto the street where he now lives and stopped to ask if there was any place nearby to get something to eat. The first person he met was a realtor, and his new home had only been on the market four hours when he made an offer. He also has his Five Crows Talkin' art studio on the premises where he spends many hours working on painting. He also painted the mural in the Port Washington square.
Steffek is a member of the Port Washington-Salem Historical Society and has served on the village council for four years.
In addition to Union Hall, Steffek's work can be seen at Around the Corner Frames and Gallery in New Philadelphia, along with many other artists who are members of the Tusc Arts Cooperative. For more information on the gallery, visit tuscart.com.
Anyone who wishes to visit the museum may stop Monday through Friday from 9 a.m. to noon when volunteers work at the building or call President Michael Conaway at 818-359-4422.