Entries sought for downtown streetscape tile project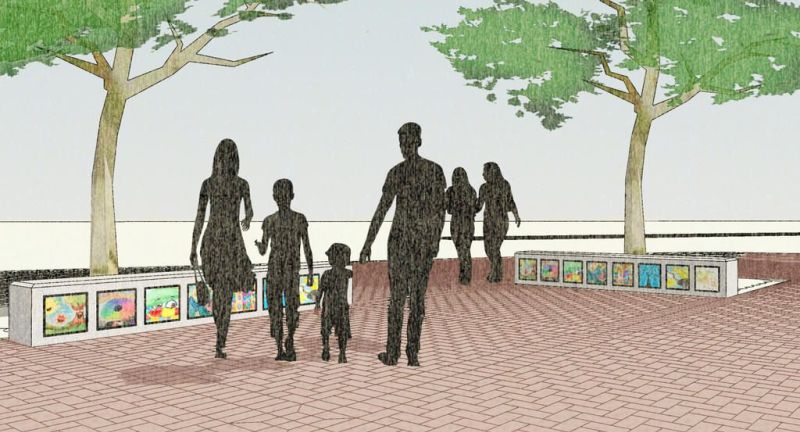 Main Street Wooster, in collaboration with Wayne Center for the Arts, announced applications for the 2020 Streetscape Art Tile Project, creating local art to upgrade the southeast and southwest quadrants of the Wooster downtown square.
No application fee is necessary for this opportunity for local artists, and multiple submissions are encouraged. Art tiles will be installed on two seat walls that will be permanently installed in downtown Wooster. Main Street Wooster and Wayne Center for the Arts will collaborate on an exhibit of the winning submissions that will be scheduled after restrictions on public gatherings have been lifted.
The theme is "Life in Wooster," a broad concept theme. A piece qualifies as long as people won't scratch their heads and say, "What on earth does this have to do with Wooster?" Examples include native plants, native animals, local sports teams, industry, civic groups, arts, culture and landmarks.
The mood should be uplifting: beautiful imagery, positive family scenes and cooperative effort. Images may not include content that is offensive, violent, discriminatory, derogatory, sexually suggestive, obscene, defamatory, containing explicit language or imagery, or otherwise unlawful or inappropriate for public display. All decisions regarding appropriateness of an entry are at the sole discretion of the organizers.
The color palette is earth tones: no primary, neon or fluorescent colors. Each piece or series of pieces will be printed with a half-inch sepia border to visually separate it from adjacent art.
Finished art must be sized at or reducible to 12 inches square. Digital art must be at least 300 dpi at actual size (12 by 12 inches) saved as eps/jpg/tif. Two-dimensional works of art must be capable of being transported off-site to be scanned to a 12-by-12 finished size. The artist assumes all risk of damage to art during transport and scanning.
There is no limit on the number of pieces an artist may submit for the contest. Artists are encouraged to submit a series that would fit the horizontal installation of tiles (two to nine images that are 12 by 12, aligned left to right).
The judging criteria will be adherence to theme, mood and palette; quality and command of the medium used; composition and design; creativity; and impact.
Artworks may be submitted until midnight on May 31. The contest is open to all legal U.S. residents who are 18 years of age or older or those under 18 who have the express consent of a parent or guardian. Parents of minors must agree to sign any required releases that may be necessary.
Artists must be the creator of the art and own all rights to the art. If an image infringes upon another's copyright, it will be disqualified. There are no fees to submit art.
Up to 81 entries will be selected, and winners will be notified by June 19. Digital images of the winning entries will be scanned in full color onto tiles that will be installed in streetwalls constructed by the City of Wooster along South Market Street. Winning submissions will be displayed at the Wayne Center for the Arts during an exhibit that will be scheduled after restrictions on public gatherings have been lifted.
Physical art submissions can be sent to the Wayne Center for the Arts or the Main Street Wooster office. Call to schedule a time to ensure someone will be at either building: Main Street Wooster at 330-262-6222 and Wayne Center for the Arts at 330-264-2787.