Exhibit celebrates Guatemala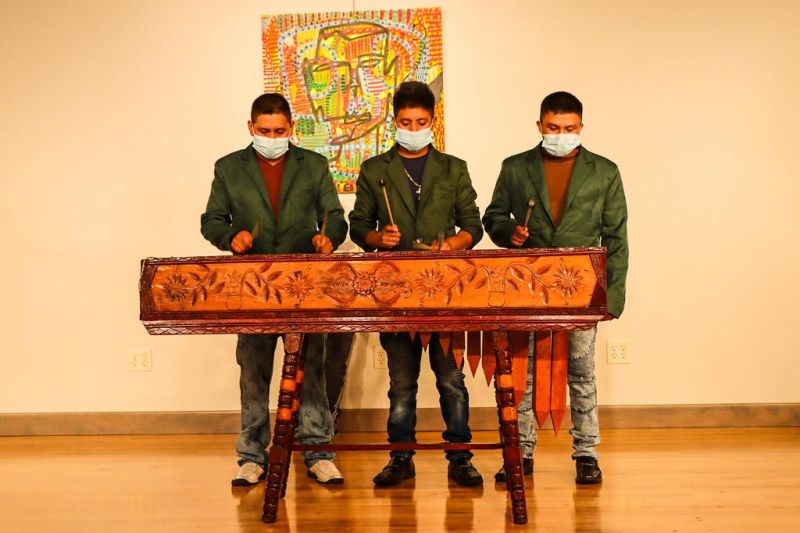 The Experience Guatemala opening reception was held Saturday, Sept. 25 at the Tuscarawas County Center for the Arts in New Philadelphia. The event was funded through a grant provided by the Appalachian Community Fund and featured art, crafts, music and food from the Guatemalan culture.
The arts center was nominated by the Ohio Arts Council to apply for the grant.
"This is a wonderful opportunity to bring our cultures together," said Jeannine Kennedy, director of the arts center. "I am so excited and so happy to see everything — the weaving, the paintings, the kites. Everything is so beautiful. It is really a wonderful celebration."
Guests enjoyed traditional Guatemalan bread called cortadillo prepared by Gaspar Reynoso Raymundo of Dover. The chuchitos, a corn dough filled with chicken, then steamed in banana leaves, and atol de elote, a drink made from corn, were prepared by Juana Cedillo Raymundo and her husband Ronal Duarte of New Philadelphia.
In Guatemala the marimba is named the national instrument and is composed of rows of wooden bars and played with mallets. The Canton-based group, Mi Quetzalenses, performed traditional songs.
Silvia Brito Sajic of Dover demonstrated traditional Guatemalan weaving, a skill young girls learn by watching other females in their family and village.
"I know they are very proud of their weaving skills," said Sherrel Rieger, who coordinated the first-time exhibit. "The patterns and figures in the textiles reflect the natural world — mountains, water, animals, et cetera. The colors represent the colors found in nature. The Ixil women are noted for having the most beautiful clothing."
The textiles tell which part of Guatemala a person comes from. People can recognize where you are from by the way you dress. Rieger explained Guatemala is only about the size of Ohio. "Imagine women in Cleveland would have a certain pattern of clothing while the women in Columbus would have another style."
There are 21 Mayan languages spoken in Guatemala. "They are not at all similar to each other or to Spanish," Rieger said. "So imagine if there were 21 languages spoken in Ohio. People in Cleveland would speak one language, in Columbus another and in Cincinnati another, and so forth. Some of our Guatemalan friends are able to speak their own language and perhaps more than one — Spanish, which they are taught in school, and English. They are trilingual."
Three different language groups were represented in the exhibit: Ixil, K'iche' and Awakateko.
The exhibit will be on display at the center for the arts until Saturday, Oct. 9. The exhibit is free, and all are welcome.
The Tuscarawas County Center for the Arts is located at 461 Robinson Drive SE.