Exhibit features international artists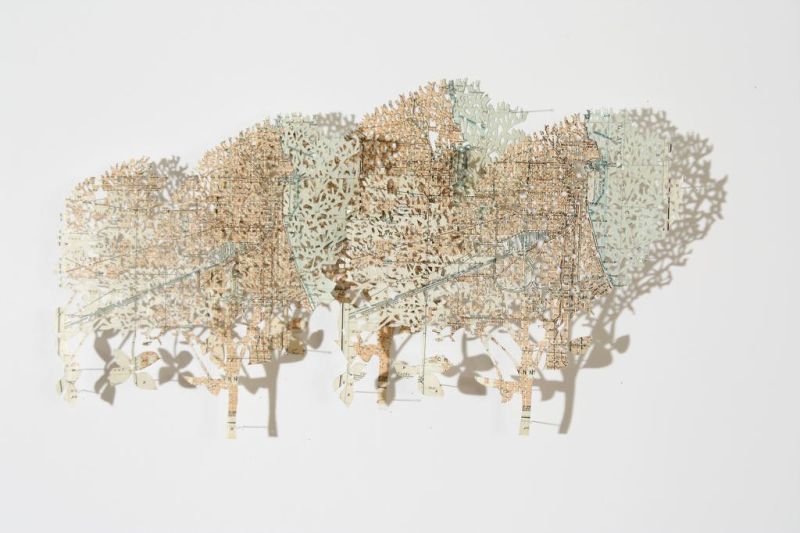 When the Massillon Museum reopens on Friday, June 26, its Aultman Health Foundation Gallery will feature "Cut Up/Cut Out," an exhibition of international artists who explore the methods of decorative piercing and cutting, using a wide range of media from paper and plastic to metal and rubber. The exhibition will remain on view through Aug. 23.
The transformative nature of cutting into and through a surface provides endless possibilities for converting the material from opaque to transparent, from flat to sculptural, from rigid to delicate and from ordinary to exquisite. The process and precision required for this method of art-making is laborious and technically demanding.
"Cut Up/Cut Out," organized by Carrie Lederer, curator of exhibitions, Bedford Gallery, Lesher Center for the Arts, Walnut Creek, California, was first exhibited in the Bedford Gallery from Dec. 18, 2016, through March 5, 2017, before traveling to additional venues.
The art of cutting paper dates back thousands of years with early artworks coming from sixth-century China. Originally a decorative handcraft for women, Chinese paper-cutting eventually expanded into rural areas, becoming a staple at religious ceremonies and festivals.
By the 14th century, paper-cutting spread to the rest of the world, bringing in a new wave of folk art traditions. "Cut Up/Cut Out" honors both innovation and tradition with a selection of more than 50 artists representing diverse styles and techniques.
Participating artists on view in Massillon
James Allen (Portland, Oregon), Ana Bidart (Mexico City, Mexico), Lucrezia Bieler (Zurich, Switzerland), Tord Boontje (London, UK), Nathalie Boutte (Paris, France), Claire Brewster (London, UK), Robert Brinker (Denver, Colorado), Rogan Brown (Nimes, France), Sarah Burgess (San Francisco, California), Michael Buscemi (San Jose, California), Wim Delvoye (Brighton, UK), Lorenzo Durán (Guadalajara, Spain), Mounir Fatmi (Tangier, Morocco and Paris, France), Hillary Waters Fayle (Richmond, Virginia), Adam Feibelman (San Francisco, California), Carmen Lomas Garza (San Francisco, California), Margaret Griffith (Los Angeles, California), Mayumi Hamanaka (Richmond, California), Adriene Heloise (Oakland, California), Meg Hitchcock (Brooklyn, New York),
Justine Khamara (Melbourne, Australia), Kyong Ae Kim (San Francisco, California), Will Kurtz (Brooklyn, New York), Lauren Kussro (Indianapolis, California), Cal Lane (Montreal, Canada), Bovey Lee (Los Angeles, California), Simone Lourenco (New York, New York), Karen Margolis (New York, New York), Chris Natrop (Los Angeles, California), Amy Oates (Oakland, California), Francesa Pastine (San Francisco, California), Irene Pijoan (1953-2004), Nikki Rosato (Washington, D.C.), Donna Ruff (Miami, Florida), Rob Ryan (London, UK), Gabriel Schama (Oakland, California), Brian Singer (San Francisco, California),
Andrew Singleton (Wakefield, UK), Xin Song (New York, New York), Jen Stark (Los Angeles, California), Jana Syvanoja (Helsinki, Finland), Kako Ueda (Brooklyn, New York), Annie Vought (Oakland, California), Mark Wagner (Charlotte, North Carolina), Maude White (Hudson Valley, New York), Barbara Wildenboer (Cape Town, South Africa) and Ty Zemelsky (Durham, Connecticut).
"Cut Up/Cut Out" complements MassMu's NEA Big Read, which will kick off on Saturday, July 11 with free distribution of this year's book selection, "Can't We Talk about Something More Pleasant?" by Roz Chast.
Visitors also will be able to see "36days" by Paul Flippen in the Fred F. Silk Community Room Gallery; "Paul Brown's Pro Teams: A History of the Browns and the Bengals," "Massillon's Gridirons," and the "Paul Brown and Massillon Tiger History Timeline" in the Paul Brown Museum; the "Immel Circus," and the all-new permanent collections galleries.
The Massillon Museum has prepared the building and staff for maximum safety. Visitors will be strongly encouraged to wear masks and distance themselves from others. Precautions and guidelines will be posted on the museum's website for guests to review before they visit. Signage and sanitizing stations will be located throughout the building.
"Cut Up/Cut Out" is sponsored by Greif Paper Mill of Massillon. The Massillon Museum receives operating support from the Ohio Arts Council and ArtsinStark and marketing support from Visit Canton.
MassMu is located at 121 Lincoln Way E. in downtown Massillon. A visit is always free. Free parking is available on adjacent streets and in nearby city lots.
For more information call 330-833-4061 or visit www.massillonmuseum.org.