Fiber Arts Festival to be held in Uhrichsville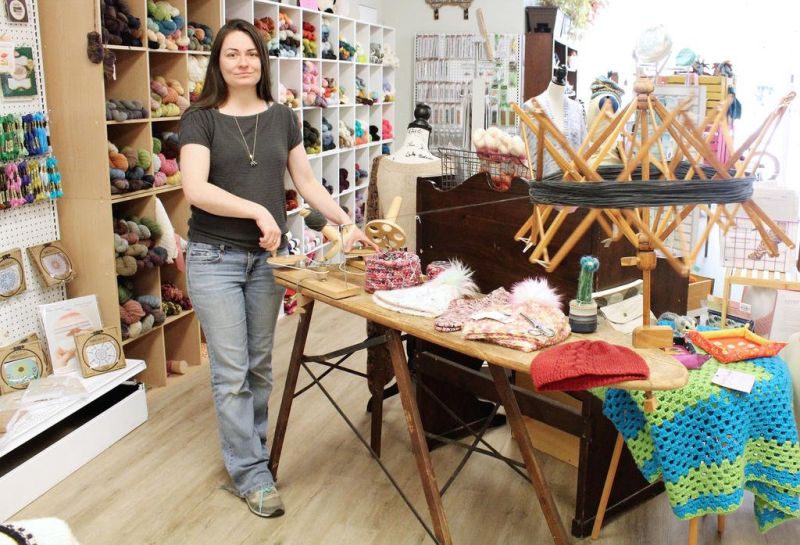 The first of its kind for Tuscarawas County, the Pindrop Fiber Arts Festival will take over a block of Third Street in downtown Uhrichsville on June 5 from noon to 6 p.m. The event will feature live music, food trucks, free workshops, kids crafts, sheep and alpacas, and fiber arts demonstrations. The festival is presented by First Federal Community Bank.
Food trucks scheduled for the event are Mill Street Grill, Ott's Coffee and Le Macaron.
The idea for the festival started several years ago with Jessika Zontini at her Pindrop Shop in Uhrichsville, which features locally grown and dyed yarns, lively patterned fabrics, and numerous how-to classes to keep the community engaged in crafting.
A committee of volunteers was put together to organize the fiber arts festival. Members include Zontini, Laura Gray, Robin Krupinski, Hope Mercer, Cassandra Brown, Ashley Casteel, Cathleen Misko, Wendy Mann, Whitney Manson, Lisa Swigert and Mary Jo Sabetta.
"We wanted to give something to the community that could allow people to try some new things that maybe they've never tried before, and to experience the fiber arts community that we have, and to let people know that they can be a part of it," Zontini said. "We really wanted to just bring light to the local farmers that we have that are raising this fiber. So sheep, alpacas, llamas and angora rabbits, we have all of this happening locally."
The fibers are grown and processed locally and then made into finished products locally.
"At the festival we will have demonstrations of all kinds of fiber arts. We'll have people outside spinning yarn, on wheels, drop spindles, kick spindles. We'll have people dying yarn. We will have people knitting, crocheting, weaving on different types of looms, just all the different ways that you can be creative with fiber. We'll try to have someone representing all or most of those crafts outside so you can see," Zontini said.
In addition to the demonstrations, the Pindrop Shop will offer free workshops inside the store.
"They're just quick, like 45-minute workshops. So you can just get a quick introduction, see if it's something you'd be interested in. And then if you like it, you could come back for a more in-depth class," Zontini said.
The event will include free workshops on knitting, crochet, spinning yarn with a drop spindle needle, felted sculptures, creative flow yoga and macrame. The Claymont Public Library will be there with some fiber-related books to display, and a few out-of-town yarn and fiber vendors also will be there.
The idea for the festival has been in the works since before COVID-19. That's when Zontini, who is a member of the Tuscarawas County Fiber Arts Guild, began talking to other members about how they could make the festival a reality.
"Then it just kind of slowly took form over time, and we decided now's the time," Zontini said.
She began the Pindrop Shop in 2018 on Third Street, but last year she moved the business one door over from its original location.
Zontini is looking forward to getting new people started in different crafts and meeting new people at the festival. She's observed sewing, knitting and crocheting are making a resurgence. While the activities once were a necessity, now they are coming back as a hobby and a way for people to have fun.
An Indian Valley High School and Ohio State University graduate who studied psychology with a minor in fine arts, Zontini had wanted to open a store focused on fiber arts since she was about 16 years old. Previously, she and her mother worked on cross stitch items and crochet.
"I knew I wanted to do it. And then I just tried other things, went to college for something else and just kept coming back to it. So I decided to do it," Zontini said.
Fabric and yarn are the main focus of the store.
"We get really eclectic, different products that are high quality, like yarn that's hand dyed, hand spun and made from natural fibers. We don't like to do the acrylic and polyester. We like to focus on the wool, alpaca, cotton and silk," Zontini said. "We sell the yarn, fabric, and just interesting and different notions to make your crafting more fun."
The store uses a mixture of commercial vendors, local vendors and independent vendors to purchase its stock. The store also has its own line of yarn called Pindrop Fibers.
"We focus on local or rare breed wool. And the reason for the rare breed is because there's certain sheep that are in danger of becoming extinct. So we want to incentivize the farmers to keep raising the sheep," Zontini said. "We dye a lot of it with natural botanical dyes, which is from plants rather than metals or chemicals."
The store also hosts classes and events like the monthly knit night on Fridays, which is free for any type of crafter to come make friends and make things together.
There are things that surprised Zontini when she first opened the store.
"I was most surprised by how many people were doing fiber prep type crafts like spinning yarn. I was really surprised that there were that many people locally doing that. I thought there would be knitters, crocheters, people sewing, but I wasn't expecting how many spinners there were," Zontini said. "And by how many people raising really good quality wool right here in our county. When I first opened, I was ordering wool from Uruguay and Peru. And it's right here in our county. I started shifting to more local stuff."
On a recent Saturday, the Pindrop Shop saw visitors from Ragersville, Cadiz and North Canton with another visitor from Fostoria taking a class online. Zontini is surprised at how the word has spread about her shop.
"I've done a little bit of advertising, and I do social media, but I think people just want community with other crafters," Zontini said.
Visit www.ShopPindrop.com.