Fiddle contest has been a fair staple for at least 30 years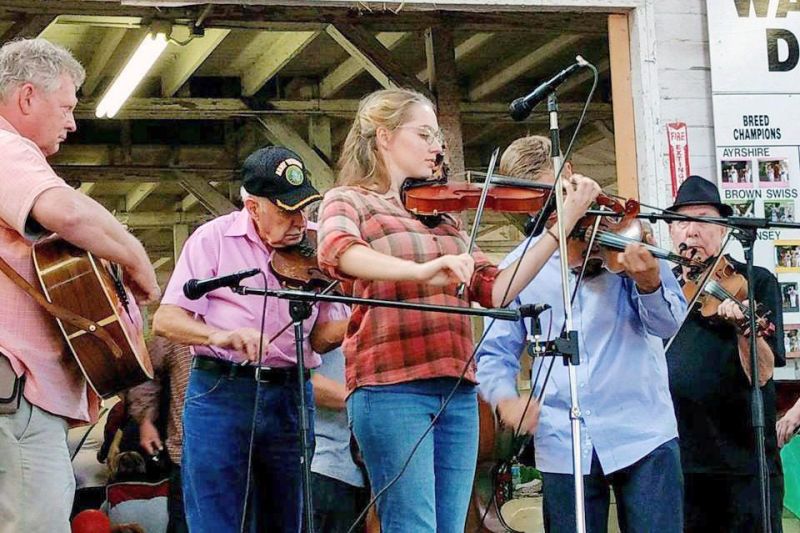 Justin Wallace is preparing for another fiddle contest at the Wayne County Fair. The fair runs Sept. 7-12 while the fiddle contest is scheduled for Sunday, Sept. 8 at 1 p.m. at the Coliseum building.
"This is the fourth year I've been involved with the fiddle contest," Wallace said. "But I know it has been a popular part of the Wayne County Fair for at least 30 years."
The number of contestants varies, and last year was a particularly wet and muddy year for the fair with fewer fiddlers. Wallace said players come from West Virginia, all over Ohio and sometimes into Pennsylvania. Typically the contest is between 15-20 fiddlers.
The fiddling contest is open to any player who is not a professional. "Technically that means they can't earn more than 50 percent of their income from playing," Wallace said.
Classes for fiddlers are broken up by age. The youth class takes in age 12 and under, a junior fiddler class covers age 12-18, and a senior fiddler class is for age 55 and up.
"The others fall into the open class," Wallace said.
The open class is the most competitive and also carries the greatest prize payouts. First place awards $150, second gets $100, third nets $75 and fourth pays $50. "The other classes are slightly less," Wallace said. "The youth class top prize is $75, for example."
Judges for the contest this year include WQKT radio personality Mike Gorrel, who also plays with a bluegrass band. Also judging is Wallace's longtime friend and musician Jesse Smith of Wadsworth, a premier finger-style guitarist.
"Jesse is just coming off a major national win of his own. He won first place in the Wayne Henderson Flat Picking Contest in West Virginia. The first prize was a $20,000 guitar. He has a great ear for music and is a great judge for the fiddling contest," Wallace said.
Wallace said the judges will need to have a good ear. "It's very competitive, and the players are all usually very good. You have to really have a strong ear to pick out the small differences that make one player's performance slightly better than another."
Wallace serves as a back-up judge and tie breaker as needed.
Fiddlers will be judged on playing ability, and Wallace said trick playing is not allowed. "Some people can play behind their backs or between their legs. We don't permit that kind of playing as we feel it discriminates against those who are less agile but still are excellent fiddlers."
Wallace said players will offer three tunes designed to showcase each fiddler's technique and ability. "Players are allowed to bring one other person to play accompaniment on guitar or whatever they like to help keep time and make a good overall presentation. First, they must play a selection of traditional, old-style square dance music. Then they play a waltz. After that they can play any kind of tune of their own choosing."
Admission to the Wayne County Fair is $4 per person with children age 6 and under free. The fair is at 199 Vanover St. in Wooster. Find full daily fair schedules and information at www.waynecountyfairohio.com.