Fine arts gallery to open in New Philadelphia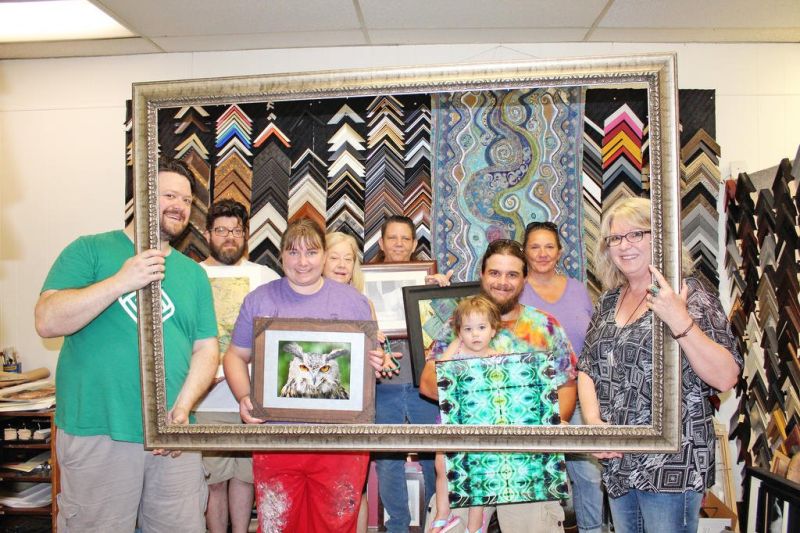 Vivian Mosley of the Tuscarawas Arts Cooperative is excited to set in motion her dream of opening a fine arts gallery. Mosley also is a member of the Tuscarawas County Center for the Arts, where she saw the need for more gallery space to promote fine arts artists and offer them added opportunities to display and sell their work.
"We really don't have a fine art gallery in our community. I've been researching on how to have a cooperative and get the artists involved for years, and it's finally becoming a reality," Mosley said at a recent work party to transform an area store space into a gallery. "We will have a diverse amount of work."
The gallery, located at 207 S. Broadway St. in New Philadelphia inside Around the Corner Framing, will feature acrylic and oil paintings, watercolors, pastels, photography, mixed media, jewelry, fiber art and more.
The Tusc Arts Cooperative gallery will encompass 1,200 square feet to start. The group will eventually expand the gallery's space to 2,400 square feet.
It was Tim Liversage of Stray Cat Digital who learned of Mosley's goal from a Facebook post and put her in touch with Around the Corner Frames owner Tim Sidel. Together, Sidel and the Tuscarawas Arts Cooperative hope to create a relaxing gallery space that will benefit everyone: the co-op, the business and the community.
Sidel opened the frame shop at its current location almost four years ago. He started in framing at the former Kimberly's Gallery in New Philadelphia, then owned a shop for 17 years in Massillon. He then moved his shop back to New Philadelphia. He had always wanted to add a gallery to his store, but business was so good he never had time to do it.
The co-op members are happy to have the location for their gallery, which Sidel selected for its visibility. "My sales rep told me, 'This is your building.' I said we haven't even seen the inside yet. The downtown is hard to see because people park in front and the faces of the buildings are kind of obscured by the parking. There is no parking in front of this building, and it's one of the first things you see when you come downtown."
Liversage also designed the group's webpage.
"I'm excited. People can apply through the website and submit their work," Liversage said. "With the website it's not a static gallery. We'll advertise in ways other older galleries aren't doing."
The gallery also will have a professional photo booth available for the use of co-op members. "Most artists don't have a professional head shot they can put online, which makes it more human. They'll have a professional space to take photos of their art work. A lot of people do art, and then it just sits there. Once it's photographed, it can be displayed on the website," Liversage said.
The gallery will have a quick response code for each artist by their work that will allow visitors to use their phones to go directly to an artist's profile and see more of their work. "They may only have two items on display in the gallery but 10 more online," Liversage said.
All the artists at the gallery also will be available to do commission work.
The gallery will be operated by the members and open to the public the same hours as Alley Cats Marketplace.
"They can send people to us, and we can send people to them," Mosley said.
The members will take turns working shifts and may bring their pieces to work on while they are there. Visitors will be able to chat with the artists and hear about their work.
The group will work with other area businesses for artists' resources such as prints. "We will work with all businesses that support the arts," Mosley said.
Mosley met with Jeannine Kennedy of the Tuscarawas County Center for the Arts for her thoughts on the project. "She's been a lot of help. She offered practical advice about what is needed, to talk about how it's the caliber of art that you are looking for and how to present it," Mosley said. "She offered encouragement too; she was our art teacher in high school."
They would like to have as many shows as possible including private shows. The group would like to work with area schools to have an art show for high school students for football rivalry week. They also would like to work with schools to paint a mural in front of the building.
Co-op applicants' work is juried by a committee for quality before they are accepted into the organization. The group currently has 11 members, but they are looking for more, especially sculpture artists, pottery artists and jewelry makers.
Dues are $55 a year, which includes advertising and directory listings. Once the gallery is open, members will pay a $25 fee per month to cover costs of events and a 10% commission fee on items sold to Around the Corner Frames and Gallery. Members unable to work in the gallery may pay a slightly higher commission fee.
The co-op anticipates opening the new gallery sometime around mid-September.
For more information follow them on Facebook at Tusc Arts Cooperative or visit their website at tuscart.com.