'Footloose' has everybody cutting loose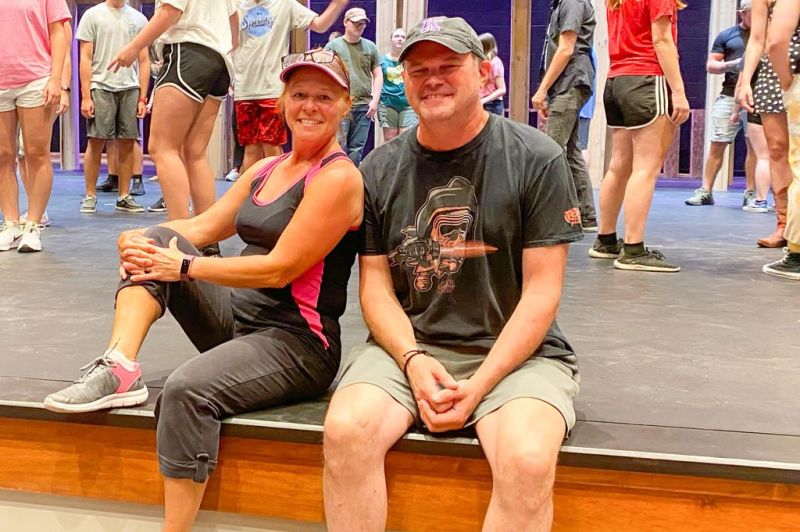 The 1984 film "Footloose" unleashed a string of chart-topping hit songs that found many bobbing their heads in time at every traffic light. The musical version of "Footloose" will be the newest show to hit the stage from the Little Theatre of Tuscarawas County, and audiences will recognize many of the numbers while seeing new additions written for the show by Tom Snow and lyricist Dean Pitchford. The musical debuted on Broadway in 1998 and ran for 709 performances.
"Footloose" will open on the Dover High School stage on June 23 and run June 24-25 and July 1-2 at 7:30 p.m., with Sunday matinees on June 26 and July 3 at 2:30 p.m.
"The music you recognize from the movie is all there," said Tom Morris, who is directing the production. "Of course, the song 'Footloose' is there, along with 'Let's Hear It for the Boy' and 'Almost Paradise.' Then there are a lot of songs written specially for the show."
Morris said it was an easy choice to submit "Footloose" to the Little Theatre board for consideration. "I'm a product of the '80s, and it's a really fun show to do. It's also a show which can include a wide range of cast members. When we called for people to audition, we were truthfully able to say there are roles for anyone from age 8-80," he said.
"Footloose" has a large cast with more than 60 members, Morris said. He finished staging and blocking the show with more than two weeks of rehearsals left to polish things up. Choreography is handled by Missy Zickel while Megan Sams is music director.
Such a large production is well suited to the stage at Dover High School, which luckily was available.
"This is simply too many people and too big a show to do on the smaller stage at the Little Theatre building," Morris said. "So I asked to move it here. This will work out very well. The show beefs up some of the supporting roles from the movie, and many of them have their own solo songs. So there are all these characters who were kind of background in the movie but are much more strongly featured in the musical."
The show follows the story of Ren McCormack, a Chicago teen who, with his mother, Ethel, is forced to move to a tiny town called Bomont after being abandoned by his father.
In Bomont they learn the town is under the thumb of a conservative preacher named Shaw Moore, who uses the pulpit to lambaste the evils of rock and roll music. Moore's daughter Ariel does not share his distaste and has her share of outings with other local teens.
At his new school, McCormack avoids a bully's beating only to befriend him, dances freely in the halls and learns dancing at all is illegal in the little town of Bomont. Many new friendships and entanglements later, the students find ways to change local minds and teach a few people the joy of dancing along the way.
Morris said many of the cast members represent whole families. "I also have a nice group of Dover High students who are a part of the cast and a lot of students from schools all around the area. We literally did end up casting people of all ages," he said.
"Footloose" features Frank Lucas as Ren, Elle Stokey as Ariel, Stephanie Price as Ethel, Larry Sams as Rev. Shaw Moore and Missy Zickel as Moore's wife, Vi.
Tickets are available at tuscpactickets.universitytickets.com.