Hammered dulcimer champ at WCA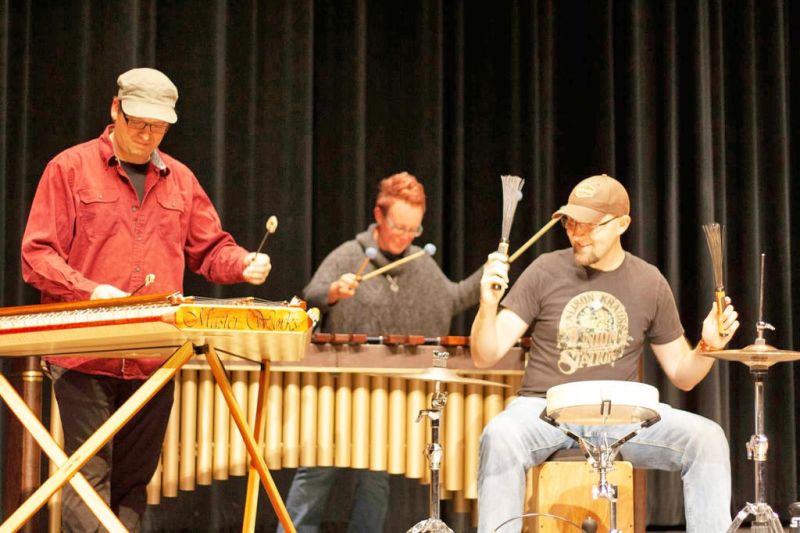 The Wayne Center for the Arts announced the next concert of its 2019-20 Performing Arts Series, made possible by a grant from the National Endowment for the Arts.
WCA will welcome National Hammered Dulcimer Champion Ted Yoder, percussionists Rhythmwood Drive and bassist Toby Hazlett to the WCA auditorium on Sunday, Feb. 16 a 7 p.m.
Yoder rose to fame in 2016 after a Facebook Live video of his dulcimer cover of "Everybody Wants to Rule the World" gathered over 101 million views. Since then he has collaborated with a number of other musicians to produce covers of popular music, rock songs and classic folk music. Called "the Bela Fleck of hammered dulcimer" by Michael Johnathon of Woodsongs Old Time Radio Hour, Yoder's performances are as skillful as they are entertaining.
Percussionists Doug and Sarah Haag will join Yoder to fill out the ensemble. The married couple met at a music competition in high school and have since teamed up with Yoder for a series of album recordings.
Sarah Haag plays the marimba and also was a 2018 National Hammered Dulcimer Champion finalist. Doug Haag is a master of cajon and other percussion. One can view a recent video of the trio's recording of "Africa" on the WCA webpage.
Hazlett, fretless bass, is the other musician featured on Yoder's recent album, "Lean In." WCA is excited to feature the only gathering of all four musicians on this year's tour.
"We are so incredibly excited to host Ted Yoder and Rhythmwood," WCA executive director James Fox said. "This is an opportunity to watch a nationally renowned dulcimer player right here in Wayne County. WCA strives to present cultural performance opportunities at low to no cost, and Mr. Yoder is supporting this mission by playing for goodwill donations in lieu of ticket sales. Bring the whole family."
The performance is free, although a goodwill donation will be accepted. More information about Yoder is available at www.tedyoder.com and about Rhythmwood Drive at www.rhythmwooddrive.com.
Wayne Center for the Arts is a nonprofit community arts center in Wooster, dedicated to "enriching lives and strengthening communities through art."