Indian Valley senior earns scholarship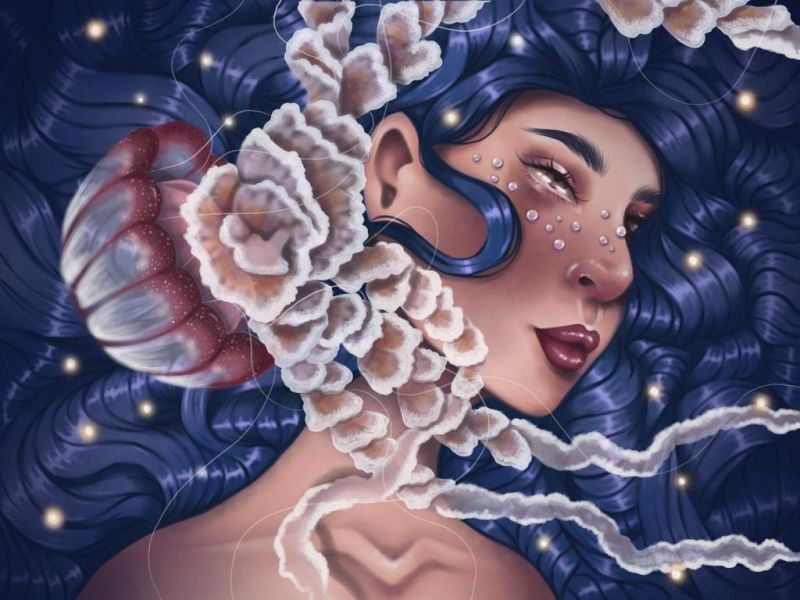 Emily Alander of Port Washington is the 2021 winner of a $1,000 scholarship from the Tuscarawas County Art Guild. She is a senior at Indian Valley High School and plans to study art education at Kent State University. She is the daughter of Tonya and Eric Alander and has two brothers, Derek and Timothy.
The art guild announced Alander is the 17th recipient of the scholarship award they first started in 2001. The scholarship award is decided using three references provided in the application and the submission of photographs of the artists' original work. The members have held fundraisers, donating their time and resources to this award.
Alander became an artist at an early age.
"I've been making art since I was probably about 4 or 5," she said. "I remember taping printer paper together to make huge drawings that would be taller than I was and painting the wall in my room when I was around 12 years old. I always really loved making, and I always found a way to do it."
Painting is Alander's favorite form of expression, whether it be acrylic, oil or watercolor, and she also enjoys creating digital art.
"I also stick mostly to drawing portraits and using people as my subjects just because I enjoy all the small details that go into creating a realistic, expressive face," Alander said.
Sara Dittfeld, a visual art instructor, was Alander's art teacher for a few years in elementary and during her entire time in high school.
"She's always been incredibly motivating and has been a major part of me finding my way as an artist," Alander said. "I also have to thank my middle school art teacher, Mrs. Carroll, for really allowing me to explore and create freely in her classroom."
Alander has some favorite pieces she has created.
"I'm very proud of some of my most recent digital pieces such as 'Submergence.' My absolute favorite piece is my painting titled 'In Life and in Death,' which was a project I took on over quarantine and took about three months to complete. These pieces allowed me to really experiment and discover my own unique way of conveying the themes that I want to share with others," Alander said.
Alander has done well at art competitions during her high school years, winning many ribbons at Indian Valley art shows and a gold key from the Scholastics Art Competition. She also had numerous pieces selected from the Governor's Art Competition.
Art was a path that led Alander to her future. "I hope to become an art teacher so that I can inspire students just as my incredible art teachers inspired me," she said.
Her other interests include marching band, where she played the flute and piccolo. She is a director and set designer for the Drama Club.
"I love skiing and roller skating, and I especially love travelling to visit museums and parks any chance I get," Alander said.
Alander said she is extremely grateful to the Tuscarawas County Art Guild for granting her the scholarship.
"It's really so amazing to have your talent recognized and honored and even rewarded by so many incredibly talented people," Alander said. "I'm so appreciative of them for this opportunity that helps me so much as I start down the path toward my future."
The Tuscarawas County Art Guild is a nonprofit organization of people interested in the advancement of the fine arts. The guild strives to promote public appreciation for the support of its endeavors through community involvement. It is supported by annual dues, commissions on sales from Art Guild shows and outside contributions.
The Tuscarawas County Art Guild is represented by Tuscarawas County artists in a variety of visual art forms including ceramics, drawing, fiber, jewelry, painting, printing, sculpture, collage, stained glass, photography, watercolor, textile art, wood and more. They exhibit their work in local shows, businesses and competitions.​
In addition to providing a scholarship, the organization strives to promote active participation in the arts by area residents, encourage the public to appreciate original art, educate members and the public, maintain an interest in cultural affairs, and embrace all art forms.
For more information on the organization, find them online at www.tuscarawascountyartguild.com or find them on Facebook.