Little Theatre offers theatergoers a double treat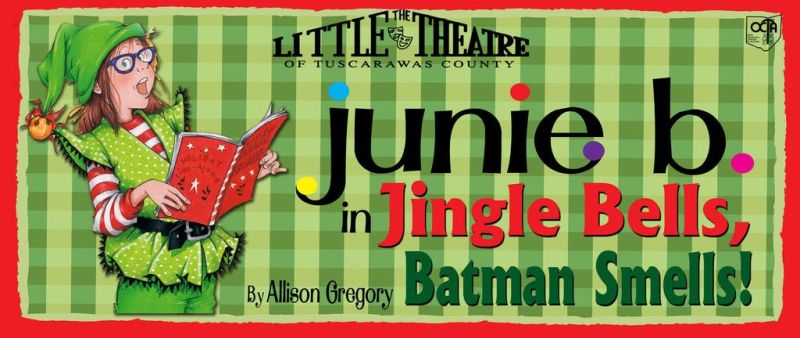 Holiday theatergoers will have a double treat when they attend this season's Christmas production at the Little Theatre of Tuscarawas County on Thursdays, Fridays, Saturdays and Sundays, Dec. 5, 6, 7, 8, 12, 13, 14 and 15.
The show begins with an original short play, "A Visit From Mrs. Claus," and evolves into a performance of the children's classic, "Junie B. in Jingle Bells, Batman Smells."
"Mrs. Claus," which was written by director Kathy Blair Bergstrom, finds the kindergarten class in Room 9 misunderstanding the story, "'Twas the Night Before Christmas," as it is being read to them. They are led throughout by their music teacher, Mrs. Toot, played by Amy Vance; their classroom teacher, Mrs. Devine, played by Machelle Miller; and Mrs. Claus, played by Lee Elliott.
Fourteen children comprise the class in Room 9: Hallie Crall as Hannah; Zane Kuczirka, Timmy; Noah Beachy, Noah; Allegra McMillan, Emma; Emma Dessecker, Lizzy; Jordi Kopp Baldich, DJ; Layla Bitikofer, Zoey; Bella Fortner, Bella; Mason Locke, Ryan; Lily Johnson, Abby; Lilyanne Tipka, Suzie; Ethan Tipka, Alex; Isabella Kaput, Charlotte; and Anna Wherley, Anna.
All children from "A Visit From Mrs. Claus" will be members of the whole-cast chorus that will sing popular Christmas carols.
As the play moves to the older children in Room 1, the script comes from Allison Gregory's rendering of "Junie B." books, written by Barbara Park. It's the most wonderful time of the year for everyone except Junie B. Jones. That's because while everyone in Room 1 is celebrating, Junie B. is horrified to learn she has drawn the name of her arch nemesis, Tattletale May, in the holiday gift exchange. What will she do? The world's funniest first-grader comes to life for eight performances this Christmas.
The cast of "Junie B." includes Alicia Diamond, Junie B. Jones; Jade Boffo, May; Grace Williams, Lucille; Michael Antonelli, Herb; Chester Boffo, Sheldon/Grandpa Miller; Kaleigh McCutcheon, Josefina; Jeff Williams, Mr. Scary; Amy Vance, Mrs. Toot; Danielle Blair, Jordan/Phillip Johnny Bob; Taylor Brogan, Jamie; Will Hammerstrom, Lennie; Destiny Pope, Alex; Abigail Zeedyk, Grace; and Elf Ellen, Shavonne McMillan.
Directed by Bergstrom, the staff includes Rex Huffman, assistant director; Pam Douglas, stage manager; L. Thomas Albury, lighting design; Kathy Cummings and Bud Frye; stage crew; Jack Pottmeyer and Bob Bergstrom, set construction; and Sarah Spies, producer.
Sponsors for the season are Robert and Virginia Cassady, Steve and Becky Mastin, and Little Theatre Original Productions. Performances are sponsored by Rich and Carol Harman and Rex Huffman, in memory of Karen Huffman.
A special reception will be held after the opening-night performance so that the audience can intermingle with characters and have hot cocoa and Christmas cookies.
Tickets are on sale by calling 330-308-6400, visiting the Performing Arts Center box office or online at www.TheLittleTheatreOnline.org. The Little Theatre box office is open show dates only at 6 p.m. and Sundays at 12:30 p.m.
Adults are $15, children/students are $10, and college students with ID and active military/veterans with ID are $10.
The Little Theatre is located at 466 Carrie Ave. NW in New Philadelphia.