Local carver showcased at Dover Library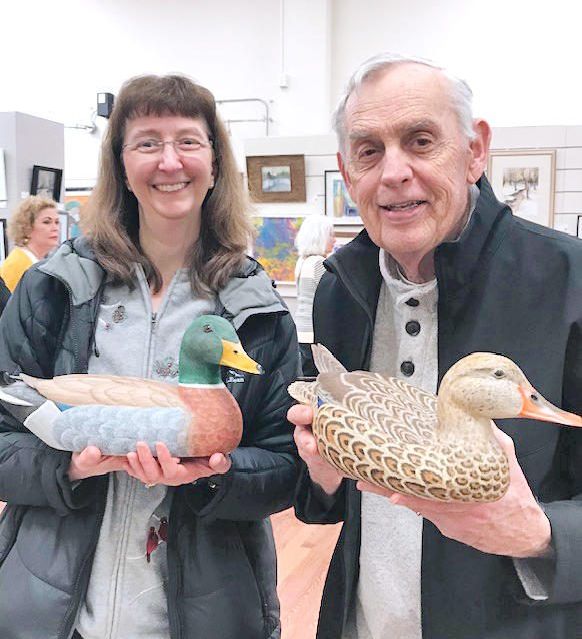 Since 1982 Andy Liptak of Dover has been honing his carving skills, and the public is invited to see his work on display at the Dover Public Library throughout the month of January.
Liptak, originally from the Akron area, married his wife, Betty, a year ago and moved to Dover, where the two are happy together working on their art. Betty has even encouraged Andy to take up watercolor painting.
"I started with decoys in 1982 in Louisiana. I was in the Air Force," Andy Liptak said.
Liptak served for 22 years in the United States Air Force, attaining the rank of lieutenant colonel.
"I went to a decoy show, and there were these beautiful birds that the professionals had carved. I looked at them and said, 'Gee, those are nice.' Then I looked at the price, and they are like 500 bucks," Liptak said.
For that price Liptak thought he could just try carving them himself. "It kind of evolved over time," he said of his carving.
Liptak did take one class in Louisiana because he wanted to learn more about painting his carvings. When he asked for help, the instructor told him, "Well, you try a little bit of this and a little bit of that,"
"And that was the last class that I took, so I just did it myself and it turned out pretty good," Liptak said.
His favorite subjects to carve are birds and other wildlife. Liptak feels his best work is on display at the library. The carvings take much time to create, and then he uses a wood burner to outline the feathers individually and then paints them with acrylic paint.
"It's all self-taught," Liptak said. "One of my goals was to see if I could compete with some of the professional carvers, and I sold stuff alongside of them. Once I met that goal, then I kind of got away from carving for a while. I'm back at it since I got married."
Liptak said while he might part with a carving for the right price, he just enjoys carving and working on the pieces at his own pace.
"People ask me, 'Do you sell these? Can I buy some?' Well, they take so long to make you probably can't afford it. The time required is a lot. I got some good prices out of them in past years, but I'm out of the sale business. Now I do it for fun. I can work on it any day for as long as I want to do it and there's no pressure," Liptak said.
Another achievement Liptak is thrilled with is a Best of Show win at a Cuyahoga Valley art show two years ago.
He has made his carving more 3-D by incorporating a painted background for display behind some of his pieces. There are two 3-D works on display at the library, and one is the piece that won Best of Show. "I have a three-dimensional bird flying into the board into a water scene," he said.
Liptak is proud of his wife, Betty, and her artwork. "She is really good. She does all kinds of oil paintings, and she does commission work. She did a painting of a Bassett Hound recently," he said.
Betty Liptak began painting in 2008 after she was widowed. "I've always wanted to paint, but I worked and didn't really have the time," said Betty Liptak, now a member of the Tuscarawas County Art Guild. "Then I got serious about it."
Betty Liptak enjoys doing the commission work and painting historical buildings around the community. She has painted a snowy view of the Dover Library, and the piece is currently on display on an easel near the fireplace at the library.
The Liptaks enjoy their new life together. "We are happy together, and we paint together," Betty Liptak said.
The Dover Public Library is currently open Monday through Friday from 10 a.m. to 6 p.m. and on Saturday from 10 a.m. to 2 p.m.