Local dancer receives recognition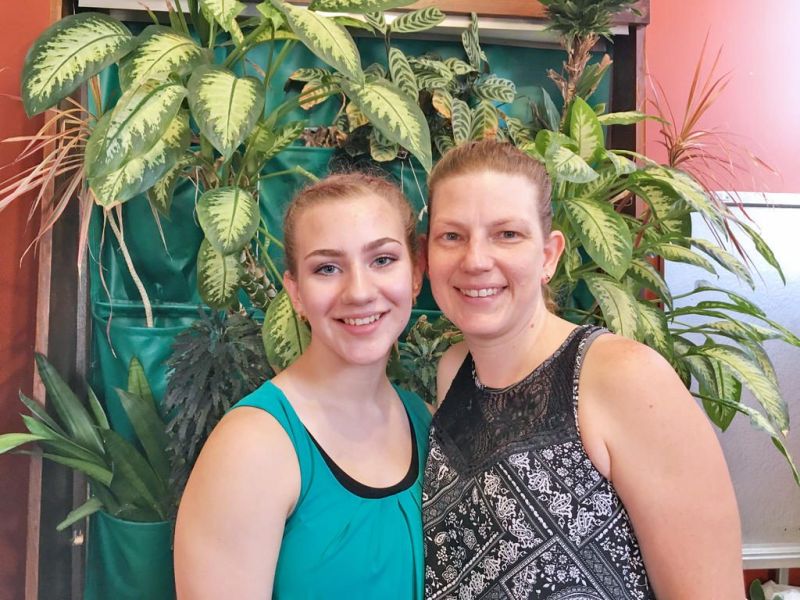 Alicia Martinez has been dancing for as long as she can remember. Currently 15 years old, that's about 13 years of dance. "My mom put me in dance classes," she said. "I loved it, so I kept going."
Alicia Martinez is this year's recipient of the Roberta Looney Scholarship for Dance. The merit-based award is given on recommendations from instructors at the Wayne Center for the Arts, where Alicia Martinez attends the pre-professional school of dance.
The scholarship was created in 2000 when Roberta Looney retired as director of the art center. It was designed to honor Looney's dedicated and innovative leadership. During her tenure she launched many new programs and offered accessibility to the center for everyone without regard to means.
"This year's recipient has been a pleasure to have in class," said Kimberly Payne, the art center's dance program coordinator. "Her dedication to improving technique makes us proud to have her as a member of the Wayne Center Ballet."
"That first ballet class is almost a right of passage for little girls," said Alicia's mother, Joanna Martinez. "But with two of my girls, this is what they wanted to do with their lives."
Alicia Martinez has two older sisters, one of whom danced until she was 18 and is now studying the arts in college. A younger brother also takes dance class.
Along with ballet Alicia Martinez studies modern, jazz and hip-hop. She finds herself in dance class and rehearsals five to six days per week, all year long.
"We have a break for Christmas," Alicia Martinez said. "But it's something you have to keep going. You have to keep dancing to keep in shape."
When Alicia Martinez isn't dancing, the home-schooled student is studying at her home in Dalton or working at her part-time job. "I babysit," she said with a smile. "They have seven puppies." Not really puppies, she explained, but small dogs who need a lot of loving attention that she provides every morning before school.
"The commute is nice," Joanna Martinez said. The puppies are neighbors.
"I also like to read and play with our three cats," Alicia Martinez said. "I have lots of friends. We hang out; we swim. Dancing takes up a lot of time."
Alicia Martinez has proven herself to be a dedicated student of dance. "I love the beauty of it," she said. "It's a hard thing to do. You have to discipline yourself and work hard. The sense of accomplishment when I complete something I wasn't able to do last year fills me with joy and pride."
Joanna Martinez described her daughter's fierce determination and dedication in dance class at an early age. "I remember the first time she discovered fouette turns," she said. "She was 8. She worked and worked until she got it. She wants to be perfect because she loves it so much."
A fouette turn is a traditional ballet spin, a full turn. The classical ballet term means "whipped" and refers to the action of the leg during the turn.
Alicia Martinez has learned a lot of French in her years studying ballet. "One of my teachers writes all the terms on the board," she said. "I believe there are over 62. We have to pronounce them and give definitions. And if they aren't correct, we have to do push-ups."
In addition to her extensive dance training and focus, Alicia Martinez has helped with cataloguing costumes, and she participated in an outreach program that brings dance to local schools. She also has participated in numerous regional master classes and workshops.
"I love to perform so much. I want to join a professional company some day," Alicia Martinez said.
For now there are "Nutcracker" auditions to think about. And even with a hectic schedule, there is time to hang out with friends.
"It's great to have friends who are into the same things," Alicia Martinez said. "Whenever we are hanging out together, we always end up dancing."