Local writer says you're never too old for true love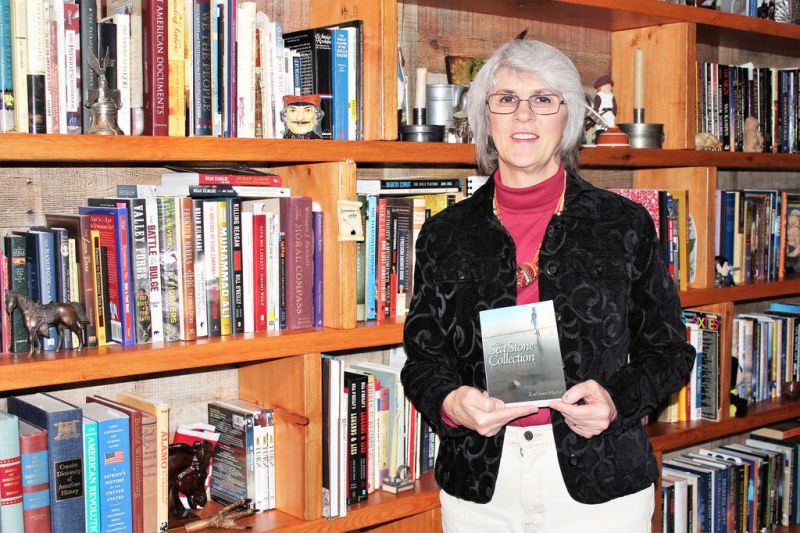 Advice from her mother, the late Eleanor Oswald, prompted Kathleen Martin, who lives outside of New Philadelphia, to publish her first fiction Christian romance book, "The Sea Stone Collection."
"For years she encouraged me to get started before it was too late," Martin said. "'Do not die with your book still inside you,' she told me."
Martin also had the constant support of her husband, Darrell, and sister, Becky Stevens of Dover.
Martin knew she wanted to write at a young age. "When I was 12, I told my family, 'I'm going to be an author,'" she said, adding she keeps journals of ideas she wants to write about.
Though Martin has another project still in the works that she started writing before "The Sea Stone Collection," she never gave up and is pleased to have published a book after 50 years of dreaming.
Martin got the idea while attending a writers' workshop in Coshocton County, sponsored by the Write-On Writers Guild. "It was 2016. One woman in our group said, 'Nobody ever writes a book about women our age who are in love for the first time,'" she said. "I call it a God wink. It triggered something. I opened my notebook and just started writing. By the time the workshop was over, I already knew what I was going to write and the characters."
In "The Sea Stone Collection," even though the first names of the main character and her best friend are named after Martin and her oldest sister, Becky, the book is not autobiographical. It is set in a small town in Maine, a state Martin has never visited.
In the book the main character is Kathy Jennings, who has collected magical sea stones since she was 11 years old when her grandpa gave her one. On her 60th birthday, she finds the coveted "singing sea stone," which tells her she is about to find true love. Many challenges follow for Jennings as she meets Marcus Stone, a handsome British man, and her best friend, Becky Porter, develops a life-threatening illness. Both women come to grips with their past and realize they need God to help them cope with their lives today.
Being in the "flow" helped Martin write her book on her laptop at her favorite writing spot, her kitchen table. "When I sit down to write, I've lost hours. Once I lost a whole day; Darrell was out of town. I went in and wrote. I stepped out, and it was dark. I don't even remember the day. I didn't eat. I lose time when I write," Martin said.
Creativity runs in the family. Martin's father, Sylvester Cline, was known for his storytelling. Her son, Mike Aul of Ann Arbor, Michigan, is an artist who paints Native American-themed works and runs a tattoo shop.
Writing a book wasn't always an easy process, and Martin credits her membership in the Tuscarawas County Writers' Guild with helping her with the details. "As an author I fear commas as much as I fear spiders," Martin said. "I'd write down sentences and have Ruth Snodgrass or Cathy Adams correct them. Apparently I was sleeping during grammar class."
Martin had other help as well. The book's cover photo was taken by Brian Robinson, a graphic artist, and the son-in-law of Martin's friend, Marcia Weber of Dover, while on vacation at Ocean Isle Beach in 2017. Weber is featured on the cover photo. Since character Becky Porter is a marathon runner, Martin interviewed Weber's daughter-in-law, Amy Weber, on running.
Once Martin secured a publisher, Christian Faith Publishing, it took another year before her book was ready to be published. "Between me and the editor, we polished it up. I learned a lot," she said.
She'll use that knowledge as she starts editing her next book, "Hard Acres," a fictional story based on Martin's childhood growing up on a farm in Wayne County. "'Hard Acres' sort of turned into 'Little House on the Prairie.' I need to edit it down and stitch it together like a quilt," she said.
Still to come, Martin wants to write books in several genres including science fiction, paranormal and young adult.
"The Sea Stone Collection" is available at the Dayspring Christian Book Store in New Philadelphia, the Cottage Gate in Roscoe Village and two other area Christian bookshops in Sugarcreek and Berlin. The book also is available online at Amazon and Barnes and Noble.
Martin will speak about her work at the Tuscarawas County Writers' Guild meeting on April 15 at 7 p.m. at the Tuscarawas County Center for the Arts, 461 Robinson Drive SE, New Philadelphia.