Locally produced film's fan club making a return trip to Ohio this October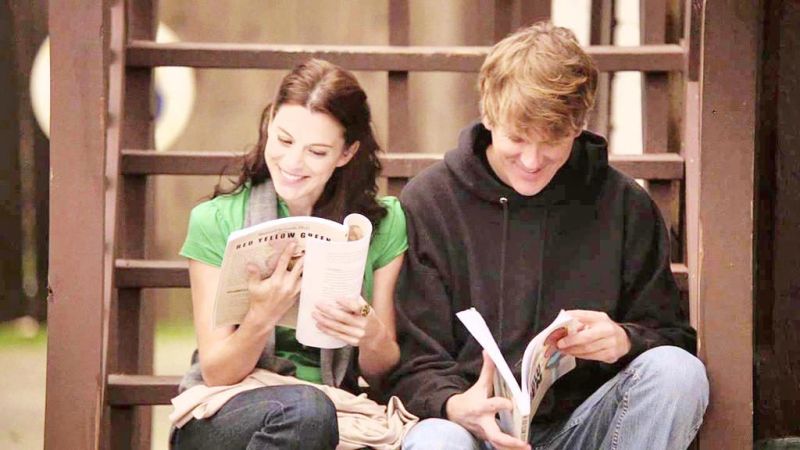 For the third year in a row, a group of people from across the country will gather together in New Philadelphia on Sunday, Oct. 14 to celebrate the film, "Old Fashioned," and also to raise money for the Tuscarawas Valley Film Festival.
"Any funds generated by the screening of 'Old Fashioned' are certainly appreciated and will be applied to the costs of making the TVFF a better event each year," said Mike Ernest, owner of the Quaker Cinema and director of the TVFF.
What began as an impromptu trip in the fall of 2016 — by a fan from California who wanted to visit some locations from the film — quickly blossomed into a group event and eventually a repeat trip the following year with a screening of the film at the Quaker Cinema and an online fan club that now has over 700 members.
That fan, Linda Jimenez Wiley, is now not just a fan of the film, but also of the whole region.
"As seen in 'Old Fashioned,' Tuscarawas County is absolutely beautiful in the fall. It's a nice change for this California girl. It's also been a real joy for me to have the opportunity to meet other movie fans face to face that I've come to know through Facebook and the fan club," she said.
And Wiley has picked up some fans of her own including Dee Grossman, executive director of the Tuscarawas County Convention & Visitors Bureau. "I think it takes one special person like Linda to find that one thing to hold onto, in this case, hope, which is the very thing this movie seems to give to many. It's inspiring," Grossman said.
Wiley said, "I believe many of the 'Old Fashioned' fans were deeply drawn to or touched by the movie because we could relate to some aspect of Clay or Amber's brokenness. Seeing others go through some of the same life issues as we have experienced helps to make a person feel less alone in their personal hurts and beliefs and to realize that it's OK to be different. The movie holds so many great messages in it with each viewer picking up on the ones most relevant to their own life."
Fans will arrive over that weekend with some visiting filming locations and just hanging out in advance, but things will kick off officially on Sunday afternoon, Oct. 14.
First, the Tuscarawas Valley Convention & Visitors Bureau will open for free from 3:30-4:30 p.m. for anyone who might like to stop by and see some "Old Fashioned" mementos and learn more about the area.
Then from 4:30-6 p.m., there will be an Old Fashioned Social at The Daily Grind so fans and local friends can have the chance to mingle. This event also will be free and open to the public.
The Daily Grind will offer a limited menu for those who would like to purchase food or drinks. It is expected that some of the film's cast and crew will make surprise appearances at some point during the social.
Check-in will begin at 6 p.m. at the Quaker Cinema for those on the guest list for the special benefit screening of "Old Fashioned," which will start at 6:30 p.m. Admission to the screening is a suggested donation of $5, and all proceeds will go to benefit the TVFF.
The screening is currently sold out, but a wait list has been started to fill any open seats created by any cancellations. To get on the wait list or learn more about the event, email Wiley at offanclub@gmailcom or visit The Old Fashioned Fan Club on Facebook at www.facebook.com/groups/948649715280801/.
Cast and crew from the film will welcome those attending, and a Q-and-A will follow the screening. Currently scheduled to appear from the film are Elizabeth Ann Roberts (Amber), Rik Swartzwelder (Clay, writer-director), LeJon Woods (David), Joseph Bonamico (George) and Ange'le Perez (Cosie), among others.
This is the first fan event that Roberts (who played Amber in the film) will attend. "Our fans are truly the best," she said. "We have been blessed for years now by the support and love of those the film has touched. What a tremendous gift. I still feel like I am learning about Amber in hindsight. As I grow, my perception of her grows. Unpacking the story of 'Old Fashioned' is intriguing to me. Everyone's takeaway is unique, and I like hearing the viewers varied perspectives."
New Philadelphia native Swartzwelder said, "Linda and her fan club are such an amazing group of people, and it's just like them to find a way to give something back to the very community that helped make 'Old Fashioned' possible in the first place. It's a humbling thing to witness these ongoing ripples of impact, and I'm just grateful for her giant heart and for all involved."