MassMu anticipates its reopening day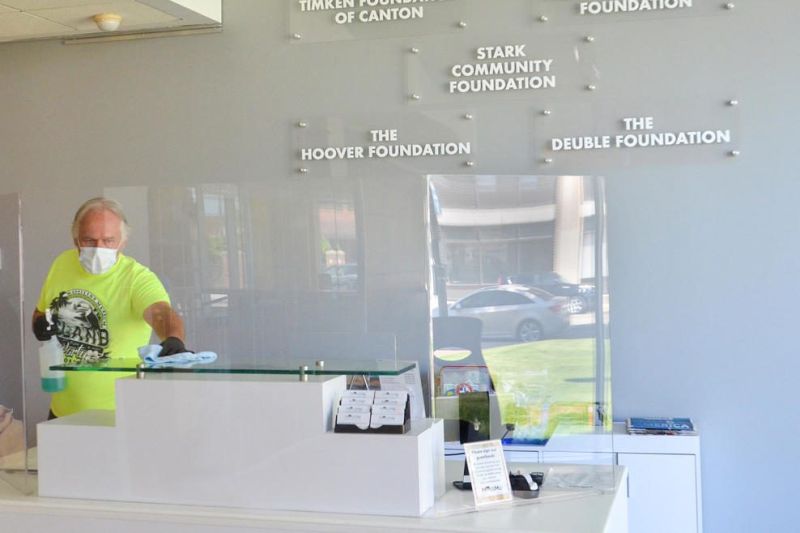 As the Massillon Museum anticipates its reopening day on June 26, the staff is onsite and working to create a comfortable and safe venue for visitors.
New exhibitions await guests: "Cut Up/Cut Out" in the Aultman Health Foundation Gallery and "36days" by Paul Flippen in Studio M. The all-new permanent collection galleries fill the entire second floor of the original part of the building, and the "Immel Circus" and the Paul Brown Museum complete the second floor of the new part of the building.
"We want our visitors to be prepared for new guidelines in place to allow for social distancing throughout the museum, reduced occupancy in galleries, and rigorous, visible cleaning routines to maintain a safe environment for everyone. The museum will continue to facilitate inspiring and innovative programming and to engage its community but with safety first and foremost in mind and in practice," executive director Alexandra Nicholis Coon said.
Visitors, who will be strongly encouraged to wear masks, will encounter a hand-sanitizer stand immediately inside the main door. Behind the new acrylic shield at the reception desk, a staff member, wearing a mask and gloves, will be ready to greet guests, offer directions, answer questions and accept class registrations.
The reception staff will monitor the occupancy of spaces within the museum and will assist with shop purchases. Sample copies of exhibition catalogs, on a table outside the shop, will be sanitized after each shopper. Staff will retrieve items guests wish to buy from inside the shop.
Anderson's in the City, the former lobby café, is closed, and the exterior door to that area will remain locked. Most of the lobby seating will be removed to assure social distancing.
Signage will be prominently displayed throughout the building to direct visitors and remind them of safety precautions. The floor will be marked to assist with social distancing. Sanitizing stations will be located throughout the building.
The elevator will be limited to two people with the exception of families with small children. The main stairwell will be accessible. Elevator buttons and stairway doors and handrails will be sanitized regularly throughout the day.
Interactive components, with the exception of braille labels, have been removed from exhibitions, and gallery doors and railings will be sanitized throughout the day.
Restrooms will be cleaned on a regular schedule, which will be posted prominently. The outer door will be propped open to alleviate touching, and sanitizer will be available.
"We're anxious to see our regular visitors as they return, and we look forward to welcoming new friends to our safe surroundings and introducing them to the wonderful new exhibitions we have to offer," guest operations manager Brandon Rohrer said.
The Massillon Museum is located at 121 Lincoln Way E. in downtown Massillon. For more information call the museum at 330-833-4061 or visit www.massillonmuseum.org.