McGlumphy's 'monumental' featured at COW show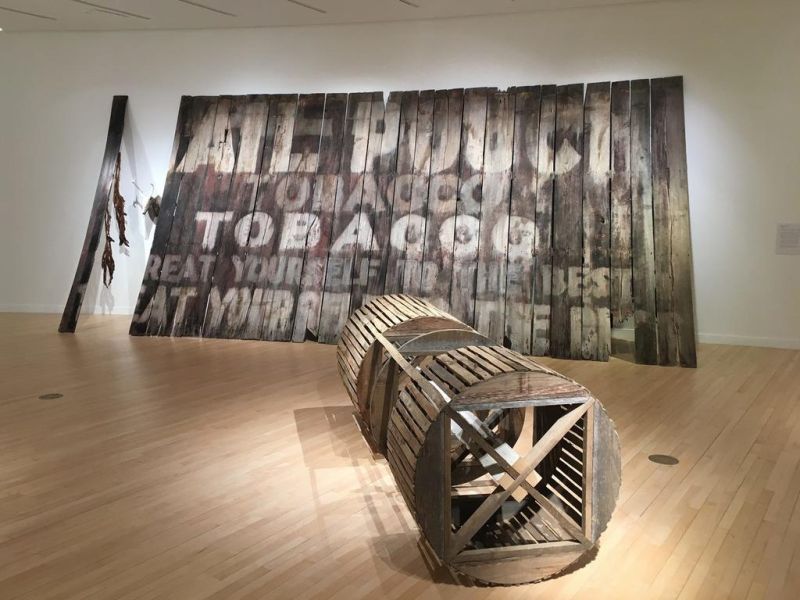 Regional artist Doug McGlumphy's "monumental" will be the featured exhibition in the Sussel Gallery at the College of Wooster Art Museum from Tuesday, Jan. 22 through Thursday, March 7 with an opening reception set for Thursday, Jan. 31 from 6:30-8 p.m. and a gallery talk by McGlumphy at 7 p.m.
McGlumphy, the preparator and collections manager at the CWAM as well as director of the Olin Fine Arts Gallery and instructor of art at Washington & Jefferson College, used inspiration from his travels on the back roads and byways to and from Tuscarawas County, where he has been renovating a family farm, to produce "monumental."
His perspective on the rural/urban and heartland/coastal divide has resulted in sculptures consisting of salvaged architectural and agricultural materials that address cultural, economic and gendered blind spots.
Included in "monumental" are "Broad(side)," "Migrant" and "Glass Ceiling." A play on the phrase, "You can't hit the broad side of a barn," "Broad(side)" features barn siding, tobacco leaves and a deer head trophy. "Migrant" is made of a shipping pallet, fruit and vegetable boxes, and chicken and egg crates, and "Glass Ceiling" is comprised of old window sashes. Each work synthesizes materiality with wordplay to express socio-political commentary.
McGlumphy earned a bachelor's degree from Washington & Jefferson and a master's in fine arts from Indiana University of Pennsylvania. He also owns and operates Hisrich Hills House Bed & Breakfast and ArtFarm in Stone Creek.
Wooster students in the history of prints class taught by Tracy Cosgriff, assistant professor of art history, will research prints from the CWAM's permanent collection for their upcoming exhibition titled "Printing History: Observation, Imagination and the Ephemeral." The student-curated exhibition explores the role of print media in shaping cultural definitions of canon, creativity and industry and is scheduled to open Tuesday, April 16.
The CWAM, which supports the college's goals of teaching, researching and global engagement, is open Tuesday through Friday from 11 a.m. to 4 p.m. and Saturday and Sunday from 1-4 p.m. All exhibitions and events are free and open to the public.
For more information visit the CWAM's website or call 330-263-2495 or 330-263-2388.