Milligan's 'Wonder Tales' at COW museum until March 5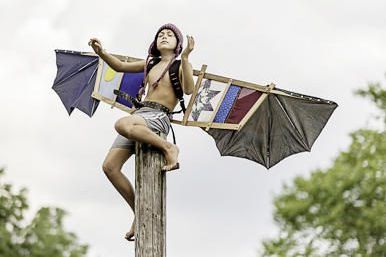 The upcoming featured exhibition at the College of Wooster Art Museum is by associate professor of studio art Bridget Murphy Milligan.
"Wonder Tales: The Imprint of Child's Play" will be on display from Tuesday, Jan. 21 through Thursday, March 5. An opening reception at the CWAM, located in the Ebert Art Center, 1220 Beall Ave., will take place Thursday, Jan. 23 from 6:30-8 p.m. and include a gallery talk by Milligan at 7 p.m.
"Wonder Tales" celebrates the spirit and complexity of childhood by investigating the inventive play and the uninhibited curiosity of children, according to Milligan, who developed the work during a 2018-19 sabbatical. The images — a series of color photographic prints and salted paper prints — weave tangible experiences with fictional narratives in an attempt to expose the delicate awakenings experienced through fanciful play, which bring about a renewed sense of wonder in the ordinary.
Milligan has taught photography, digital imaging and drawing since 2000. Her artwork, which explores the relationship between photography, communication and storytelling, has exhibited in shows throughout the U.S. including the Silver Eye Center for Photography in Pittsburgh and the galleries of Kent State University, Miami (Ohio) University and the University of Missouri.
Milligan received a bachelor's degree in painting and photography from Miami and a master's degree in photography from Indiana University.
Also during the spring semester in the CWAM's Burton D. Morgan Gallery, Wooster students taking a seminar from assistant professor of art history Tracy Cosgriff will research the question, "Whose Renaissance was it?" Then they will produce the "Remapping the Renaissance" exhibition. It will be featured from Saturday, April 18 through Sunday, May 10.
The student-curated exhibition will challenge the popular-held belief that the Renaissance was a Western phenomenon and seek to reappraise the historical and cultural terms of the period, according to Cosgriff. Themes explored will include immigration, commerce, religion and science, as well as the relationship of center and periphery, native and foreign, and self and other.
The CWAM, which supports the college's goals of teaching, researching and global engagement, is open Tuesday through Friday from 11 a.m. to 4 p.m. and Saturday and Sunday from 1-4 p.m. All exhibitions and events are free and open to the public.
For more information visit the CWAM's website or call 330-263-2495 or 330-263-2388.