Mural dedicated at New Towne Mall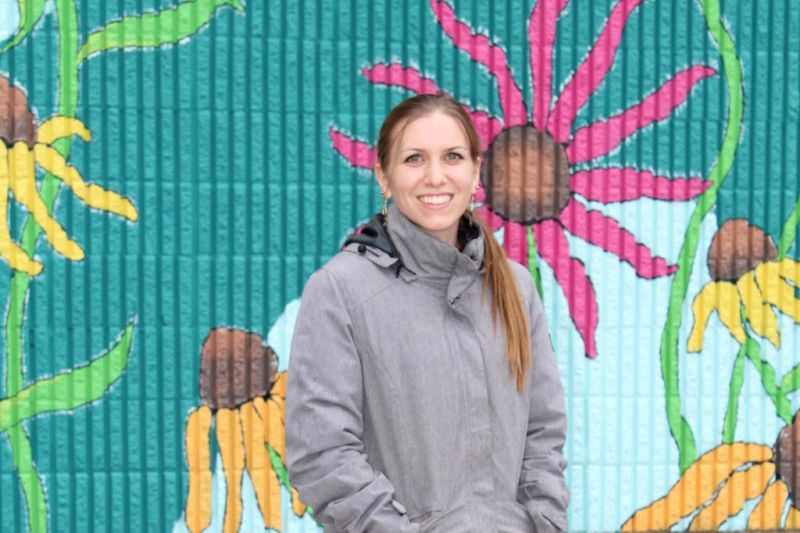 A ribbon cutting held Oct. 29 officially introduced the community to a mural painted at New Towne Mall in New Philadelphia and recognized its creator, Wilma Mullet. Mullet is an area artist who also serves as the executive director of the Tuscarawas Arts Partnership.
The mural is located at the C Entrance next to Marshall's. The concept for the mural was to create something that would not only add vibrancy to the space, but also act as an educational piece featuring bees as pollinators and coneflower, a native plant of Ohio.
"It turned out great, and we're excited to be part of this," said Justin Higgenbotham, general manager at New Towne Mall.
The mural was placed as part of The Canvas Project, which supports the local arts culture while providing an opportunity for the community to grow together.
"The Canvas Project is a corporate initiative that was implemented about a year ago," Higgenbotham said, adding there is a trend to place murals at malls. "We decided to hop on board with that, and we wanted to be able to add color to the entrances. There are so many good artists out there that we wanted to partner with a local artist to get it done."
The mural took Mullet and her volunteers 120 hours to complete.
Of the mural, New Philadelphia Mayor Joel Day said, "(It's) wonderful and a great expression of the artistic ability we have here in New Philadelphia and Tuscarawas County."
Mullet said the design was a collaboration with Higgenbotham and Ailishia Maple, marketing coordinator at New Towne Mall.
"When I looked at the area I would be painting, I wanted to come up with a design that can work with the surface, use bold colors and create an opportunity for education," Mullet said. "I created a few designs, and it was decided that the mural would reflect pollinators and native plants with the bees and coneflowers."
Mullet is thankful to Bryan Montgomery of Montgomery Painting, who spray painted the base color of the mural.
"Cole Senter was my mural assistant who helped fill in the colors and the detail work," Mullet said. "I also had awesome volunteers that spent a few hours helping me add color to the mural: Sarah Andreas, Betty Quillin, Julia Daugherty, Erin Miller and her sons. I appreciated all the time people took out of their days to help me complete the mural."
Mural painting is something Mullet has much experience in. "I was a part of a mural project for a summer class during my graduate studies at the University of Akron," she said. "At the Downtown Laundromat in Akron, we (a team of high school, college and graduate students) painted a 3,000-plus-square-foot mural with the Art Bomb Brigade."
Through her work with the brigade and her studies, she learned much about organizing and creating public art works.
Mullet began to receive compliments on the new mural even before she was finished with the project.
"Sometimes I'm in a zone while I'm painting. I would often hear comments like 'You're doing a great job' or 'That looks beautiful.' I would respond 'thank you' to them, but it was always encouraging to hear these comments, which kept me going," she said. "Other times, I find myself engaging in conversations about the mural and hear how it was wonderful to see so much color added to the area. It lifted people's spirits, and I can see how they were positively responding to the mural."
The mural is a positive attraction for both adults and children.
"A few times there would be kids that approached the mural and their faces were beaming. We talked about the flowers, colors and art in general," Mullet said. "I always enjoyed that part of creating art. When I get a chance to talk to people about the process or share stories, it really activates their engagement to ask questions or learn more about art."
Creativity in the community is essential to bringing it together.
"One thing I always share with people is arts, culture and creativity is like a fingerprint — it is something that is truly unique to each community and cannot be replicated anywhere else," Mullet said. "There is a lot of talent and creativity in Tuscarawas County that you will not find anywhere else. Our arts, culture and creative community is a part of a tapestry that creates amazing artworks and creative opportunities for communities and local businesses to be a part of and enjoy."
It's important for people to have a connection to art.
"The arts are interwoven in our daily lives, across industries and in the public sector. Support the local artists, participate in their workshops or classes, and go to their performances. They're all incredible, and it's amazing to be a part of it," Mullet said, adding she is pleased to see public art becoming more visible in Tuscarawas County, especially the communities of New Philadelphia, Dennison and Uhrichsville.
Though there is nothing planned at the moment, Higgenbotham is certain the mall will look at doing more mural projects in the future. "It's such a hit, and people enjoy it," he said.
New Towne Mall is open Monday to Saturday from 11 a.m. to 7 p.m. and Sunday from noon to 6 p.m. For more information call 330-339-8700 or visit newtownemall.com. They also can be found on Facebook at www.facebook.com/newtowne, Twitter @ShopNewTowne and Instagram @NewTowneMall.