Museum to host weaving workshop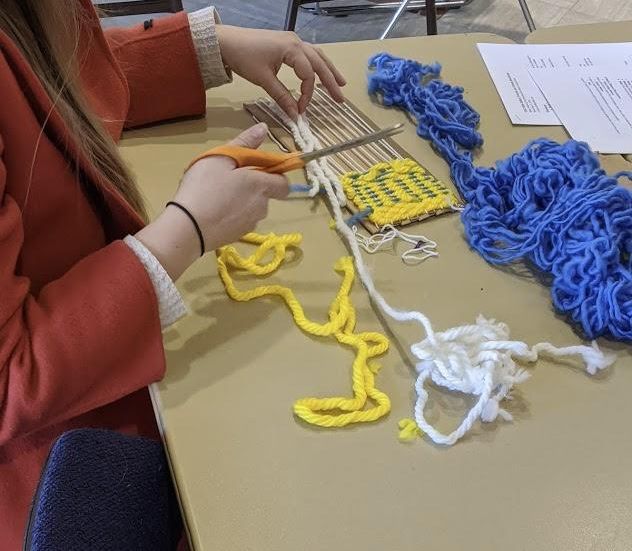 Instructor Allison Smith will present a weaving workshop for all ages inspired by the weaving prowess of the title character in this year's NEA Big Read book, "Circe" by Madeline Miller. The workshop will be live via Zoom from 1-3 p.m. on Sunday, April 18.
The session is free for MassMu members or $5 for nonmembers, but registration is required. New members are welcome at any time. Participants can register by calling 330-833-4061 or visiting www.massillonmuseum.org/bigread. An included supply kit will be available for pickup at the MassMu front desk the week prior to the workshop.
Weaving is a craft many people in ancient times would have been familiar with as a means to produce cloth for clothes and other necessary items. In this workshop participants will learn basic weaving on a cardboard loom. Exploration of alternative materials for weaving — fabric strips, paper and plastic bags, for example — is encouraged.
Smith, an Ohio artist and arts administrator, is a double alumnus of Kent State University, holding a BFA (2014) and MFA (2018) in studio art with a concentration in textiles. Smith works as the gallery and project manager for both Transformer Station Museum and FRONT International: Cleveland Triennial for Contemporary Art in Cleveland. She previously served as the graduate assistant to the director of the Kent State University School of Art Collection and Galleries and as a museum assistant for Massillon Museum.
Smith has exhibited her artwork in Ohio, Wisconsin, Indiana, Georgia and New York City. One of her weavings will be displayed for the next two years in the U.S. Ambassador to Burkina Faso's residence in Ouagadougou.
The public is invited to visit the museum to pick up a free copy of "Circe" as long as the supply lasts. A #1New York Times best-seller, "Circe" is a reimagining of "The Odyssey's" infamous goddess as a hero. It is a tale of family rivalry, intrigue, love, loss and celebration of female strength in a man's world.
The NEA Big Read is a program of the National Endowment for the Arts in partnership with Arts Midwest. The Massillon Museum's annual Big Read, presented in conjunction with the Massillon Public Library, is partially funded by the Massillon/North Canton Elks #2029, One Tiger and The Rotary Club of Massillon. The Massillon Museum receives operating support from the Ohio Arts Council and ArtsinStark, as well as marketing support from Visit Canton.
The museum is located at 121 Lincoln Way E. in downtown Massillon. For more information call 330-833-4061 or visit www.massillonmuseum.org. A visit to the Massillon Museum is always free.