Music and romance abound at Jane Austen Ball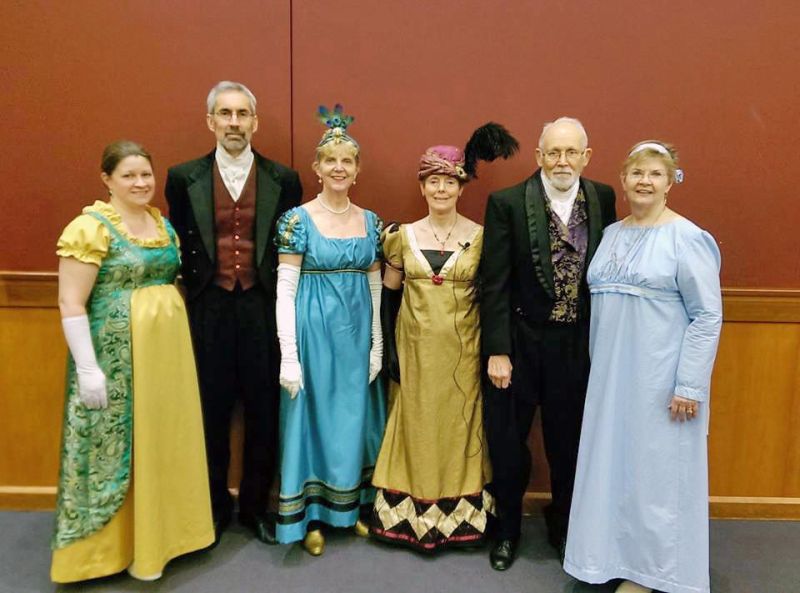 A whirl of music and romance is coming to the City of Wooster Community Center on March 30 from 7-10 p.m. when the Jane Austen Ball makes its second appearance on the area social scene. But don't wait to reserve your spot on the dance floor. Last year the available 100 tickets sold out very quickly. They'll go on sale Jan. 28 this year.
The ball was hosted last year by the College of Wooster, which was unable to repeat the affair for 2019. "We were delighted that the city stepped in and offered the community center this year, so we can have the ball again," said Susan English, longtime area dance teacher and an organizer of the ball.
"We like to partner with local groups to do great things for the community," said Ashley Hershberger, recreation department director with the City of Wooster. "Susan English and her late husband offered dance classes at the rec center for many years, and when we had the chance to partner with her and take it on this year, we were happy to do that."
Hershberger was quick to praise the work of English and others. "They do all the magic and make it all happen. We are providing the space and registration. If you've seen any of the movie versions of Jane Austen's 'Pride and Prejudice,' the ball looks and feels very much like any of the dance scenes in the movies."
If you're worried about your abilities as a dancer, there's plenty of help to be found leading up to the actual ball. The just completed "Steps to the Ball" offered dancers some help with English country dancing. More classes are offered with "Dancing with Jane Austen" on Thursdays from 6:45-7:45 p.m. from Feb. 7 through April 11 through the recreation department.
"When people come to the ball," English said, "some will have some experience with English country dancing, but many will not. We wanted to offer the opportunity to learn something about it before the night of the ball. And just before each of the dances that night, we'll do a run-through so people know what to expect."
The dances will be prompted by English. "Couples who arrive together may be asked to switch partners for some of the dances. It gives everyone a chance to meet and mingle a little bit," she said. "But then they can go back to dancing with their partner."
English said there were several families who attended last year's ball.
"All the music is from the time of Jane Austen, around 1775-1817," English said. "When we get the music, it's just the melody, so our musicians create all the arrangements."
Music for the ball will be performed live by Fourpence, made up of violin, keyboard, cello and penny whistle. "It sounds very much like chamber music and is just wonderful," English said.
English said dancers need not feel reticent or shy about fitting into the whirl. "Of course, at the time of Jane Austen, there was a bit more fancy footwork, but we kind of let that slide today," she said. "We try not to take it all too seriously. The evening is certainly a time to have fun. It's very much like stepping right back into that time."
Dancers need not wear costumes. More than half did so last year, and most of the rest simply dressed in their best. But if you would like to make your own costume for this year's ball, Cherrill Wertz is available to offer suggestions for both men and women at 330-263-5207.
Tickets for the Jane Austen Ball are students, $5 ($10 nonresident); adults, $10 ($20 nonresident); and a family of four, $25 ($35 nonresident). Refreshments will be available. Tickets and further details are available via a link at www.woosterdance.com or by contacting Wooster recreation department at 330-263-5207 or www.recreation@woosteroh.com.
Sponsors include the City of Wooster recreation department and Friendtique.