New gallery a place for community, artists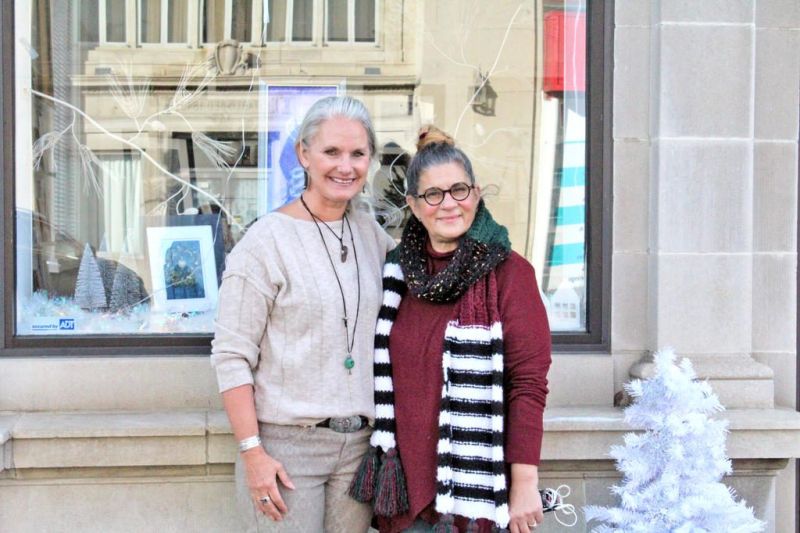 When the opportunity to open the Art and Soul Gallery arose, it was a leap of faith for area artists Jessie Edwards, Karrie Miller and Kathi Tustin. The store is located at 118 W. High Ave. in New Philadelphia and opened in mid-October.
"It wasn't really a great time for any of us timing-wise, and with the coronavirus it's not a good time for anybody," Edwards said. "But we have hope. I believe that small businesses and small communities are where the growth is right now. There is just something very personal about walking into a store, sitting down, having coffee and talking. People come in to see Kathi because she sits here and paints."
Tustin loves the store is community-driven.
"We've got something to offer the community, and we depend on the community. They are embracing us," Tustin said, adding they also are creating community for artists who will stop to talk when dropping off their work.
The community of business owners in New Philadelphia is nurturing and helpful too. The group said it has made it easy knowing they can call on their fellow business owners if they have questions or need help.
One day the store had a problem with their door that needed to be addressed immediately. One of the owners was there by herself, so she sent a text to the group of business owners, and in no time four people responded to help.
"With the coronavirus, with all the stress everybody is under and the thought that nobody knows what's going to happen, we are thankful every day that we've managed to kind of hunker down in a little community of creative and entrepreneurial people that are just helping each other," Tustin said. "Truthfully, it's wonderful. It's the best of everything right now at the worst of times."
The store is a one-stop shop for unique gifts, and they add new inventory daily. They carry original fine art, prints, jewelry and currently Christmas ornaments at a range of price points. They even have plants.
"There's going to be a lot of community-inspired artwork here," Tustin said.
To make shopping easier, they feature their own line of greeting cards called Artist Enclave. All the cards feature art created by local artists including Karrie Miller, Eric Dietz, June Contini, Sarah Dugger, Anne Richeson Scanlon, Aubrey Gealsha, Karen Gazdik and more. Each card is signed by the artist and is a work of art itself that is suitable for framing.
"It's not just a card. You can read about the artist who created it, and that's what's unique about these cards too," Edwards said.
The card line was the vision of Tustin, whose career gave her much insight on selling artwork.
"I've been a commercial illustrator all my life," Tustin said. "I've been selling my work my whole life, so I have a big marketing background, and I have to say I learned it from the school of hard knocks. I absolutely love working with other artists and showing them how to present their artwork and sell their artwork."
The Art and Soul Gallery plans to expand their card sales by placing racks at other locations soon.
Edwards enjoys taking vintage pieces of jewelry and transforming them into something that is unique. Her favorite pieces to work with are from the 1920s, 1930s and 1940s. She also collaborates with a local potter to create jewelry.
"Not everyone else is going to have one of these pieces. They are all unique," Edwards said.
The artists at the gallery also will do work on commission. Edwards is currently working on a project that will transform a mother's treasured piece of jewelry into two new pieces for the daughters.
Miller is an artist and graphic designer. She designed a 2021 Ultimate Weekly Planner that is available at the store and was printed locally at Schlabach Printers. Miller also specializes in logo design and branding.
The group plans to add more artists to the store.
"It's a networking place for artists. Everyone should want to be here. I really feel that," Tustin said. "We are planning to embrace all the artists in the community. It's not just us; however, we are very much excited about selling our own work."
The store owners feel they are finding their niche. They want shoppers to know you don't have to go to a big box store or online to shop, and their products are made by someone you might know.
"The store is a lot more than about selling stuff. We want to be part of our community," Tustin said.
They are making plans for spring and will be adding shows to bring in artists to meet the public. They will hold classes for children and adults including painting and jewelry-making.
"I'm really looking forward to doing something with kids," Tustin said. "I'd like to do a class helping children create a story, illustrate it and then we'll have it bound."
The possibilities are endless, and the group looks forward to seeing what they can achieve for themselves and others.
"It's just a matter of getting our feet under us," Edwards said.
The store's regular hours are Wednesday through Friday from 10 a.m. to 6 p.m. and Saturday from 10 a.m. to 3 p.m. For more information on additional holiday hours, follow them on Facebook or call 330-440-7239.