New Phila High School presents fall production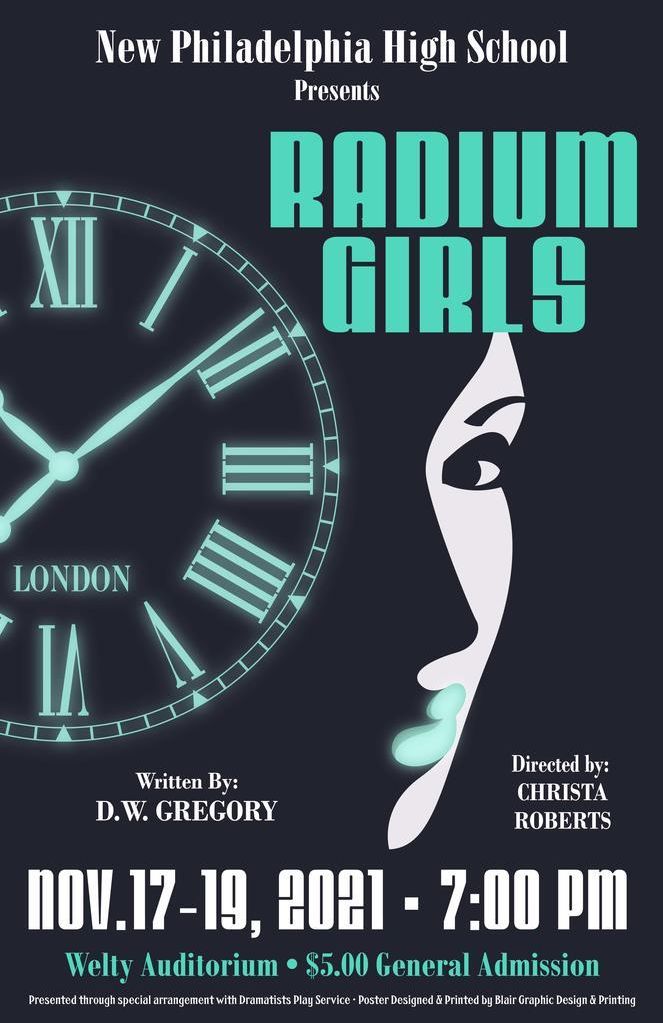 New Philadelphia High School will present its fall play, "Radium Girls." This historical drama written by D.W. Gregory is inspired by a true story and the heroism of the girls of the U.S. Radium Corporation.
In 1926 radium was a miracle cure. Madame Curie and the company that makes luminous watches were all the rage until the girls who painted the watch faces began to fall ill with a mysterious disease.
Inspired by a true story, "Radium Girls" traces the efforts of Grace Fryer, a watch dial painter, as she fights for her day in court. Her chief nemesis is her former employer, Arthur Roeder, who cannot bring himself to believe the same element that is shrinking tumors could have anything to do with the terrifying rash of illnesses among his employees.
As the case goes on, Grace finds herself battling not just with the U.S. Radium Corporation, but also with her own family and friends, who fear her campaign for justice will backfire.
The cast includes Kate Scott (Grace Fryer), Grace Maddux (Kathryn Schaub), Brad Waugh (Arthur Roeder), Nathaniel Demuth (Edward Markley) and Derek Shimek (Charlie Lee). Also in the cast are Makenna Armstrong, Ava Bloom, Bobbie Brown, Heather Demuth, Garin Gingerich, Scarling Hershberger-Budavich, Bella Kaput, Jordi Kopp-Baldich, Jenny Kugler, Miranda Lumley, Anna Meek, Luc Poirier, Abigail Prucha, Sydney Purcell, Colton Walker and Caoilainn Winters.
Performances for the show will take place Nov. 17, 18 and 19 with all shows beginning at 7 p.m. Tickets are $5 and can be purchased online at www.tinyurl.com/NPHSRadiumGirls. Tickets also will be available at the door.
The show is under the direction of Christa Roberts and technical director Chad Roberts. "Radium Girls" is presented through special arrangement with Dramatists Play Service.
New Philadelphia High School is located at 343 Ray Ave. NW in New Philadelphia.