NPHS art students to showcase work over 2-day event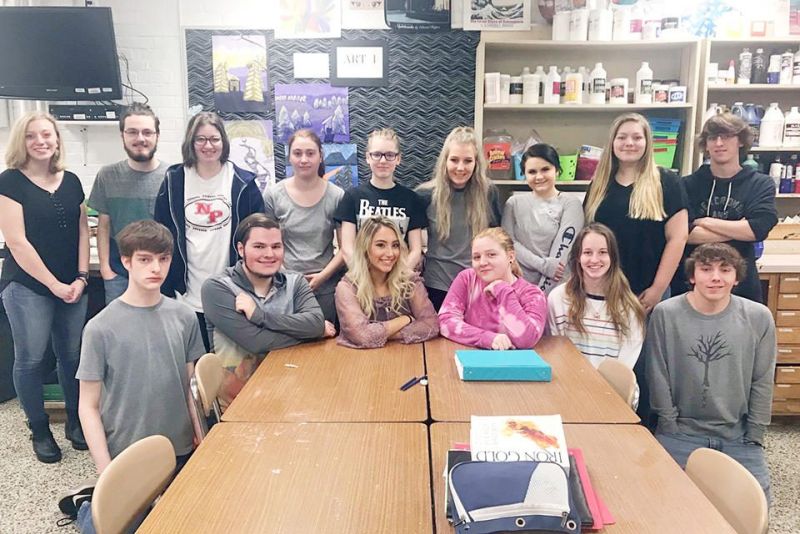 The work of several New Philadelphia High School art students will be highlighted as part of an upcoming show in the school gymnasium. The show will fill the gym, and welcome the community Monday, April 15 from 5-7 p.m., while students will get a look at the show all of the following day during regular school hours. Music students will perform for the showing Monday.
Four students placed regionally with their compositions in the Ohio Governor's Youth Art Exhibition: senior Brennan Kerns, and sophomores Isabella Gibbs, Jaclyn Smalley, and Lily Goodwin. They are the students of NPHS art instructors Stephanie Speedy and Heather Agar.
"Color," the work of Art II student Lily Goodwin, advanced beyond the regional level to be displayed in the Ohio Governor's Youth Art exhibition. Her artwork will be on display in the State Department of Education from April 22 through May 16. She is one of 300 students from across Ohio selected from more than 1,000 submissions.
An award ceremony will be held Sunday May 5 at the Riffe Center Capitol Theatre and and then her work will be part of a special exhibit at the James A. Rhodes State Office Tower.
Another New Philadelphia High School art student, junior Kari Yanders, recently gained special recognition in another statewide art competition, the Cleveland Clinic eXpressions program, held in fall 2018.
Art students examined scientific research completed by Ohio high school students serving as science interns with the clinic. They then selected a research project that resonated with them and created their own interpretation through art.
Over 1,400 art, language and math projects from 52 schools were submitted in November as a part of the program. Of those submissions, 81 art entries were chosen as finalists for recognition in the Cleveland Clinic eXpressions Exhibition.
Yanders received a red ribbon award for her work, "Lost In Space," which is based on ADHD research she selected as inspiration. The work was featured in the Cleveland Clinic eXpressions 2019 exhibit "Where Research and Creativity Meet."
The exhibition was displayed at the Great Lakes Science Center in Cleveland through the end of March.
"Kari created her own, unique interpretation based on that science research project through the clinic," Agar said.
The April 15 public showing at the high school, which will include works in drawing, printmaking, painting and sculpture, is open to anyone who would like to attend at no charge.
"We take over the whole gym floor," said Speedy. "The bleachers, everything will be hung with art work, and the students will be in there putting it together." The effort is in conjunction with the student art club, who will do much of the work of displaying the artwork.
"All this is very much student led," said Agar. "We like to highlight our students who may not get to participate in music or band or athletics. This is the chance for our art students to really shine."
Agar said the two instructors try to make sure the students are exposed to as many media and influences as possible. "They get their hands on as many kinds of art as possible, mixed in through the year," she said.
"And they are influenced by works by artists who are well known that can inspire their own work," Speedy said. The instructors try to get the students out to museums for occasional field trips as well.
As current Advanced Placement art students worked at sculptures for a new assignment in class, Agar shuffled through several art works to be displayed at the gym. "We're very proud of the work our students create in class. It's pretty remarkable," she said.
"Yes," said Speedy. "We are very proud of all our students and their accomplishments."
The students maintain a Facebook page called New Philadelphia High School Art Department.