Ohio Light Opera dances up a storm in 'Girl Crazy'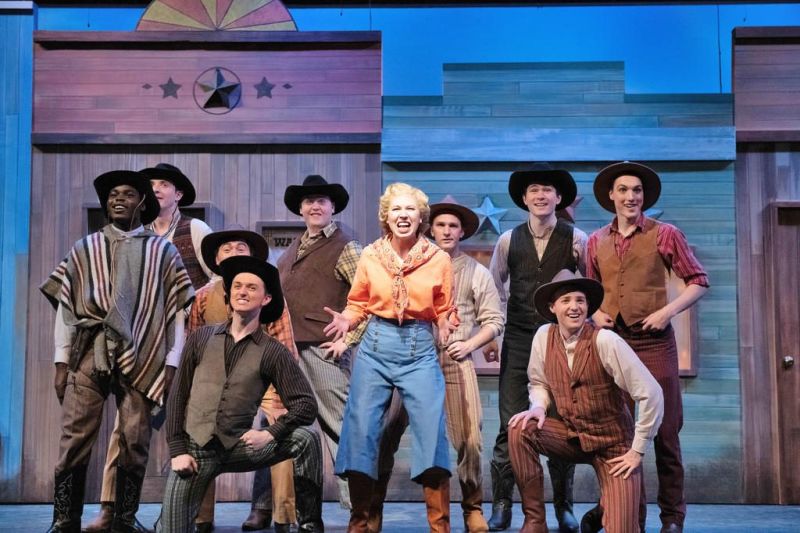 Hold onto your cowboy hats, Gershwin fans. The Ohio Light Opera has once again come up with a winner from the vast archives of under-produced musicals. "Girl Crazy" ran on Broadway in 1930 and later provided the inspiration for three films and the 1992 Broadway hit, "Crazy For You."
It's an old-fashioned fun-for-all, peppered with the kind of hit songs everyone knows but nobody knows which show it's from. Familiar with "I've Got Rhythm" and "Embraceable You?" Undoubtedly. They are both from "Girl Crazy."
Stellar performances and world-class musicians have become the hallmark of the OLO, and now "Girl Crazy" proves the talented cast can dance their way into our hearts as well.
The toe-tapping "I've Got Rhythm" is fantastic. Hannah Holmes as Molly shines with her megawatt smile, commanding stage presence and tap moves.
Playing opposite Holmes, choreographer Spencer Reese is terrific as Danny. It's doubly impressive he choreographed a show that overflows with stand-out dancing and also plays a major role.
Four cowboys, The Foursome, open the show with their western flair to let us know they are simply "Bidin' My Time" until something happens in their town. Which it does, of course. Garrett Medlock, Tim McGowan, Diego Roberts Buceta and Vincent Gover nail it with their toe tappin' and on-stage nappin'.
Adam Wells is a continuous hoot and a half. Actually let's go ahead and give him two hoots for his fun portrayal of Pete. And Yvonne Trobe and Brad Baron camp it up perfectly as Kate and Click Rothergill, an entertainer and her gambler husband.
The taxi driver from New York is played by Kyle Yampiro. The talented and versatile performer is a delight.
The entire cast is obviously having a fun time with this show, and everyone deserves a shout-out for their talent and enthusiasm. It was never apparent for a moment that some of these professional entertainers were in their second show of the day, having performed in a matinee only to turn around and step into the spotlight again that same evening.
The costumes for this period western are colorful, fun and at times quite intentionally comical. Under the direction of Steven Byess, the OLO orchestra delivers a superb performance. The set and lighting draw the audience in from the first chord of the overture.
Caution: Don't leave the seats too quickly after the bows for this show. You never know when the energetic cast might decide they need to do a bit more tapping.
Ohio Light Opera tickets are available online at www.ohiolightopera.org/buy-tickets/; at the box office, 329 E. University St., Wooster, Monday through Friday from 9:30 a.m. to 4:30 p.m.; or by calling 330-263-2345.
All shows are presented at Freedlander Theatre on the College of Wooster campus at 329 E. University St. in Wooster.