One voice: Festival of Choirs held for 50th year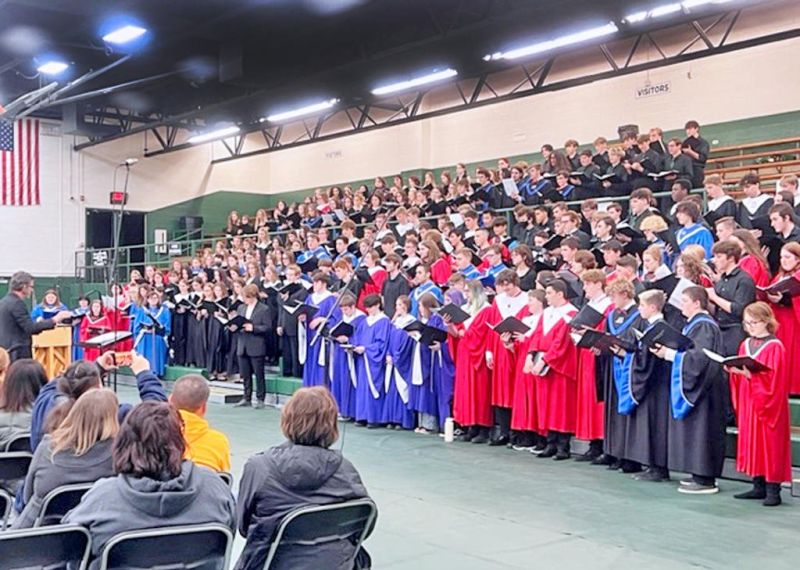 Across Wayne County, sports competitiveness between the high schools can be fierce. But this year marked the 50th year of choirs across the county gathering in Smithville to sing separately and then together as a mass choir, joining together schools and students that usually work against each other.
On March 6 in Smithville High's Berkey Fieldhouse, over 300 students were directed first as individual choirs by their directors and then by Dr. Scott MacPherson, the professor of music and director of choral studies at Kent State University.
Michelle Muro, Ed.D, Tri-County fine arts consultant and organizer of the event, said she contacted MacPherson in spring 2022 to see if he would be interested in leading the choirs. On a fine arts teacher in-service day in October 2022, they held a choral director workshop.
"This professional development provides time for teachers to learn from the guest conductor and find out what the conductor intends to do with the music — for example, accentuate a crescendo in measure 27 or slow down a tempo," Muro said. "Then it's up to the choral directors to purchase the music and prepare the choir students."
All winter choir directors worked with their students to learn and perfect the music. A few days before the concert, the school choirs met together to practice.
"The choral directors are key to the success of the mass choir because of the music preparation required before the mass rehearsal," Muro said. "We are blessed to have such a great group of choral directors. Everyone works together and does their part."
The National Association for Music Education has designated March as Music in Our Schools Month for more than 30 years.
In 2020 when "essential" things were being highlighted, arts and education organizations including NAfME joined to call arts such as music essential.
This year the program also included a proclamation signed by Ohio Gov. Mike DeWine. Muro said as president of the Ohio Alliance for Arts Education, she wrote to DeWine to request statewide support and recognition for arts education during the month of March.
According to John Hopkins University, more than the students involved in the performance were positively affected by music.
Lowell Frantz, who had been the music teacher at Green Local Schools, understood the importance of music in schools and started the festival in 1974. Frantz was invited to the anniversary concert and was able to say a few words.
Another man from Wayne County who passed away in 2022, David J. Westfall, was recognized. Westfall, an American composer who made his permanent home in Wooster, was asked to compose a short choral piece for the 50th anniversary of the Festival of Choirs. The piece, called "A Land for Patriots," was performed for the first time with a mass choir at the festival.
His son Rich Westfall ended the performance with some words of encouragement.
"Although my dad couldn't be here tonight, I know he would have been very pleased with what they did this evening. They sounded angelic, and perhaps he heard from heaven. So great job," Westfall said. "I have to say I'm so impressed with what it takes to put together an event like this. These choirs play competitive sports, right, and yet they've come together today in unity. And they made the community a better place. They've encouraged us.
"And it takes the support of parents to make this happen, all the hard work of the students and of course the teachers who've invested their lifeblood in their music education to pass it on. I know if my dad were here this evening, he would say that the God-given talent that each of these students has, he would hope that you will use it for the rest of your life to make the world a better place and to bring peace to our world. Thanks for the job you've done and continue to use that gift."