Rare chance to hear a true Swiss performance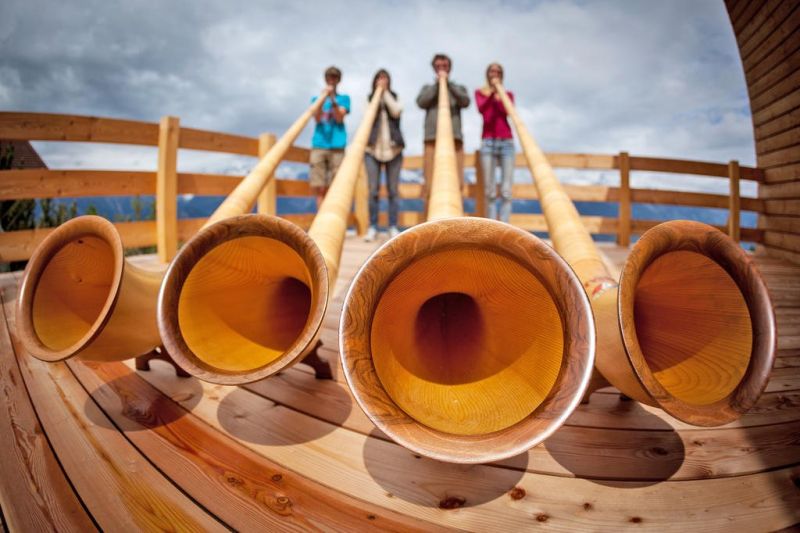 A rare chance to hear a true Swiss musical performance by a group visiting from Switzerland is coming to Holmes County on Friday, May 3 beginning at 6:45 p.m. The free concert will be the first such event held at the Oasis Youth Center just east of Charm.
Dr. Richard Stevick has been instrumental in bringing the Ernst Bänninger Singers to the area, and it began with a visit to Italy to visit family and a further foray into Switzerland. There they stayed with a host family on a farm, and the family turned out to be that of Bänninger.
"We learned that they were talented musicians and singers," Stevick said. "He brought out an alphorn and began to play it right there in his living room. Those things are 8 feet long or so and have a really mellow sound. I'd never really thought of them as musical instruments, but more as something used to call to someone far away. But the sound was quite incredible."
While visiting, Stevick learned the Bänninger Singers had performed in Holmes County in 2013 and had loved the experience. Bänninger asked Stevick if he might be able to help secure a large venue for another show here, and he agreed, not quite knowing what he was letting himself in for.
"There have been a lot of hoops and a lot of things to cover," Stevick said, "more than I expected. It has been a lot of work, but I know it's well worth it, and I'm looking forward to this concert very much."
Stevick said Bänninger gave him a collection of recordings by the group, so he has some sense of what to expect. "It will be very good," he said.
The Bänninger Singers, made up of 20 members, will perform numerous pieces, playing six alphorns, piano, guitar, singing, yodeling and playing the flugelhorn.
The show will begin at 6:45 p.m. with an opening by well-known area guitarist and singer John Schmid, who will perform gospel numbers and sing selections in Pennsylvania Dutch and German.
"John is a very popular performer in the area and among the Amish and Mennonite communities," said Stevick, who also said the concert should last about 1 1/2 hours.
The Oasis Youth Center is about the size of two gymnasiums side by side, Stevick said, so the venue will accommodate as many as 800. A freewill donation will be taken to help defray the expenses of bringing the group to Holmes County. The local concert is part of a small tour with stops in Pennsylvania and New York.
"There are many Amish and Mennonite people who are of Swiss extraction," Stevick said, "maybe more so than German. I think this concert will have a lot of broad appeal for an audience here, and the theme for the program is 'Peace,' which also resonates with the local community."
The Oasis Youth Center will have food available for the concert.
"The family was tremendously kind and generous when we were staying with them in Switzerland," Stevick said. "I think people will be pleased with the concert, and it will surely be a memorable evening."
The Oasis Youth Center is at 3460 Township Road 159 near Charm.