Seniors display creative side in 'Creativity is Timeless' show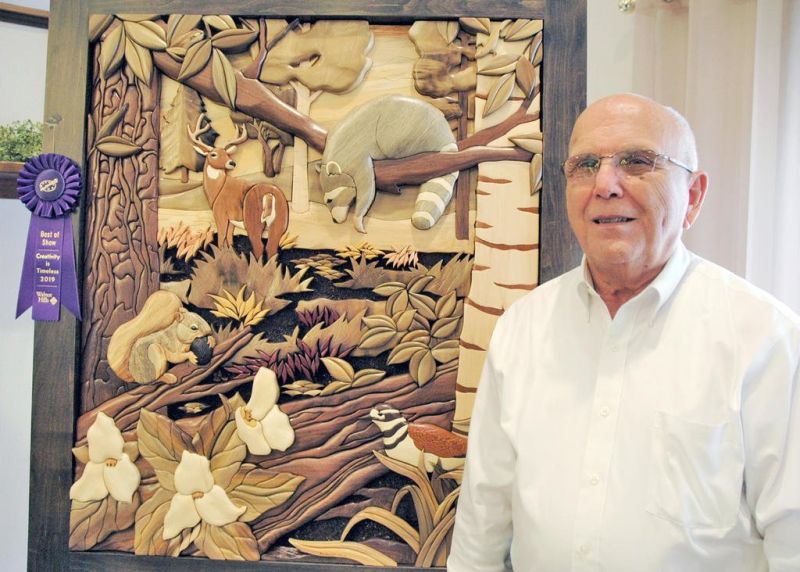 Walnut Hills Retirement Community presented its annual "Creativity is Timeless" show in Walnut Creek Aug. 23-24.
The contest, now in its ninth year, featured 98 total submitted pieces from 50 artists including 15 new artists. The contest was open to amateur artists age 55 or older who are residents of Holmes County and the immediate surrounding area.
Artists were invited to submit up to three entries, and there was no entry fee.
"We are so excited and honored to be able to provide a place for our area seniors to showcase their incredible artistic gifts," said Paula Miller, community relations coordinator at Walnut Hills. "Each year there are pieces that are new and exciting, and it looks different every year."
Over the years, 157 different artists have displayed 832 total pieces in the show.
A group of judges from Holmes and Tuscarawas counties came in to provide their expertise. Each was invited because they had their own unique skill set in which they could provide the seniors with sound advice while critiquing their artwork.
As a whole they were very impressed with the quality of art that was represented at the art festival.
Former longtime Garaway High School industrial arts teacher Tim Immel said the level of work was very impressive regardless of age.
"The talent is out there, and this gives people who are artistic-minded an opportunity to show what they can do and share it with other people. It's tough to judge them because we know everyone put their heart and soul into this," Immel said.
Another retired teacher at Garaway, Sheri Crilow, who taught art there for 30 years, judged some of the crafts. She said keeping a close eye on areas of design was something she looked for in line, shape, color form and principles of design.
Having so much experience working with high school students gave her plenty of background with which to work.
"When I critiqued kids at school, I have this list of things that I look for, and it is no different at any age," Crilow said.
Wilma Mullet, oil painter and executive director of the Tuscarawas Arts Partnership, was judging the painting and drawing categories.
"It was tough having to compare and judge two very different mediums," Mullet said. "I looked at composition, technique and took in different contents and values. I enjoyed it. I enjoyed seeing the talent of our seniors that was showcased. It is fun to see the passion that comes out in each of the pieces, and a lot of them are very personal to the people doing them."
Rookie judge and fiber artist Dee Leidlein judged some of the soft arts. She said she enjoyed the challenge of judging pieces but really enjoyed the idea of providing constructive criticism to each artist.
"We all had our own area of expertise, and I found it satisfying to give them some advice on ways they could tweak things for their next project," Leidlein said. "Any artist loves that kind of feedback from someone who can help them improve."
Linda Miller, quilter for over 20 years, has judged quilts for the past decade. She said every single piece on the floor was created with a lot of thought and love, and when critiquing, she tries to be very positive.
"Quilting is an interesting art form because you start out and see the roughness in beginning quilters. Then you see this incredible improvement over time, but then our eyes and hands fail as we get older, and we go backward," Miller said. "That can be frustrating, but you recognize the talent and the effort in what each person has done, and they love what they are doing."
Terry Barnhill, retired photographer and former owner of Mitchell Photography, saw some unique photographs.
"I do quite a lot of judging, and there is some really nice work here," Barnhill said. "Digital photography has allowed amateurs to create some really nice quality photographs. What I look for is composition and visual impact. I want a piece to grab my attention and scream, 'Come over here and look at me some more.' It's nice to see what people are doing with photography today."
Most importantly the art show gives seniors a chance to share their vision, passion and joy through their art.
"This provides a sense of accomplishment, a sense of sharing. It is problem-solving and provides a sense of community," Leidlein said.
"It's a breath of life, and it ties directly into their lifelong experiences, and they can breathe life into something," Mullet said. "It is part of sharing our soul that we all really need and we all have inside of us. There is a creative element inside of us, and it is vitally important to keep that in our lives."
The art categories were paintings and drawings, photography, quilts and wall hangings, other soft crafts, woodworking, other hard crafts, and miscellaneous. Awards were presented in each category. There also was the Best of Show and People's Choice awards.
"We have been so thrilled with the number of Holmes County residents who have participated in our 'Art is Timeless' contests the last two years," Paula Miller said. "We look forward this year to honoring the imagination and creativity of even more of our county's older adults."