Starlight artists add more color to downtown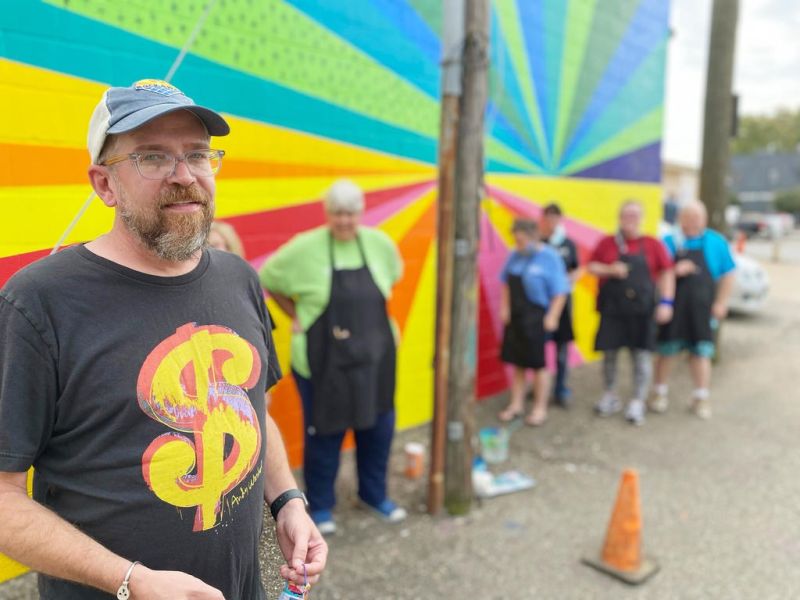 Duck into any side street or alleyway in downtown New Philadelphia and you're likely to find yourself surrounded by colorful art, which is in no small way due to the efforts of artists from Starlight Enterprises Inc.
The organization is responsible for numerous works throughout the downtown area, most recently a mural at the back of the Mini Shop Drive Thru building on South Broadway. Artists began with a starburst pattern Oct. 15 and have been adding stars to the mural over several days of concentrated work, organized by artist Jon Stucky of Dover.
The projects have received funding from several local and state organizations. "We were able to get grants from the Tuscarawas County Center for the Arts," said Stucky, "along with more funding from the Ohio Arts Council. The grant was broken down into four segments, once of which was funding for the downtown art." The grant from the Ohio Arts Council is aimed at helping underserved communities in the Appalachian region.
The idea for a bright starburst pattern grew out of a conscious effort to bring lightness and bright color to otherwise blank walls in darker alleys. "We want to make these murals, and the art we have created, a kind of a destination for visitors," said Stucky.
Artists from S.E.I. have proved a reliable and important resource. "We are never sure how many people will be able to help on any given day," Stucky said, "but we get pretty full participation."
Friday, Oct. 15 saw Stucky working with Starlight Community Connections Manager Tracy Aubihl to schedule further painting days for those who were forced to miss the initial gathering. "We'll keep adding days to make sure everyone gets to participate who would like to," Stucky said. The main pattern already finished, it remained for S.E.I. artists to fill in the pattern with stars of their own.
Stucky said the starburst mural, currently confined to the rear of the building, will continue in the form of another design to reach around the building's southern wall. "We came up with this colorful starburst in part because we had to work around two utility poles which obstruct the wall somewhat," said Stucky. "It sort of eliminated several possibilities with figures of specific images. We played with the design a little bit but we really wanted to bring a lot of color to the space. This design brought that to the front and offered plenty of possibilities. With further grant money, we will come back and continue the work around the side of the building in the spring." Stucky credited Anthony and Rachel Montero of the the Mini Shop Drive Thru for their help and encouragement in making the mural a reality.
The group, under Stucky's direction, has also painted murals on buildings on Ashwood Lane and other locations downtown.
"Everybody really enjoys doing it and I think it adds a lot to the downtown area," said Stucky. "These lanes tend to be pretty dark, and this adds a lot of lightness and color. I know we are looking forward to doing other projects downtown in the future."
S.E.I. provides a variety of services to the community, specifically aimed at "helping persons with disabilities achieve their aspirations," according to the organization's mission statement. For more information on S.E.I., see the website at thinksei.org. Learn more about the art of Jon Stucky by visiting stuckyart.com.