Students earn art scholarships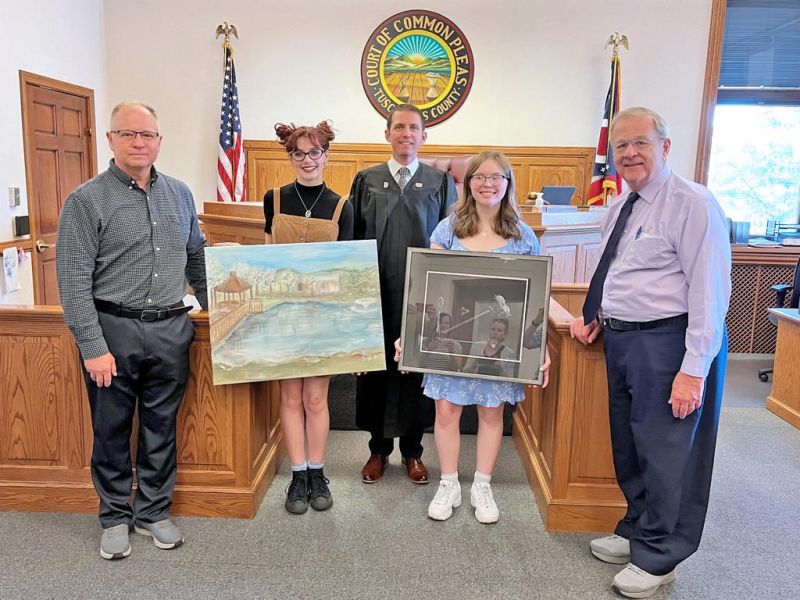 Two recent high school graduates are the recipients of scholarships and recognition for their artwork. Hannah Levengood of New Philadelphia High School and Regan Mayers of Claymont High School are the first of students whose work was chosen by Tuscarawas County Juvenile Court Judge Adam Wilgus to be hung on the walls of his probate court chambers.
Submitted artwork from graduating seniors around Tuscarawas County gave Wilgus plenty of entries from which to choose within the disciplines of drawing or painting.
"Judge Thomakos, Judge Ernest and Judge VonAllman were all here, helping me choose," Wilgus said in speaking with Mayers. "We were all amazed at the level of detail in your work."
Mayers placed second in the contest, winning a $250 scholarship for her black and white drawing.
Wilgus said he and the other assisting judges were thrilled with the level of artwork submitted by students, and the choice was a challenge for all.
"And Hannah," Wilgus said just prior to handing the two students their checks, "the judges were unanimous in choosing your work. All the judges loved it."
"My drawing actually began as an assignment in art class," Mayers said. "I just really liked the way it turned out and decided to submit it."
She plans to attend Kent State University in the fall to study English, though such a pursuit won't diminish her interest in making art. "I love to draw. I think I'll keep doing it."
Levengood also is headed to KSU in the fall to study art. The subject of her painting, depicting the pond at Tuscora Park, was an intentional choice for the courtroom space. "I wanted to do something calming," she said. "I imagine that this must be a nerve-wracking place to come into, and I wanted to do something that might help a person feel calmer."
Levengood received the first-place scholarship of $500 for her painting. Both works will hang in the courtroom for the foreseeable future, to be joined by others in the coming years as more student work is added.
The idea for the contest and scholarship prize money came about as Wilgus thought of ways to improve the courtroom atmosphere.
"I wanted to do something to kind of dress up the courtroom," he said. "I thought about where we might get some artwork, and it seemed perfect to invite some of the talent we have locally in juveniles expressing themselves through art. It became a perfect way to show off some of the talent of the students while also creating these scholarships as a reward to help further their education. It's a win-win for the kids as well as the county."
The scholarship funds can be used at any university the students choose to attend.
"This is the first annual," Wilgus said, "and my vision is that this will become one big collage of art in the future. These two pieces will remain here, and we will continue to add with more student artwork and more scholarships. Our county seems to be getting more and more outwardly involved in the arts, and this was the perfect opportunity to bring that into the courthouse. The alternative was to go out and purchase professional pieces, but this seemed like a much better solution for everyone."
Both Levengood and Mayers were invited to hang their own artwork on the walls in predetermined spots to the left of the courtroom seating area. The award ceremony was attended by the students' family and friends on Tuesday, May 24.