Students excel at art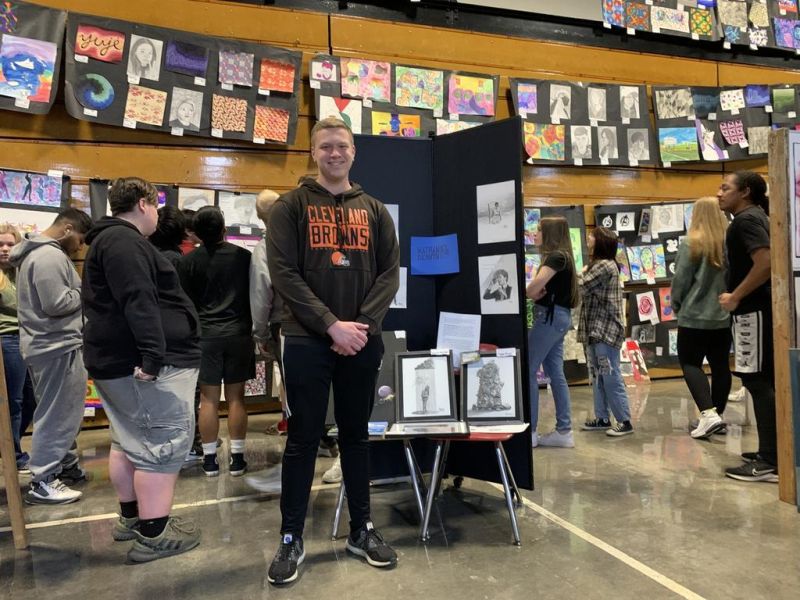 The art students at New Philadelphia High School, led by instructors Heather Agar and Stephanie Speedy, are an especially active group. So much so that the spring art show held at the school on April 27 ran out of space to display the students' creations.
"We simply couldn't fit everything we wanted to include," Speedy said.
The exhibit included works that saw placement in the Ohio Governor's Art Show in Columbus earlier this year. Included in the school exhibit were works by students in Art I-IV and a cumulative portfolio of the work of the Class of 2022. Artwork by students grades 9-12 were on display in the gallery above the high school gymnasium.
"We've been doing a lot this year," Agar said. "Our advanced art students have been doing a collaboration again with local author Patricia Miller, and a number of students had their illustrations published in her new book. In a collaboration with Art & Soul Gallery, students had works that were chosen to be printed both for exhibit at the gallery and as greeting cards. They've had a lot of great accomplishments."
The students have had a full year of in-class instruction after moving away from the distance learning of the months of COVID-19 isolation. "They've had hands-on instruction this year, and that has been a lot better for them and for us," Agar said.
AP art students Anna Winn and Nathaniel Demuth were both given awards for their entries in the 2022 Ohio Governor's Youth Art Exhibition, each citing "regional excellence in the arts." The award-winning selections were included in the show at the high school.
New Philadelphia Schools Superintendent Amy Wentworth was an attendee and is a supporter of the arts at the school.
"Art education is essential," she said. "It's so important for the students to be able to engage in the arts. Sure, we're about reading, writing, math, social studies. But it's things like the arts that really make for a well-rounded student. We have a fabulous art program, and our art teachers are tremendous in what they bring to our students."
"The students are really interested in a broad range of media in their work," Agar said. "They've been into drawing, painting prints, sculpture, anything they can try. They are not afraid to be a little experimental."
The student works covered the entirety of the available wall, railing and temporary divider space, filling the gym balcony with art. "Even though we couldn't hang everything, we managed to get a good variety of work displayed," Speedy said.
The students will display at Art on the Alley in downtown New Philadelphia on May 15.
The art students at New Philadelphia High School have amassed quite a record of accomplishment in recent years, maintaining a steady stream of work and awards. Both they, their teachers and families were well represented at the annual student art show at the school. With live music and lots of artwork to view, the balcony was well packed with admirers for the duration of the show until 7 p.m. The hard work of students and instructors was obvious from start to finish.
Follow the NPHS Art Department on Facebook.