Students recognized for their pursuit of the arts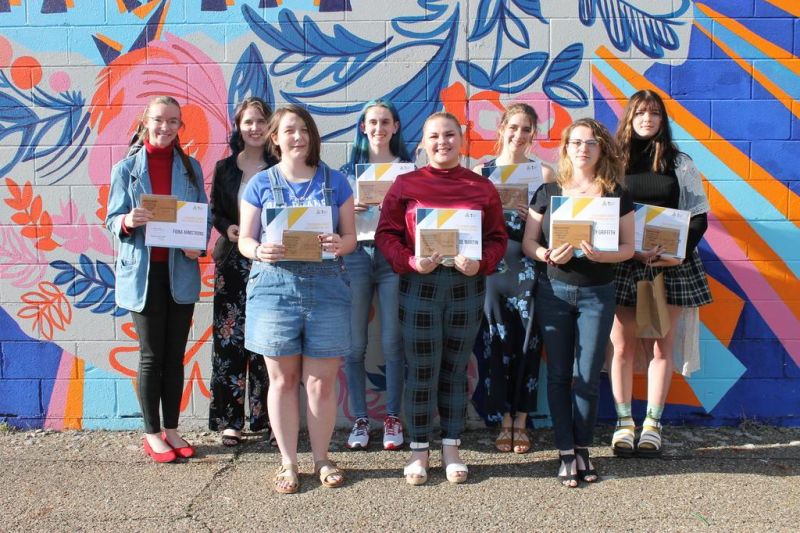 Tuscarawas Arts Partnership, along with family and educators, celebrated Tuscarawas County's high school seniors at the fourth annual Arts Signing Day at the Ezekiel Project on Wednesday, May 12.
The Arts Signing Day is an evening of celebration and recognition of Tuscarawas County high school seniors who are pursuing their education and careers in the arts, culture and creative fields. Students were recognized for their creativity and commitment in the arts, culture and creative fields.
"We are thrilled to recognize these students and their years of training, hard work and dedication in pursuing their dreams," said Wilma K. Mullet, executive director of TAP. "We know they are going to make the world a better place through their passion for the arts."
The following students were honored at the Arts Signing Day:
Buckeye Career Center
—Lacey Griffith, business/computer science/photography, Kent State University.
—Hannah Romeo, studio arts, Kent State University.
Dover High School
—Gabby Ewing, art therapy, Kent State University or Ohio State University.
Garaway High School
—Mahrin Chismar, graphic design/visual art, Mount Vernon Nazarene University.
Indian Valley High School
—Emily Alander, art education, Kent State University.
—Maya Lewis, dance performance, Cleveland State University.
—Chloe Martin, music industry, West Virginia University.
—Jasmine Rorrer, art, the University of Hawaii at Manoe.
New Philadelphia High School
—Fiona Armstrong, art history/graphic design, Kent State University.
—Caitlin Poremba, digital arts/animation, Bowling Green State University.
—Maggie Prucha, music education, Otterbein University.
—Madeline Troyer, music therapy, Cleveland State University.
Tusky Valley High School
—Bailey Keane, art/education, Muskingum University.
In addition, the 2021 Arts Educator of the Year was presented to acknowledge an outstanding arts educator in Tuscarawas County who dedicated his/her time and skills to encourage creativity in their students. The recipient of the award was given to Hope Haney, an art teacher from the Strasburg-Franklin School District.
The Tuscarawas County Art Guild Scholarship Committee also presented the Art Guild Scholarship to Indian Valley senior Emily Alander. The scholarship award is decided using three references provided in the application and the submission of photographs of the artists' original work. The members have held fundraisers, donating their time and resources to this award.
TAP's mission is to create and support environments that awaken, empower and inspire. TAP's vision is to promote a visible, sustainable, local arts culture through advocacy, education and funding. This can be accomplished by encouraging the arts to thrive across Tuscarawas County and encouraging partnerships between the arts with other art, business and community agencies to create positive impact and benefits throughout the county.
TAP can be emailed at tuscarawasartspartnership@gmail.com.