Students recognized for their pursuit of the arts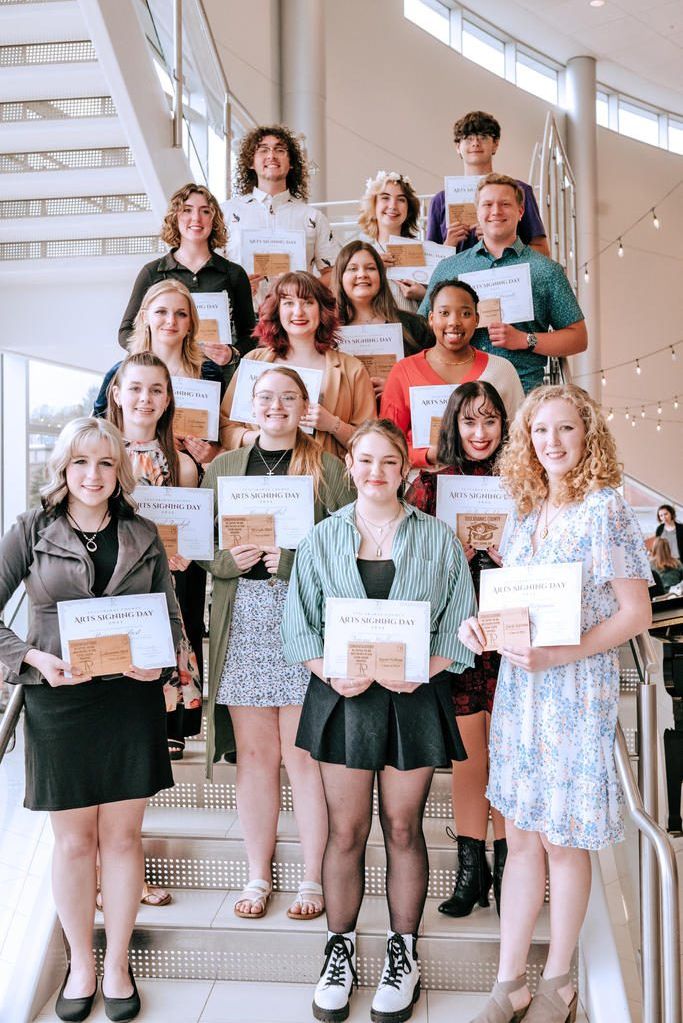 Tuscarawas Arts Partnership congratulated Tuscarawas County's high school seniors during the sixth annual Arts Signing Day on Tuesday, April 25 at the Performing Arts Center at Kent State Tuscarawas.
The Arts Signing Day recognizes Tuscarawas County high school seniors who are pursuing their education and careers in the arts, culture and creative-based fields.
For the past five years, TAP has recognized a total of 57 students through the Arts Signing Day with students ranging in their educational and creative pursuits from studio art to theater technology and arts education.
For the sixth annual Arts Signing Day, 22 students across Tuscarawas County were recognized at the event, which was the largest class of seniors in Arts Signing Day history.
Before recognizing each senior for their creative pursuits, an award was presented to an arts educator in Tuscarawas County for the Arts Educator of the Year. Twelve arts educators from across Tuscarawas County were nominated and recognized at the annual Arts Signing Day.
The nominated teachers included Aubrey Gealsha from Buckeye Career Center; Carrie Kunkle, April Linard and Nicole Miles from Claymont School District; James Graves and Chris Redd from Dover School District; Melanie Glazer from Indian Valley School District; Heather Agar, Krista Prucha and Christa Roberts from New Philadelphia School District; Hope Haney from Strasburg School District; and Diane Richardson from Tuscarawas Valley School District.
The winning nominee was Glazer from Indian Valley High School, who is the drama teacher and directs the concert choir and color guard.
The students recognized include the following:
Buckeye Career Center
—Dominic Colantonio, graphic design at Muskingum University.
—Jordan Eick, animation game design at Kent State Tuscarawas.
Claymont High School
—Naomi Hallman, resort and attraction management at Bowling Green State University.
Dover High School
—Damaris Avery, psychology with minor in film and media studies at University of Cincinnati.
—Brianna Best, music education at University of Akron.
—Aslyn Fannin, music production and recording with minor in film at Ohio University.
—Belle Fockler, musical theater with minor in dance at Ohio Northern University.
—Sidney Garrett, music education at Ohio University.
—Josh Haverfield, music education and performance at Evansville University.
—Alyssa Renicker, pastry arts at the Culinary Institute of America.
—Abigail Zeedyk, medical laboratory science with minors in music and dance at Kent State Stark and the main campus.
Garaway High School
—Cameron Bush, food business management at CIA.
—Gracyn Stutzman, graphic design and photography at Columbus College of Art and Design.
Indian Valley High School
—Mariah Abel, music education at Muskingum University.
—Krista Bair, computer science with minor in music at Case Western Reserve University.
—Zoe Florence, psychology with minors in music, art history and visual culture at Otterbein University.
—Emily Lewis, music business and industry at West Virginia University.
—Marlee Shepherd, communicative design at Miami University.
—Chloe Wells, interior design at Kent State University.
New Philadelphia High School
—Nathaniel Demuth, graphic design at Marietta College.
—Jacob Roman-Willey, music education at Kent State University.
Tuscarawas Valley High School
—Corrine Hamilton, 2-D animation at Savannah College of Art and Design.
Each student recognized during the Arts Signing Day received a certificate and wooden plaque from Warther's Woodworking, and the Arts Educator of the Year was made by Museum Acrylics.
"This year's Arts Signing Day, as well as previous years, shows how creative and inspirational each senior is," said Wilma K. Mullet, executive director of Tuscarawas Arts Partnership. "We are seeing a future generation rise up and discovering their place in the arts and its niches and how they want to share it with others. We also have this synergy that exists between the students, their educators and family. It's incredible to see it under one roof and the amount of support there is."
For more information about Arts Signing Day and photos from the event, visit TAP's website at www.tuscarawasartspartnership.org/arts-signing-day and follow the social media pages for upcoming content for Senior Spotlights and nominees for Arts Educator of the Year.