Suspended Animations' is Studio M exhibition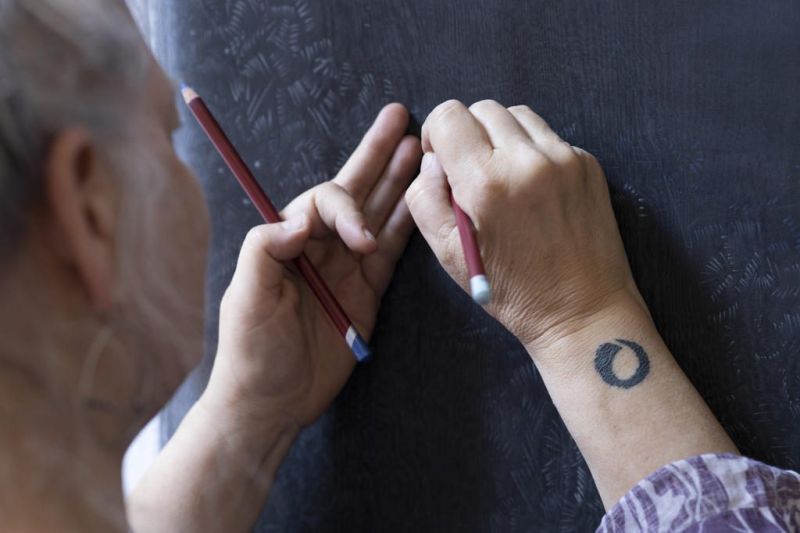 "Rebecca Cross: Suspended Animations" will be exhibited in the Massillon Museum's Studio M from May 8 to June 16. Through large scale drawings and installations, "Suspended Animations" considers the current moment in the context of an environmentally fragile world. Cross is known internationally for her exhibitions of silk sculptures and installations.
"Suspended Animations" includes a series of drawings on silk, "Horizon Series" (2021), and a sculptural installation titled "Rock Cloud" (2021). Fragility, impermanence and the persistence of beauty have always been themes in Cross' work.
"Horizon Series" is composed of pastel lines on two layers of silk, colored with aniline dyes in shades of blush, brown, purple, green and red. Silk, Cross' primary medium, creates the illusion of delicacy because it is diaphanous but strong.
The way the artist typically uses silk as a sculptural element is evident in the installation, "Rock Cloud" — a grouping of silk objects shaped by stones of varying sizes suspended from the ceiling.
A MassMusings podcast interview with Cross will be posted Tuesday, May 18 at noon. Find it at www.massillonmuseum.org under the Programs & Events tab. Visitors can meet the artist during MassMu's extended hours on Saturday, June 12 from 5-7 p.m. Timed tickets should be reserved at www.massmu.org/tickets.
The extended-hours evening also will celebrate the exhibition openings of "A Thrilling Act: The Art of Anthony Eterovich (1916-2011)," "Eterovich Contemporaries" and "Canton Artists League: The Show Must Go On."
Additionally, guests can visit the second-floor Paul Brown Museum to see "Massillon's Pro and Semi-Pro Teams, 1890-1926;" "Play Like a Girl: Massillon Women's Tiger Teams from Gym Class to Title IX;" and the 30-by-8-foot Paul Brown/Massillon Tiger time line. The Local History Gallery, Albert E. Hise Fine and Decorative Arts Gallery, Photography Gallery, and "Immel Circus" are always on display.
Cross wrote, "My recent sculptural work, three iterations of the 'Biotracings' series (2018-20), is a collection of futuristic, natural history objects or 'exprints' of imagined, extinct plant species, which considers a plausible future where what is familiar now exists only as skins and tracings of remembered bioforms. Subsequently, in 'Suspended Animations,' I was compelled to draw elements of these invented biomorphic figures because I was curious about drawing on dyed silk fabric with equally ethereal pastels. But I also sought in these pieces the immersion of slow work over time. Placing these drawings within dyed waterscapes brought together my concerns about environmental catastrophe with the vast Lake Erie horizon, which I regularly contemplate as I think."
In 2018 Cross received Massillon Museum's exhibition prize at the first CAN Triennial for her piece titled "Gyre." Recipient of a 2010 New Professional Award from the Textile Society of America, Cross frequently exhibits work regionally and has shown in Sweden, Paris, Budapest and Nagoya, Japan. She has worked extensively with Double Edge Dance (Kora Radella, choreographer), and her textiles in performance have been seen in Belgium and at Roulette — a performing arts and new music venue — in New York City.
After earning her BA and BMus (1984) at Oberlin College, Cross received an MFA in textiles (2006) from the Kent State University Center for Visual Arts, where she now teaches.
Raised in Japan and Alaska, Cross identifies as a Pacific Northwesterner. She resides in Oberlin with her husband, the composer Randolph Coleman. They have two children.
Studio M is a dedicated space made available by the museum's expansion project to exhibit the work of contemporary artists. The gallery hosts eight exhibitions each year.
The museum maintains its building for maximum safety. Visitors must wear masks and distance themselves from others. Precautions and guidelines are posted on the museum's website for guests to review before they visit.
Exhibitions can be seen during regular MassMu hours Tuesday through Saturday from 9:30 a.m. to 5 p.m. and Sunday from 2-5 p.m. The museum regularly extends its hours to 5-7 p.m. on the last Saturday of each month to participate in Massillon's Last Saturday.
MassMu is located at 121 Lincoln Way E. in downtown Massillon. For more information call 330-833-4061 or visit www.massillonmuseum.org.