The PAC is back: Season unveiled at outdoor event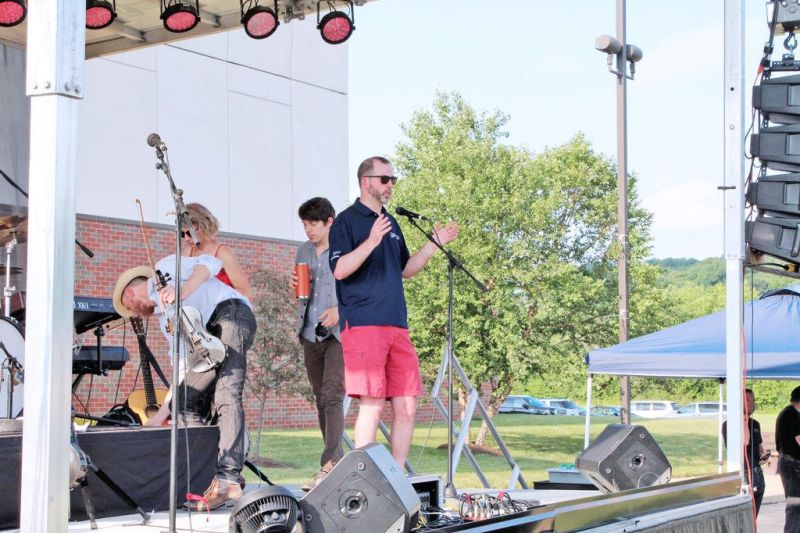 The announcement of some big names and a full schedule of 27 shows for the 2021-22 season thrilled attendees at the biggest event to hit the PAC in 15 months — an outdoor season unveiling complete with musical entertainment and food trucks.
Scheduled to appear during the next season are Jay Leno, Amy Grant, Ricky Skaggs, Richard Marx, musical icon Dennis DeYoung and country star Easton Corbin, among others. The Broadway shows scheduled are "Waitress" and "Summer: The Donna Summer Musical."
Pat Murphy of St. Clairsville, a PAC member, was one of hundreds of people who attended the outdoor event. A former area resident who once worked at KSU Tuscarawas in the library, Murphy enjoys the venue and considers the convenient parking a plus. She attends 12-13 shows each season.
"I love it. I like the musicals, and I love the dinner shows," Murphy said.
Murphy also attended last fall's outdoor movie at the PAC. She enjoyed the outdoor season unveiling and would attend another outdoor event at the PAC if one was scheduled.
Dr. Brad Bielski, dean and chief administrative officer of Kent State Tuscarawas, thanked those who helped them through the unprecedented closing.
"After 15 long months without a show, the Performing Arts Center is ready to get back to business," Bielski said. "Because of the way this community came together, the Performing Arts Center is poised to emerge strong post pandemic. I thank everyone for their dedication and commitment to our beloved venue."
The new season is based on the schedule that was in place for the end of the 2019-20 and 2020-21 seasons but was a little more difficult than just using the same schedule. As COVID-19 kept pushing back the reopening, the shows were rescheduled when it became apparent they couldn't open. The uncertainty kept the staff extremely busy.
"We were in constant planning mode. We were just planning, and the rules changed, so we would change our plan. Then we'd find out we were playing a totally different game, so we'd learn the rules of that game, adjust our plan, and we just kept doing that for months on end, not knowing how long this was going to last," said David Mitchell, general manager of the Performing Arts Center.
Two weeks before the season unveiling announcement was made, a scheduled show canceled, and Mitchell had to scramble to find a replacement.
Broadway shows were a scheduling challenge too.
"Some of the tours aren't starting until December, and there were a lot of canceled shows that they are trying to reschedule. It's kind of like everybody was trying to cram two years of Broadway shows into one year. Dates were moving around a lot," Mitchell said.
Rescheduling and replanning safety guidelines weren't the only things that got done during the pandemic.
"We also took some time to do some basic maintenance here in the Performing Arts Center — stuff that when we're super busy it's hard to do," Mitchell said.
They also cleaned out their storage areas and had an online banner auction.
"The banner auction went fairly well. We sold about 60% of the banners, and it generated some funds," Mitchell said, adding it may be something they consider doing again in the future. "We still have a bunch, and we're going to continue to have more."
Mitchell is pleased to have the Tuscarawas County Community Foundation as the new season sponsor.
"In the past they have sponsored our Broadway series and were always big supporters. I wrote grants to them, and they helped offset the costs for the educational outreach programs we've done," Mitchell said.
The organization had said if there was an opportunity, they would like to be the season sponsor. When the past season sponsor, Michael Taylor, retired and sold his business, the TCCF jumped onboard.
"We're just super thrilled that they are continuing their support of everything we do here," Mitchell said.
The classroom visits and Class Acts shows at the PAC for school students will return but not until 2022.
"I reached out to school superintendents, and some of them are planning and hoping that we can do some of them. It is still too soon to tell," Mitchell said. "We are in wait and see mode, but we're planning on the educational programs. It's so impactful, and it's so important that we do that."
From Mitchell's view, the public is eager to get back to seeing shows at the PAC, and he hopes the PAC is in for a banner year.
"Everybody that I talk to is just so excited and can't wait for us to open," Mitchell said. "I think prepandemic I would always say that the Performing Arts Center's biggest competition is Netflix and apathy, like I worked all week and I just want to stay home. After a year plus of just that, I think people realize how much they miss the live experience. You cannot replicate that no matter how hard you try or how big your Hollywood budget is. You can't replicate a live concert or a theatrical experience; it can't be done."
Mitchell encourages everyone to come out to the PAC. "I think this season is going to be pretty special," he said.
The shows include a 10th anniversary celebration with Jay Leno on Nov. 20, a year past the actual date, thanks to COVID-19.
"This will be one of those pinch-me moments, knowing we'll have an entertainer the caliber of Jay Leno coming to New Philadelphia," Mitchell said.
Immediately following the show will be an optional post-show reception.
The full 2021-22 schedule includes The Cleverlys, Sept. 9; Amy Grant, Sept. 16; Jeff Allen, Sept. 18; "Waitress," Oct. 7; The House Jacks, Oct. 30; Beyond Glory, Nov. 4; The Purple Xperience, Nov. 6; That Golden Girls Show: A Puppet Parody, Nov. 10; Jay Leno (PAC 10th anniversary celebration), Nov. 20; The Midtown Men, Dec. 15; David Phelps, Dec. 18; Ricky Skaggs, Jan. 6; Magic & Mayhem, Jan. 8; Easton Corbin, Jan. 15; Paddington Gets in a Jam, Jan. 22; Cirque Mechanics: Birdhouse Factory, Jan. 25; Yankee Bravo (Cabaret Series), Jan. 29; The Unauthorized Biography Series, Feb. 1; Richard Marx, Feb. 13; Dennis DeYoung, Feb. 18; Third Coast Percussion, Feb. 25; We Banjo 3, March 3; Velocity Irish Dance, March 17; Wild Carrot (Cabaret Series), March 26; "Summer: The Donna Summer Musical," April 14; Eleanor Dubinsky, April 21; and The British Invasion, April 29.
The First Federal Community Bank's new First Fed 15 Package was announced. This is a package of 10 shows for $15 each. The shows include We Banjo 3, Magic & Mayhem, Jeff Allen, Cirque Mechanics: Birdhouse Factory, The Cleverlys, Eleanor Dubinsky, The House Jacks, Third Coast Percussion, The Unauthorized Biography Series and That Golden Girls Show: A Puppet Parody.
A complete list of performances and ticket prices are online at www.kent.edu/tuscpac. PAC members will be able to purchase tickets to the 2021-22 season through June 23. Presale packages of six shows or more and the First Fed 15 Package can be purchased beginning June 24. Single-show ticket sales will begin June 28. Tickets can be purchased in person at the Performing Arts Center box office, by calling 330-308-6400 or online at www.kent.edu/tuscpac. The box office is open weekdays from 8 a.m. to 5 p.m.
Free parking is available for all shows. The Performing Arts Center at Kent State Tuscarawas is located at 330 University Drive NE in New Philadelphia.