Village Art Fest celebrated local artists and craftspeople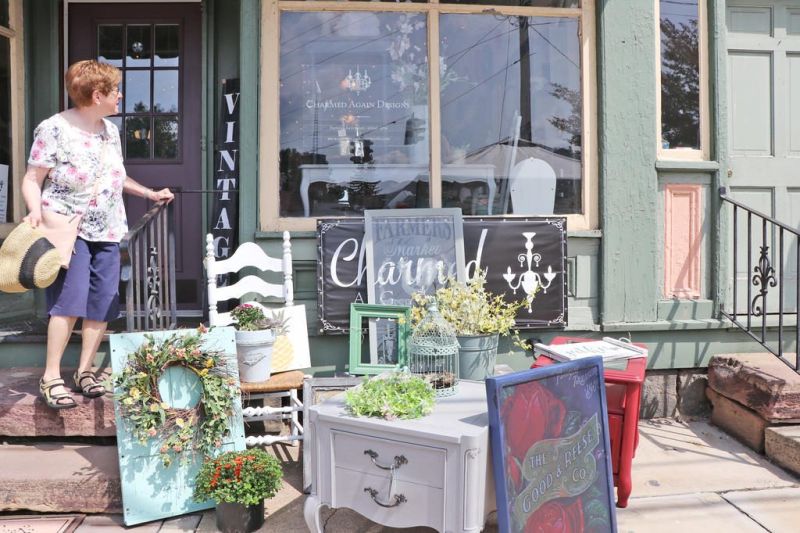 Navarre's Village Art Fest gathered a wide range of artists on Saturday, Aug. 17 from 10 a.m. to 4 p.m. in Rochester Square. Along with artists and craftspeople, visitors enjoyed live music, and many of the boutiques in the village offered special incentives.
"This is the seventh year for the Art Fest," said Claudia Anderson of Bolivar, an organizer of the event, along with Gwen Severini. "We have many artists who come every year and some new faces each time as well. A lot of the artists know each other, from their own galleries or from the shows they do, and we mainly get participants by word of mouth."
Anderson said participation in the Village Art Fest is free for artists, but they must get a pass from the festival committee. "We want to be careful to keep it to just local artists and craftspeople," she said.
Local businesses provide sponsorship to help cover expenses for the event. Sponsors this year included Altercare of Navarre, Refico, Excaliber Fence Company, Legends Care Center and Vail Packaging.
Susie Gordon found her collection of paintings and felted wool sculptures to be a busy spot at the Art Fest. Gordon's work is seen in several galleries in the area and concentrates on paintings of wild and domestic animals.
"This is my outpouring," Gordon said.
Gordon has been painting since high school and recently began creating animals from needle felted raw wool. "I start with a wire frame and then begin building from there. When you get the outer layer of wool on, you stick a needle into it over and over, and that changes the texture of the wool," she said.
Gordon attended Columbus College of Art and Design, and her interest in sculpture began in bronze castings. "I missed the three-dimensional element of sculpture and wondered if I could do the same with felted wool," she said.
Gordon was pleased to find it was possible, though the extensive work involved keeps the felted pieces at a lower number than her paintings. Gordon's work can be seen at www.susiegordonfineart.com.
Tim Sidel of Around the Corner Frames & Gallery on South Broadway in New Philadelphia set up a canvass to allow visitors to come and add their bit of paint to a collective creation, which he will then display in his own gallery.
"We were in downtown New Philadelphia recently and did the same thing," Sidel said. "People like to contribute as they enjoy the Art Fest."
Tim Neely began working in wood about five years ago when he began retirement. He brought an impressive collection of turned and inlaid wooden bowls, boxes, lidded vessels and other works. He described the process of creating a large-diameter bowl that occupied a prominent place in his tent.
"I had to build it one ring at a time, truing up the rings as I went. The bowl is made of maple and cherry," he said.
Neely showed a smaller bowl made up of small pieces of hardwood inlaid with pieces of purple heart wood, which changed from square shapes to diamond as they were cut on a carefully angled bias.
Don Gesaman has been hand-crafting sterling silver and turquoise into jewelry for 45 years and has made pieces now displayed in museums or the collections of the famous.
"I make every piece myself," he said. "I get the turquoise from mines which have been operating continually since 1810 in Arizona, Colorado and Nevada."
Gesaman has made pieces for Loretta Lynn and the late Dan Haggerty of "Grizzly Adams" fame. He's also created custom Native American pieces in solid gold. "God is my designer. I just put it together. I'm blessed," he said.
Find Gesaman on Facebook as Creations By Two Tears.
Anderson said the next big event in Navarre is the ninth annual Christmas in the Village in November.