WaCPAC brings Disney's 'The Lion King Jr.' to the stage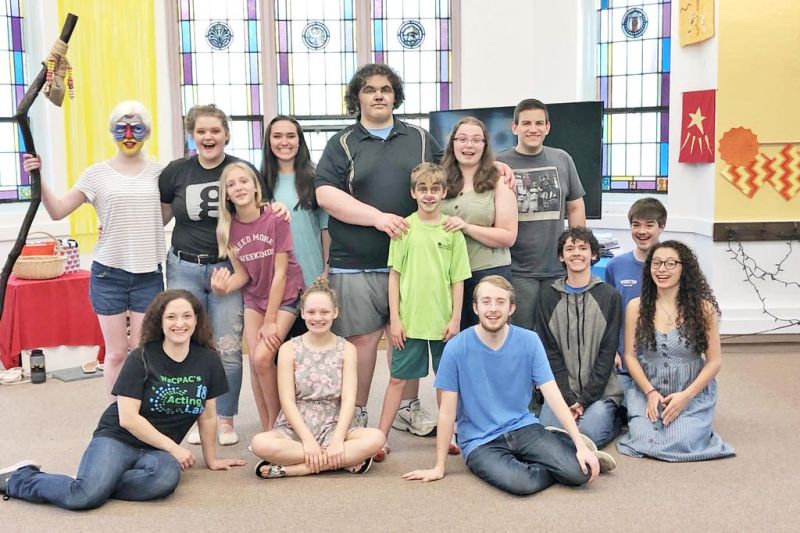 "The Lion King" will come to the Wooster High School Performing Arts Center stage early this summer as the Wayne County Performing Arts Council presents the renowned Disney musical for a series of shows June 14-15 and June 21-23. The performance on Sunday, June 23 will be at 2 p.m., and the rest will be at 7 p.m.
With successes such as "Beauty and the Beast" and "The Wizard of Oz" behind them, "The Lion King" WaCPAC production is a safe bet to provide wholesome entertainment to all ages.
"We've been working really hard since the beginning of April to make this a really great production," said Jenny Karger, WaCPAC president.
At a recent rehearsal, the cast practiced a musical number under the direction of assistant director Curt Stambaugh.
At the conclusion of the song, he told the actors they needed to keep up with the number and not be daunted to jump right back in if they missed a beat.
"If you don't hop back on that train, it'll go on without you," Stambaugh said.
Eagerly accepting the challenge, the cast enthusiastically asked, "Can we do it again?" — even though rehearsal was past its usual conclusion.
Karger said since tryouts in early April, the cast, composed mostly of students from throughout Wayne County, has been rehearsing for two hours a day, four days a week.
"This is a really hard time of the year to pull this together since the students all have so many school activities at this time of year," Karger said. "We send out brochures to all the schools, and that's where we draw their interest from."
Karger said the scope of this production was intimidating.
"This play is so costume and set heavy. I was concerned we were facing quite a challenge," Karger said, "but fortunately we have a great sponsor in Oh-Yo Frozen Yogurt, and we also had parents step in and really support us. We wouldn't have been able to do it without them."
Karger brings a significant background to the production. Directing WaCPAC productions since 2014, she has been acting since she was 6 years old.
"My mom had joined the board of WaCPAC early in my life, and I've been involved ever since," Karger said.
Karger attended acting school at The American Academy of Dramatic Arts in Hollywood. She returned to Wooster in 2006 and earned her master's in social work from the University of Akron. She works as clinical supervisor at The Village Network.
Karger said any success the production has would be in large part due to the many volunteers involved.
Kat Tackett, who attends the College of Wooster, has helped with the music the last couple summers.
"We started in April, and everybody is doing great," Tackett said.
Tackett's younger brother plays the part of Scar.
This is Tackett's first year helping with music, and she appeared as Ariel in "The Little Mermaid" last year and Glinda in "The Wizard of Oz" the previous year.
Stambaugh started his involvement in the theater in 2013. "A friend told me I should try out," he said. "I used to be really shy, but acting sparked something in me."
In his role with this production, Stambaugh finds himself on the other side of the table. He said he enjoys both aspects. "I realize that acting is just one strand in a tapestry," he said. "Conceptually I knew that, but this is the first time I've experienced it."
Working closely with Karger as a director is Margaret Leatherman. "She is a major part of the production, and none of this would be possible without her," Karger said.
Others in the direction crew include Abigail Anderson assisting as well as production assistant Daniel Carpenter. Maddie Gumber, LorieMay Reynolds and Kimberly Payne are choreographers. Nancy Kearney, Karin Ecker and Diane Tackett did costume design.
A critical element of any musical is the stage set. Olivia Wiford is building the set as an internship for her studies at the Ohio State University.
The cast is the culmination of all the work behind the scenes.
"We have about 75 students from more than 10 area schools," Karger said.
Aidan Smith from Northwestern High School plays Mufasa, Dane Kuzma from Parkview Elementary School plays Young Simba, Joseph Haas from Smithville plays Older Simba, Norah Carroll of Edgewood Middle School plays Young Nala and Samantha Hurst from the Ohio Connections Academy online home school plays Older Nala.
Rounding out the cast are Hayley Sleek of Wooster High School as Rafiki, Madison Kearney of Our Lady of the Elms in Akron as Zazu, Seth Tackett from Rittman as Scar, Anna Puster of Triway High School as Timon and Kyle Sindlinger (home schooled) as Pumbaa.
Most, but not all of them, have been with WaCPAC for past performances.
Karger said, "The most fulfilling thing for me is seeing the kids gain confidence and make friendships with other kids they otherwise wouldn't even have met."
For ticket information, see the WaCPAC Facebook page or website at www.wacpac.org.