WaCPAC's latest show starts Sept. 30 at WCA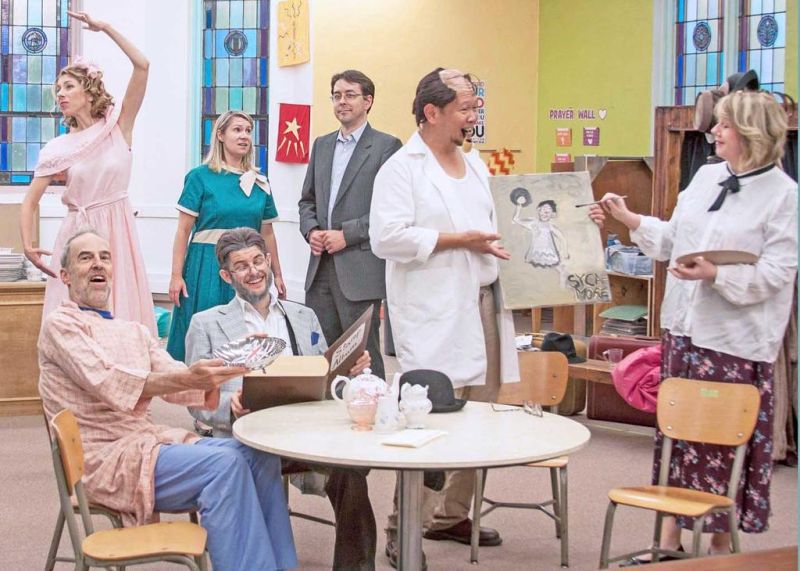 Get set for an afternoon or evening of laughter when area performers take to the stage to perform the classic comedy by Moss Hart and George S. Kaufman, "You Can't Take it With You." The play debuted on Broadway in 1936 and won the Pulitzer Prize for Drama in 1937. The 1938 film based on the stage play won Academy Awards for both best picture and best director.
Wooster's production of the award-winning show is being staged by the Wayne County Performing Arts Council (WaCPAC) on Friday, Sept. 30 and Saturdays Oct. 1 and 8 at 7 p.m. and Sundays Oct. 2 and 9 at 2 p.m. at the Wayne Center for the Arts in Wooster.
WaCPAC artistic director and director of the current production Linda Karger explained that after posting a photo from the company's previous production of the same show, many of that old cast responded that they would love to do the show again. "Out of a cast of 20 actors, 11 are either reprising their previous roles or are taking on a new role," Karger said.
The production is a family affair with many families performing together. Joe and Sheryl Villegas are both returning to the cast, while brothers Peter Piper and Sam Gonzalez are new to the show.
"My daughter Jenny is producing this show and will also be performing as an understudy in the last performance," said Karger. "My daughter Juliette is also playing a small role, as is my husband, Ken."
Everyone in the cast of this production has stage experience. Lynne Ayres plays Penny Sycamore. She was in the WaCPAC cast seven years ago.
"The obvious answer is it was so wonderful to do 7 years ago," said Ayres, when asked why she returned. "We had such a great cast and a fun time putting the show together, I guess I was looking to recreate that experience."
The current production is April Aspiras' fourth WaCPAC show. She is reprising her role as Alice Sycamore.
"Acting is my happy place," she said. "I love being able to bring characters to life., and I love the friendships that are built behind the scenes at rehearsals."
When she performed in the previous WaCPAC production of "You Can't Take it With You," it was Sheryl Villegas' first show with the group. She currently plays Madame Kolenkhov and has been seen in numerous shows in Wooster.
"This play is really zany and off the wall which makes it a blast to perform in as an actor," said Villegas.
In his first WaCPAC production, experienced actor Ryan Takko is cast as Martin Venderhof. "While this show is a silly comedy, there are some good messages about family, and accepting people with all their quirks," he said.
Karger said the Wayne Center for the Arts is "the perfect venue" for the show.
"Since WaCPAC doesn't currently have its own venue, we play in various different venues in the area," she said. "We choose our venues based on the needs of each individual play. Wayne Center for the Arts is big enough to seat a fair-sized audience, yet small enough to stay with the cozy feeling this show inspires."
WaCPAC is a nonprofit and cast and production crew do not get paid. Show proceeds go towards paying the overhead for the show, including production rights, venue, props, set, and costumes. Any net proceeds go towards the upfront costs of the next show.
Financial donations are appreciated at any time. Email linda.karger@yahoo.com with "financial donation" in the subject line for more information.
Volunteers are always needed for a wide variety of tasks and responsibilities.
"For this show we still need people for front-of-house," said Karger of the tasks that include selling tickets, ushering and selling refreshments at intermission. Email linda.karger@yahoo.com with "WaCPAC" in the subject.
Donations of period clothing, jewelry, furniture and household goods are also accepted. Email linda.karger@yahoo.com with WaCPAC donation" in subject line.
Tickets, which are open seating, are $12 general admission or $40 for pack of four tickets. Purchase online at wacpac.org or at the door. Wayne Center for the Arts is located at 237 S. Walnut Street. Refreshments are available during intermission and may be consumed during the show.
"The show may have been written in the 1930's," said Ayres, "But it's still very contemporary."
"We can take the audience. and transport them to a different world," added Villegas. "It's a magical experience. And with live theater you never know what could happen."